Looking east on Oliver Street from the corner of High Street in Holyoke, around 1892. Image from Picturesque Hampden (1892).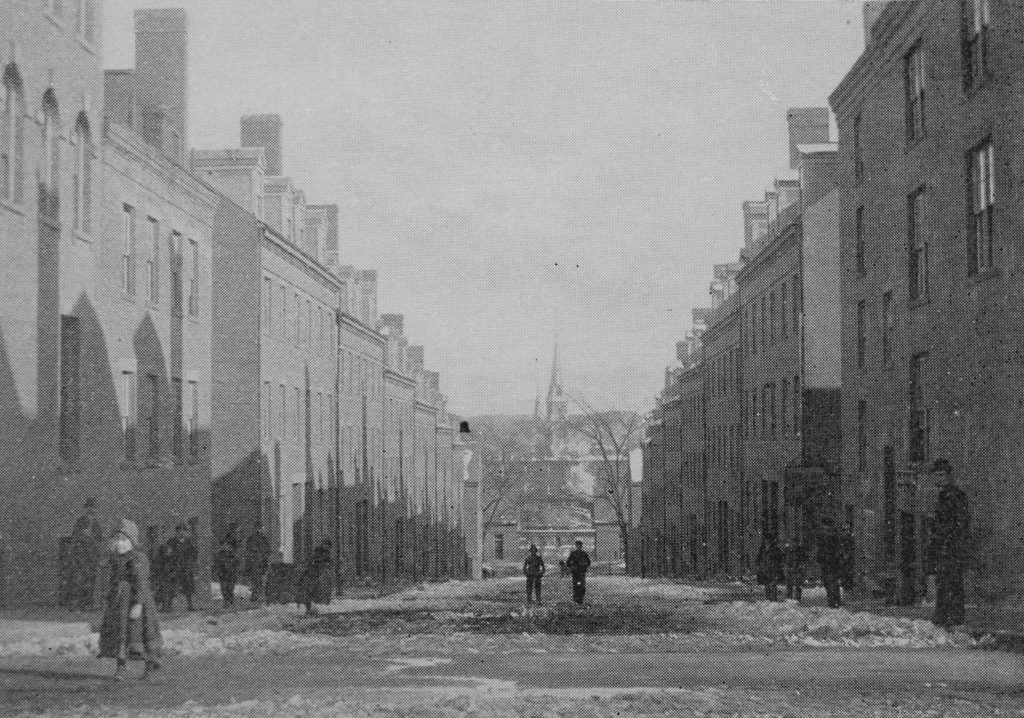 Oliver Street in 2017: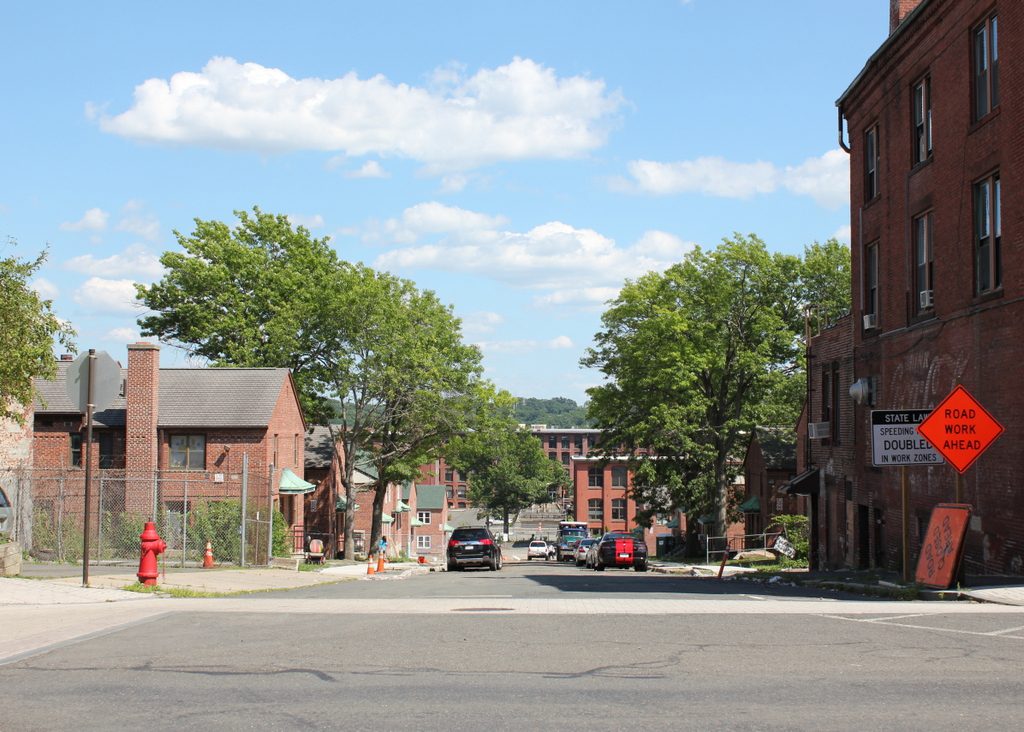 The city of Holyoke became a major manufacturing center in the second half of the 19th century, and among the early corporations here was the Lyman Mills, a cotton company that was established in 1854. The mills themselves were located at the foot of this hill, between the First and Second Level Canals, but the company also built over 200 tenements here on the hill for worker housing. The tenements appear to have been built sometime in the 1850s, and they consisted of brick rowhouses that lined both sides of Oliver and Hampden Streets, as well as the south side of Lyman Street and the west side of Front Street.
The Lyman Mills still owned these tenements when the first photo was taken in the early 1890s. Like most of the other mills in Holyoke, the company relied heavily on immigrant labor, and during the 1900 census, the residents of these Oliver Street tenements were almost entirely Polish immigrants. The census records show a mix of jobs within the cotton mill, with carders and weavers being the most common, and each tenement building typically housed about four to five families, with many families also taking in boarders. For example, the tenement at 24 Oliver Street, the furthest one up the hill on the right side (not counting the Fuller Building on the far right) had four families, with a total of 33 residents, including boarders. All of them, except for the young children, were immigrants, and most had arrived in the United States only a few years earlier.
The Lyman Mills tenements were later owned by the Whiting Paper Company, and they remained in use until the 1930s. However, by this point the neighborhood was deemed to be a slum, and the tenement houses were among some 2,800 Holyoke houses that were found to be substandard in a 1938 survey. As a result, the city demolished the entire area between John and Lyman Streets and redeveloped it as a public housing project, with the newly-established United States Housing Authority paying for 90 percent of the project's $1.8 million construction costs. The bricks from the old tenement buildings were saved, though, and were incorporated into the construction of the new buildings.
This New Deal-era housing project is still standing here today, and the buildings are still owned by the Holyoke Housing Authority. Further in the distance, many of the former Lyman Mills factory buildings are still standing along the canals, but in the foreground the only building remaining from the first photo is the Fuller Building on the far right side of the photo. This building was probably built in the 1850s, around the same time as the old tenements, and today it bears a badly-faded Coca-Cola ad that is painted onto the brick wall.