The house at 92 Buckingham Street in Springfield, around 1938-1939. Image courtesy of the Springfield Preservation Trust.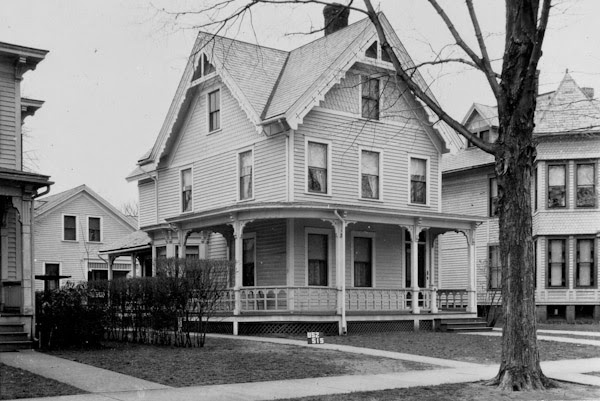 The house in 2017: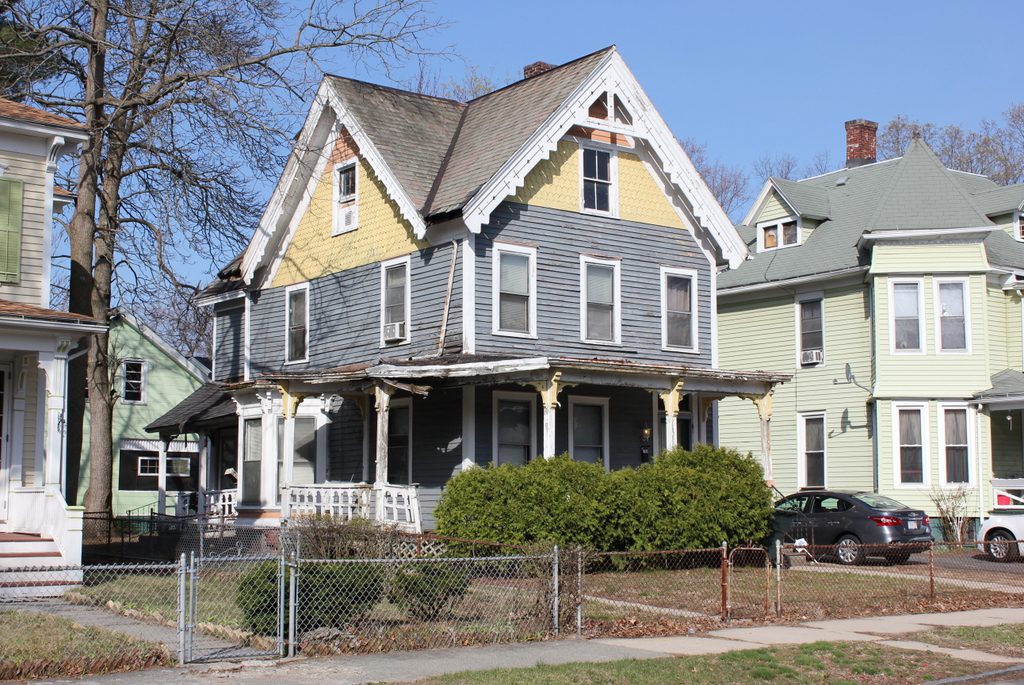 This house was built around 1880, only about a year after its neighbor to the left, but it represents a significant shift in architectural taste. By the early 1880s, the related Stick and Queen Anne styles of architecture had become fashionable, and many of the homes here on Buckingham Street are modest examples of these trends. Most of the people who moved into these homes were middle class professionals such as Samuel J. Filer, who was living in this house by around 1888. A veteran of the Civil War, Filer later worked as a clerk for James D. Gill, a prominent publisher and art dealer in late 19th century Springfield.
Samuel Filer lived here until around 1891, when the house was purchased by Caroline M. Sherman, a widow who had previously lived nearby at 212 Bay Street. Like many of the other residents of the McKnight neighborhood, she supplemented her income by renting rooms to boarders, one of whom was James Naismith, a Canadian student and instructor at the nearby YMCA Training School. He had originally lived with Caroline and her two daughters, Maude and Florence, in the house on Bay Street, but he joined them when they moved to this house on Buckingham Street, and lived here from 1892 to 1894.
Naismith, of course, is best known for having invented the game of basketball during his time at the YMCA Training School. He invented the game in December 1891, so he was probably still living on Bay Street at the time, but his move to Buckingham Street coincided with the meteoric rise in basketball's popularity, from an improvised physical education game to a widely popular team sport. The game was popular at the YMCA Training School, but it did not take long for outsiders to take notice. Among the first were the young women who taught at the nearby Buckingham School, at the corner of Wilbraham Road and Eastern Avenue. They soon began playing basketball too, becoming in the process the sport's first female players.
One of the teachers who played regularly was Caroline's daughter Maude, who was 21 years old at the time. It was around this time that she and Naismith, who nearly 10 years older than her, began their courtship, and they were married two years later in 1894. After their marriage, the couple moved out of Caroline's house and into their own home at 30 Wilbraham Avenue, where they lived for about a year before moving to Denver. The Naismiths would later move to Kansas, where James worked as a teacher, basketball coach, and ultimately the school's athletic director. He would never again live in Springfield, but his legacy is still here, in the name of the Naismith Memorial Basketball Hall of Fame.
In the meantime, by 1895 Caroline had sold this house on Buckingham Street. Several different people lived here in the following years, including George H. Phelps in 1895 and pharmacy owner Fred N. Wheeler in 1897. Not until the end of the decade, though, did the house have a long term resident, when George and Alice Lyman purchased it. They were living here by 1899, along with their daughter Blanche, and like previous owners they also housed several boarders. George worked as a carpenter and builder, and he likely found plenty of work to do here in Springfield, with the city in the midst of a massive building boom that has given it he nickname of "The City of Homes."
The Lymans lived here until around 1916, when they moved to a house on Wilbraham Road. In subsequent years, their old house here had a variety of residents, including physician Robert E. Seibels in 1917, and Christian Science practitioner William C. Loar in the late 1910s and early 1920s. By 1932, it was the home of Weaver H. Stanton, who was living here with his wife Florence and their daughter Marjorie when the first photo was taken. Although they lived here for many years, the Stantons were actually renting the house, paying $50 per month. However, this expense was reduced even further by the fact that they, in turn, rented rooms to boarders, with the 1940 census showing four mostly elderly people living here with them.
The Stantons were still living in this house as late as the early 1950s, but they appear to have moved out around 1951 when the house was sold. Since then, the house has remained relatively unchanged, although the exterior has deteriorated somewhat, especially the collapsing front porch. Otherwise, though, the house is still standing, and has historical significance both for its architecture and, more importantly, for having been the residence of James Naismith. The actual building where he invented the sport is long gone, and the site is now a McDonalds, but this house remains as perhaps Springfield's most important existing connection to the invention of basketball.