Looking downstream on the Providence River from the Crawford Street Bridge, around 1906. Image courtesy of the Library of Congress, Detroit Publishing Company Collection.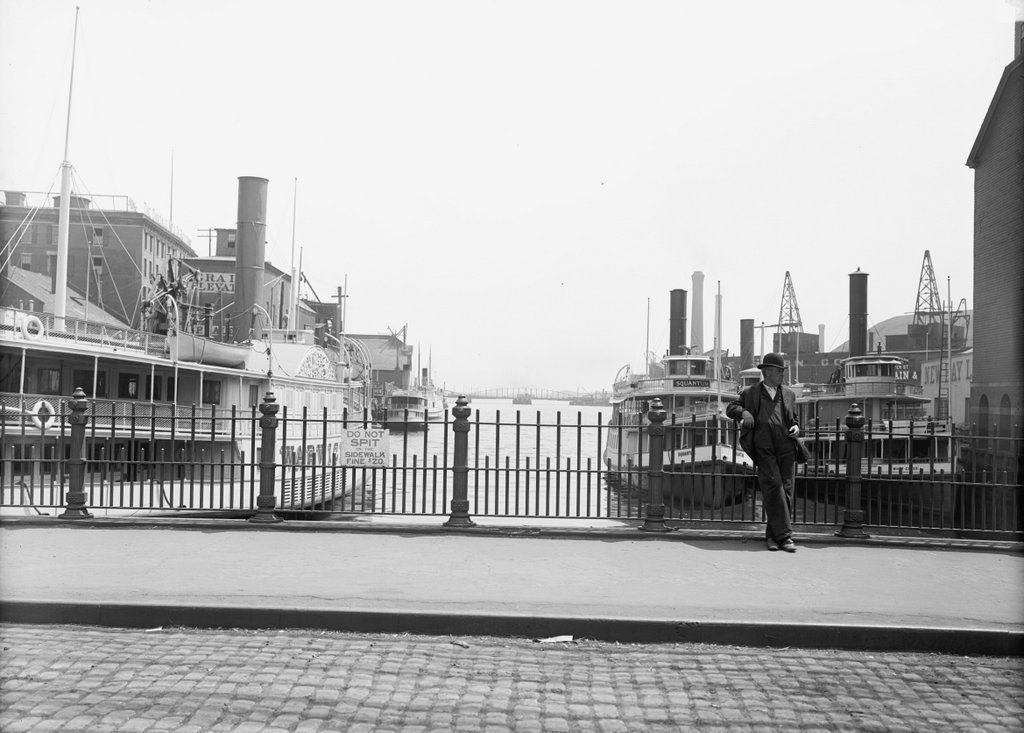 The river from the same spot in 2016: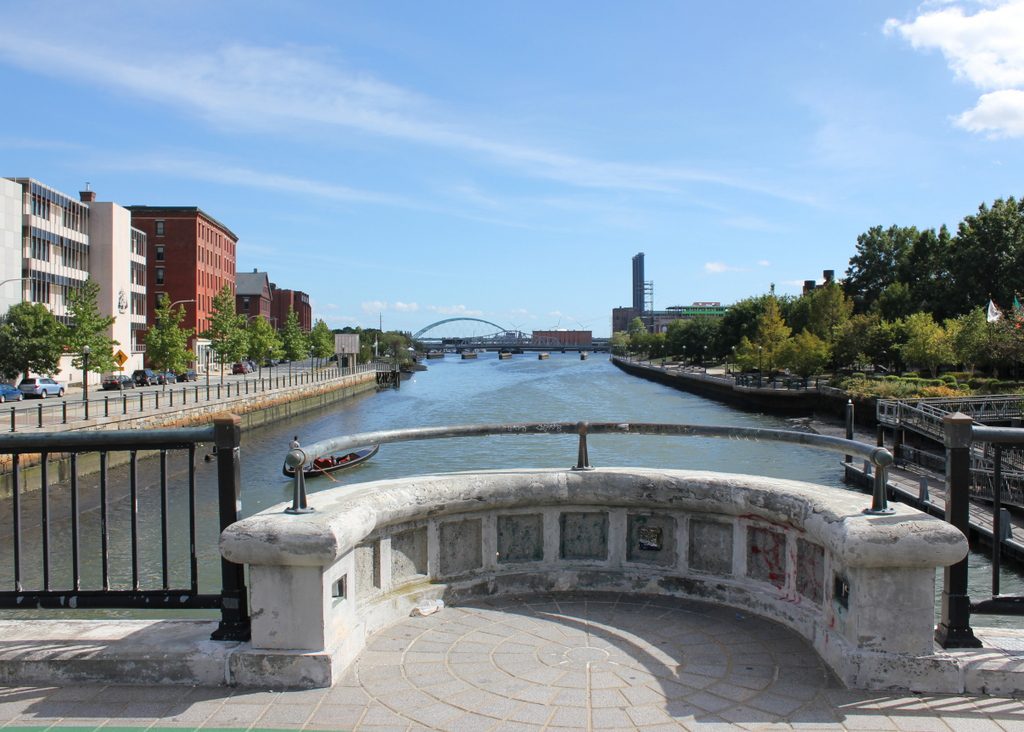 These photos show the same scene as the ones in an earlier post, just from a different angle. The "then" photos in these two photos were probably taken on the same day, too, because the same ships are docked here, in the same spots. As mentioned in another previous post, the Crawford Street Bridge was a very wide bridge that virtually buried the Providence River, hiding it from much of downtown. South of the bridge, though, the river was open, and as the 1906 photo here shows, it was filled with steamboats.
From left to right, the steamers in the photo are the Warwick, the Squantum, and the What Cheer. They were among the many that plied the waters of Narragansett Bay and beyond, providing excursion trips to Newport, Block Island, Long Island, and other destinations. By the time the first photo was taken, the steamers were already fairly old. The What Cheer was built in 1873, and the similar-looking Squantum probably dates to around the same time. The Warwick is even older; this side-wheel steamer was built in 1867. Information is scarce on the Squantum, but the other two boats operated until the early 1920s, when they were in such poor condition that the Warwick sank at the dock in 1920, and the What Cheer did the same two years later.
Today, steamboats are long gone from the waters of the Providence River, and today the only watercraft visible is a Venetian-style gondola, in the lower left center of the photo. The bridge is also gone, having been replaced by much smaller bridges that have opened up the river through downtown Providence. There are also no longer any signs warning pedestrians of the $20 fine for spitting on the sidewalk, which would have been a substantial sum of money at the time, equal to over $500 today. The only building left from the first photo is the warehouse for the Oakdale Manufacturing Company, the six-story red brick building on the left side of both photos. Built in 1854 and significantly expanded in 1894, it was home to a butter and margarine company until 1916, and later had several other industrial tenants. Today, it is part of the College Hill Historic District, and is owned by the Rhode Island School of Design.