The house at 143 Elm Street, at the corner of Temple Street in New Haven, around 1935-1942. Image courtesy of the Connecticut State Library, WPA Architectural Survey Collection.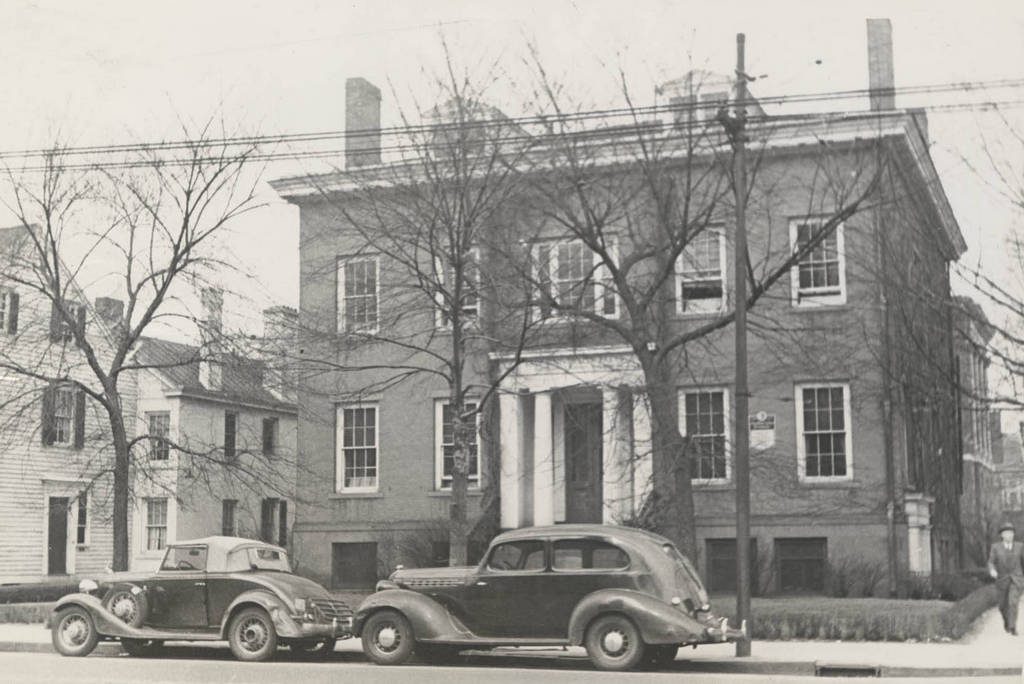 The house in 2018: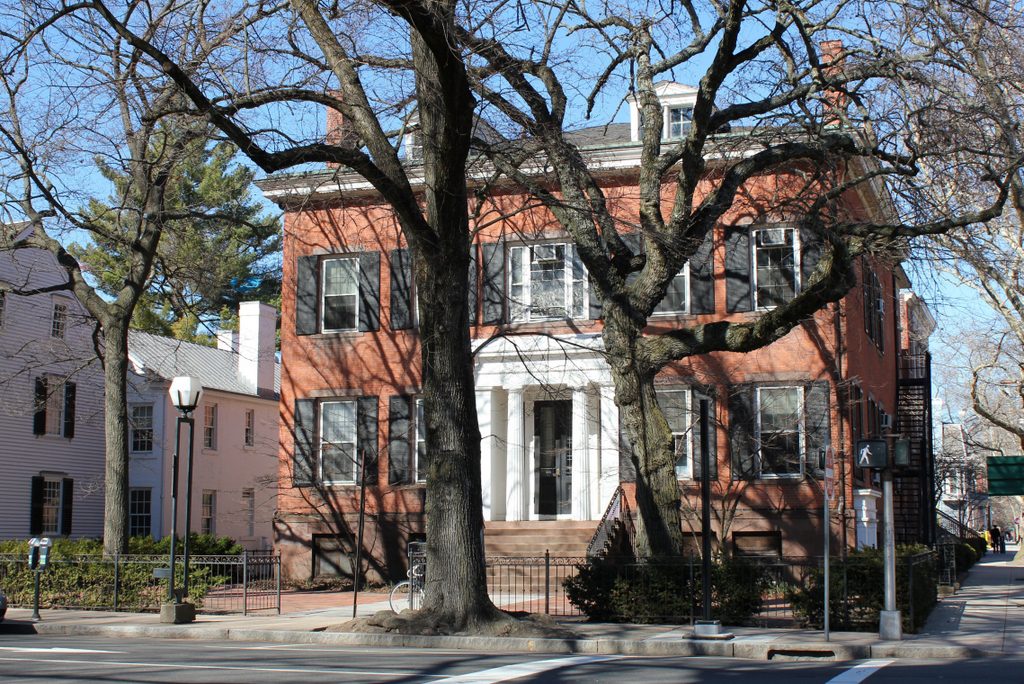 The north side of the New Haven Green was once known as Quality Row, for the many elegant homes that lined Elm Street. All of the houses along the eastern half of the Green, on the block between Temple and Church Streets, were demolished by the early 20th century, but several survive here on the western half, including this mansion. It was built in 1829 as the home of attorney and politician Ralph I. Ingersoll, and it was designed by Ithiel Town and Alexander Jackson Davis, two prominent architects of the early 20th century.
Ralph Ingersoll came from a prominent family that included his father, Jonathan Ingersoll, who served as lieutenant governor of Connecticut from 1816 to 1823. Ralph would also go on to become a leader in state politics, serving as speaker of the Connecticut House of Representatives from 1824 to 1825. He then served four terms in Congress, from 1825 to 1833. At the time, Connecticut did not have separate Congressional districts, so Ingersoll and the other five representatives were elected at-large by the entire state. From 1830 to 1831, he was simultaneously the mayor of New Haven, and he was later appointed U. S. Minister to Russia, serving from 1846 to 1848. During his time as a congressman, Ingersoll also received a prominent visitor to his home in 1833, when President Andrew Jackson came here during a visit to New Haven.
Ralph Ingersoll and his wife Margaret lived here together for over 40 years, and two of their sons would also go on to have successful political careers. The oldest, Colin, was elected to two terms in the U. S. House from 1851 to 1855, and his brother Charles served as governor of Connecticut from 1873 to 1877. The 1870 census, taken two years before Ralph's death, shows him living here along with Margaret, their daughter Grace, and three servants. His real estate holdings were valued at $57,000, along with a personal estate of $12,000, for a net worth equivalent to nearly $1.4 million today.
Charles Ingersoll inherited this house from his father, and he lived here during his time as governor. The 1900 census shows him widowed and living here with his sister Grace, his children Justine and Francis, daughter-in-law Lucy, three servants, and a nurse. He remained here until his death in 1903, and the house was subsequently owned by Ingersoll family relative Frank H. Whittemore. He was a physician, and this building served as both his house and his office. His son, E. Reed Whittemore, was also a physician, and he also practiced medicine here with his father.
In 1919, Yale University purchased the house, thanks to a gift of $100,000 from Harriet Williams in memory of her son, Earl Trumbull Williams,. He was a 1910 graduate of Yale, and went on to serve as a lieutenant in the army during World War I. However, in 1918 he was killed by a falling tree while on leave from his post at Camp Devens in Massachusetts. This house became the Earl Trumbull Williams Memorial, and it was initially used to house the Yale University Press.
The first photo was taken several decades later, in the late 1930s or early 1940s. By this point it was still occupied by Yale University Press, which would remain here until 1959. Over the years, the exterior of the house has remained well-preserved – even the two trees in front are still standing from the first photo – and it is still owned by Yale. Today, it is used for offices, and it was recently used as the temporary home of Dwight Hall, a community service organization that was located here while its building was undergoing renovations in 2017-2018.