Looking south on Prospect Street toward Grove Street, with the Sheffield Scientific School on the left side of the street, around 1900. Image courtesy of the Library of Congress, Detroit Publishing Company Collection.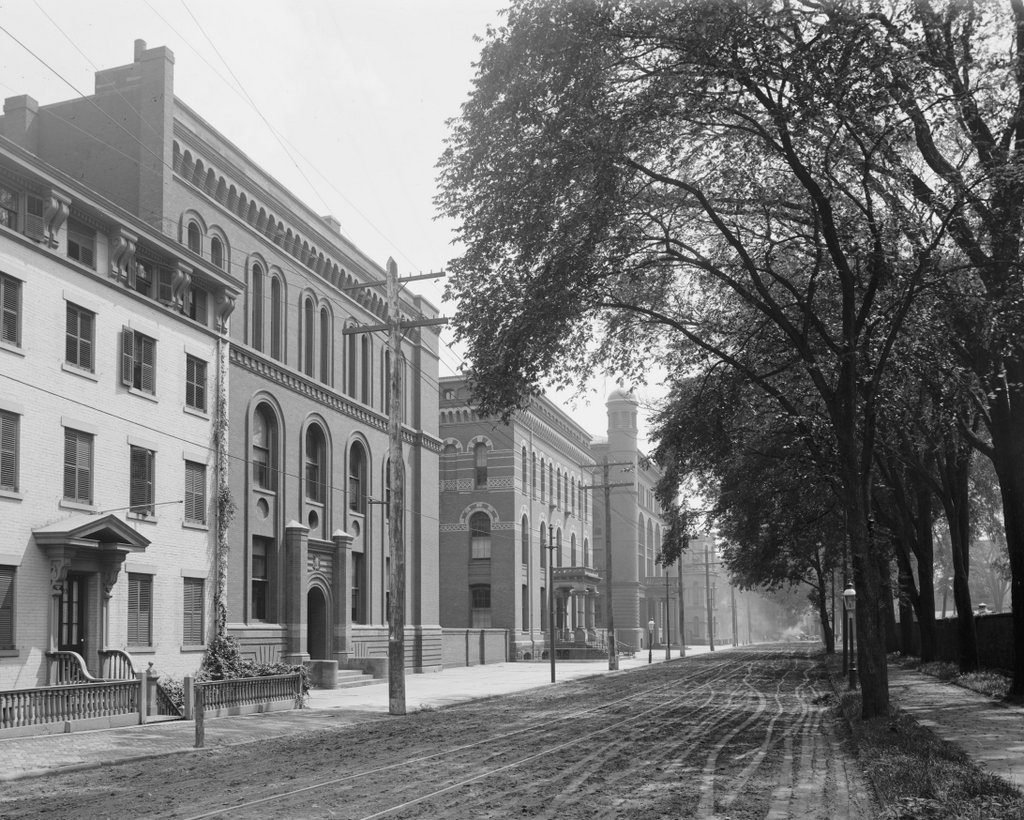 The scene in 2018: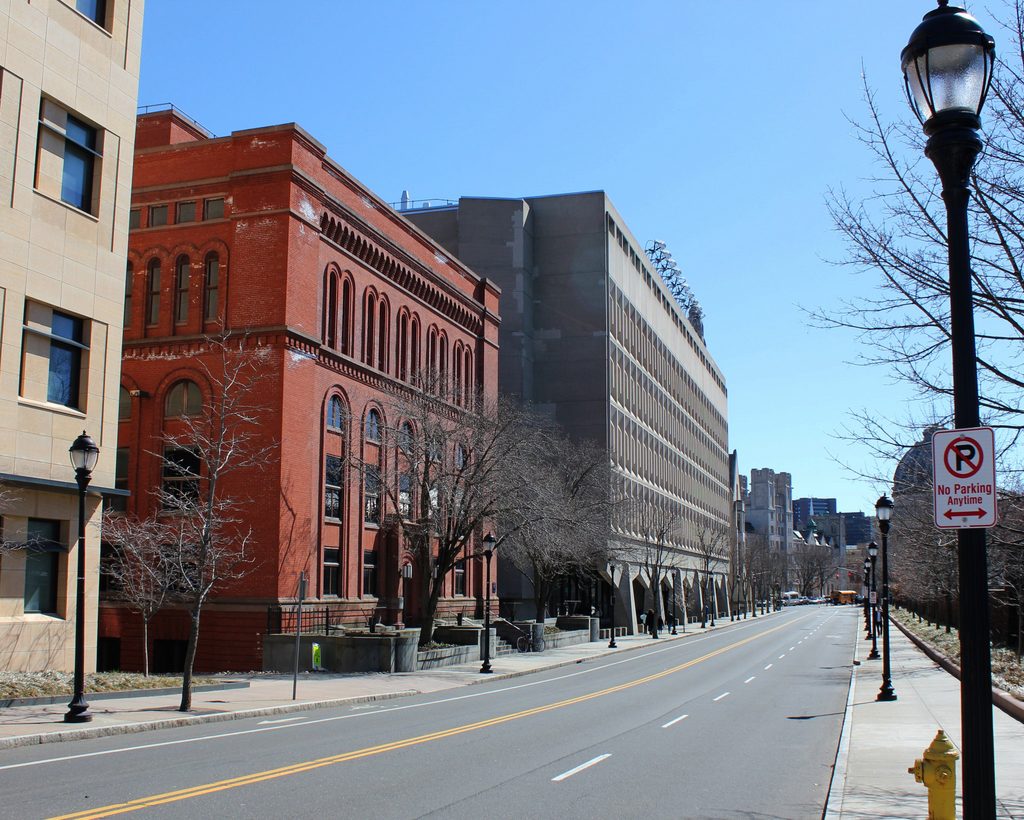 The Sheffield Scientific School was founded in 1847 as the Yale Scientific School, and was intended to provide an alternative to the  traditional liberal arts focus of Yale itself. In 1860, the school moved into the former Yale School of Medicine building, which was located in the distance at the corner of Prospect and Grove Streets. The building had been extensively renovated by railroad executive and philanthropist Joseph E. Sheffield, and the school was subsequently renamed in his honor.
In the following decades, the Sheffield Scientific School steadily expanded, with new buildings that were constructed here along the east side of Prospect Street. The first of these was North Sheffield Hall, which was built in 1873. It stands in the center of the first photo, and it was followed in 1893 by Winchester Hall, which stands just beyond it with the turret on the corner. Two years later, the Sheffield Chemical Laboratory was completed on the other side of North Sheffield, and it stands in the foreground of both photos. All three of these buildings featured similar Romanesque architecture, and they were the work of noted architect J. Cleaveland Cady, who was responsible for designing a number of college and other institutional buildings across the northeast.
New buildings continued to be constructed for the Sheffield Scientific School throughout the early 20th century, including Sheffield-Sterling-Strathcona Hall, which replaced the original school building at the corner of Grove Street in 1932. These three buildings remained in use for many more years, though, even after the school was fully merged with Yale University in 1956. However, both North Sheffield and Winchester Halls were demolished in 1968 in order to make room for the Becton Laboratories, the large Brutalist-syle building in the distant center of the 2018 photo.
Today, only the Sheffield Chemical Laboratory still stands from the first photo. It was significantly renovated in 1986 for use by the computer science department, and it was renamed Arthur K. Watson Hall, in honor of the former IBM president and U. S. Ambassador to France. In 1993, the building was targeted by the Unabomber, and one of his mail bombs detonated here in the office of Professor David Gelertner, badly injuring him. The building itself sustained little damage, though, and it continues to be used as the home of the computer science department, with few noticeable exterior changes from the first photo.