The S.S. Lady of the Lake at Weirs Beach, around 1865. Image courtesy of the New York Public Library.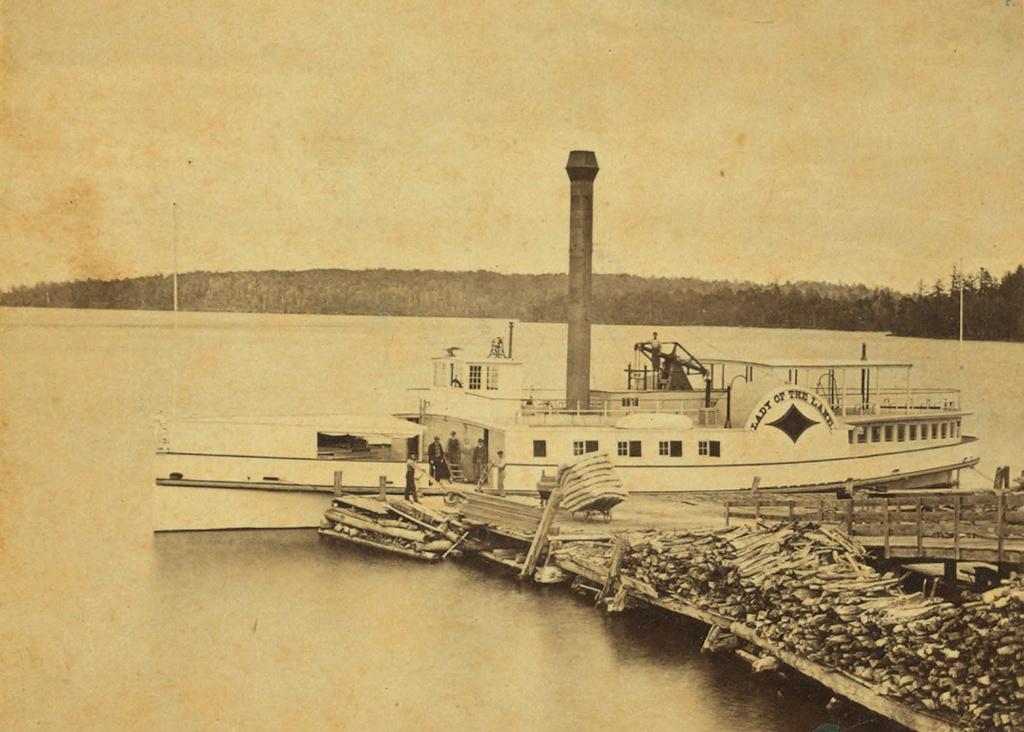 The S.S. Mount Washington approaching the same pier around 1906. Image courtesy of the Library of Congress, Detroit Publishing Company Collection.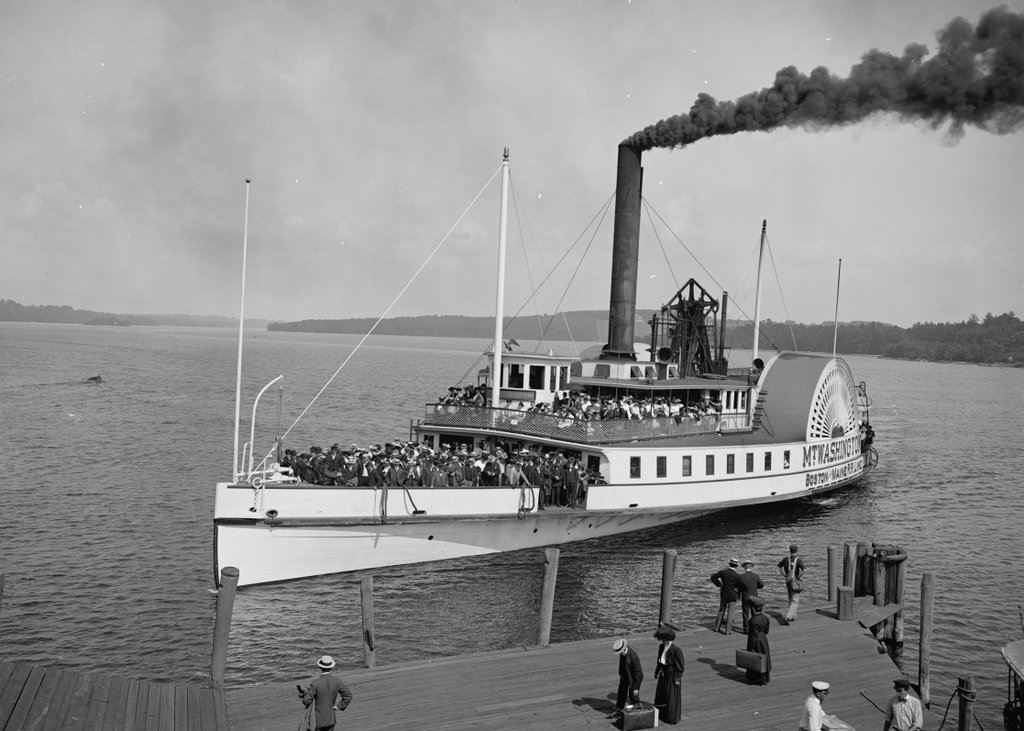 The M.S. Mount Washington at the same location in 2019: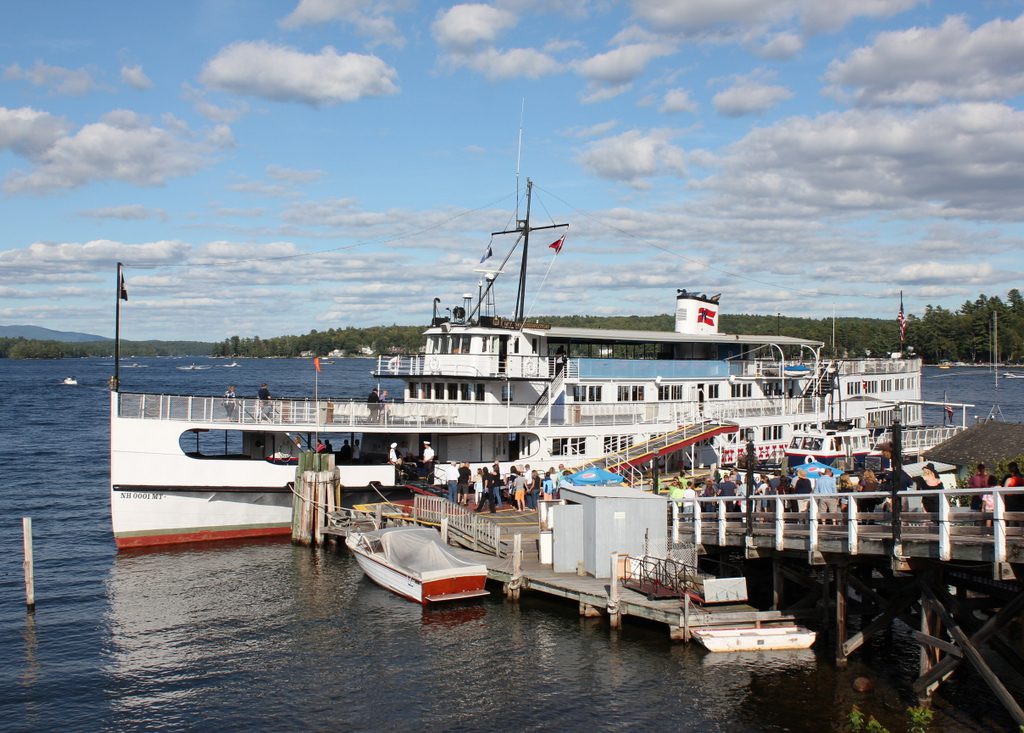 Lake Winnipesaukee is the third largest lake in New England, and the second largest entirely within the region (Lake Champlain, located on the border of Vermont and New York, is larger than the next 9 largest combined).  Like Lake Champlain, Winnipesaukee has seen a number of steamboats over the years, with one of the first being the Lady of the Lake, which was completed in 1849 and is seen in the first photo.  In the days before automobiles, the easiest way to access most of the towns on the lake was by boat, and much of this traffic in the mid 19th century was carried by the Lady of the Lake.  Here in Weirs Beach, visitors arrived by train to the depot just behind the photographer, and then boarded the steamer to travel to their destination.  The glory days of the Lady of the Lake lasted until 1872, when the larger, faster S.S. Mount Washington entered service.  The older ship continued to operate in a losing battle to compete with the Mount Washington, until she was taken out of service in 1893.  Two years later, she was filled with rocks and sunk, and today the wreck is a popular dive site.
Meanwhile, the Mount Washington continued to be the preferred method of transportation around the lake until the 1920s, when larger numbers of tourists began traveling by automobile.  As a result, the ship's owners, the Boston & Maine Railroad, sold her to a new owner, who marketed the ship as a tourist attraction instead of simply a method of transportation.  It was a success, and the ship operated until 1939, when a fire at Weirs Beach destroyed the ship, along with the dock, the railroad depot, and the boardwalk.
In 1940, the ship's owner purchased the S.S. Chateaugay to replace the Mount Washington.  Built in 1888, the Chateaugay was a sidewheel steamboat on Lake Champlain, so transporting it to Winnipesaukee required cutting the hull into 20 pieces and shipping them by rail, where they were reassembled in Lakeport.  Only the hull itself was used; everything else, including the superstructure and even the propulsion system, was replaced.  Renamed the Mount Washington, the rebuilt ship made her first voyage on the lake in August 1940, and has been used for sightseeing cruises ever since.  Aside from the 1940 reconstruction, the ship has been altered several other times, including in 1942, when the steam engines were removed for the war effort.  After the war, the ship was fitted with diesel engines, which in turn were replaced in 2010.  The other major change happened in 1982, when the ship was cut in half and a new 20-foot section of hull was added in the middle.  Because of all of this, the 127-year-old ship bears essentially no resemblance to what she looked like when used as the Chateaugay; the photo below, courtesy of the Library of Congress, Detroit Publishing Company Collection, shows the Chateaugay plying the waters of Lake Champlain around 1910-1920: