The corner of Jackson Street and Grant Avenue in San Francisco, around 1896-1906. Image courtesy of the Library of Congress, Arnold Genthe Collection.
The scene in 2015: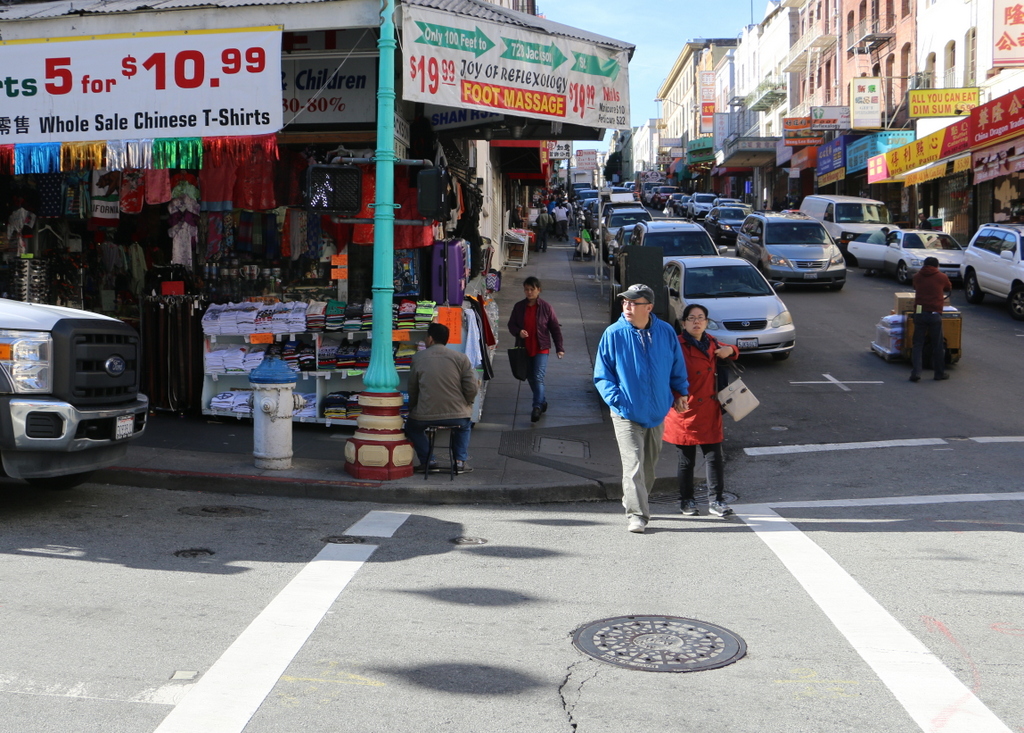 San Francisco's Chinatown is the largest Chinese community in the world outside of Asia, and it was also America's original Chinatown. Immigrants from China arrived here around the same time that almost everyone else did, during the Gold Rush of the late 1840s and early 1850s. Later on, many other Chinese people came to find work on projects such as the Transcontinental Railroad, and this neighborhood became an ethnic enclave within the city.
Photographer Arnold Genthe was primarily known for his portrait work, and his clients included many notable politicians, writers, and entertainers. In addition, he photographed the immediate aftermath of the 1906 earthquake, including the one in the previous post, but his works also included hundreds of photos of Chinatown that were taken beginning in the 1890s. His collection, which includes the first photo here, provides the only real glimpse into everyday life in Chinatown before the earthquake.
This scene, along with the rest of Chinatown, was completely destroyed in the earthquake, and some politicians sought to use the disaster to rebuild Chinatown further from the center of the city. However, the plans ultimately failed, and Chinatown was rebuilt here, where it continues to be a vibrant community as well as a popular tourist destination in the city.
This post is part of a series of photos that I took in California this past winter. Click here to see the other posts in the "Lost New England Goes West" series.