Another view of Alcatraz Island, taken around 1900. Image courtesy of the National Park Service.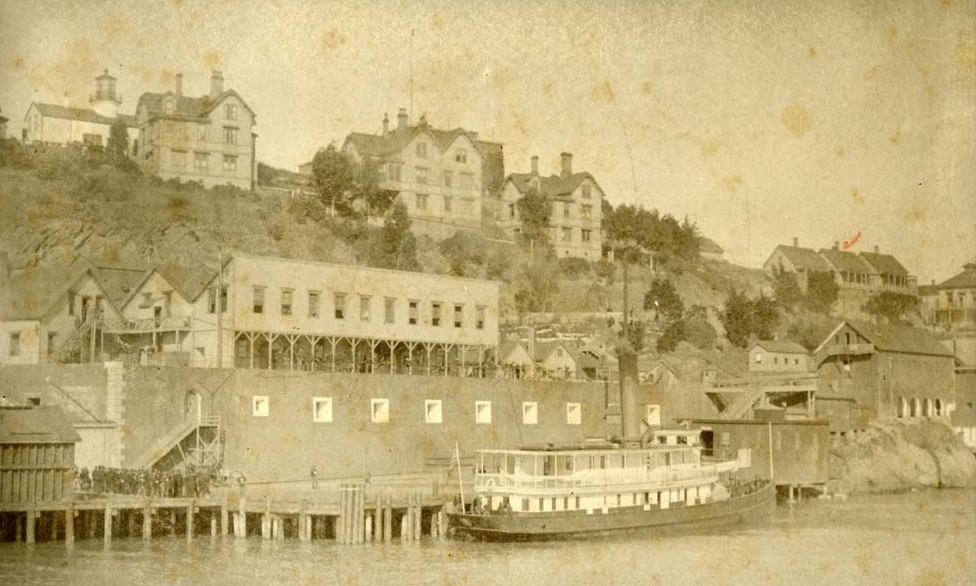 The view in 2015: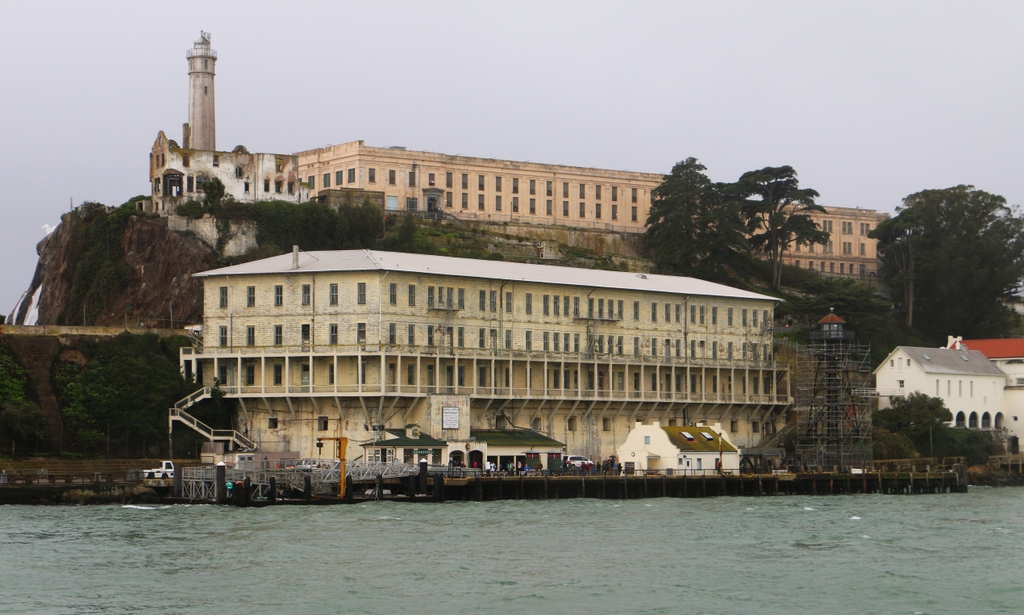 The first photo here was taken around the same time as the one in the previous post, showing Alcatraz Island when it was being used as a military prison. At the time, the island's inmate population was rapidly growing, and within a few years many of the Civil War-era buildings in this scene would be demolished to build modern facilities. Building 64, the large building along the water in the present-day scene, was built in 1905 to house the officers who were stationed here. In 1909, the current lighthouse was built to replace the original 1854 structure, which had been damaged in the 1906 earthquake. Around the same time, the old Alcatraz Citadel, barely visible at the top of the hill, was demolished to build the main prison building. Completed in 1912, it was later converted from a military prison into a federal civilian prison, and still stands at the top of the island today.
The only building left from the first photo is the Guardhouse on the far right. Built around 1857, it is the oldest remaining structure on the island, dating back to the time when the island was used as a defensive fortification to protect San Francisco Bay. It was also used as the island's first prison building in the 19th century, before the island's role as a prison was expanded and purpose-built prison structures were added. Today, more than 50 years after the last prisoner left Alcatraz, the Guardhouse and the rest of the historic buildings on the  island are administered by the National Park Service, and the island is open to the public as part of the Golden Gate National Recreation Area.
This post is part of a series of photos that I took in California this past winter. Click here to see the other posts in the "Lost New England Goes West" series.