Looking east on Windward Avenue in Venice, around 1912. Image courtesy of the Library of Congress, Detroit Publishing Company Collection.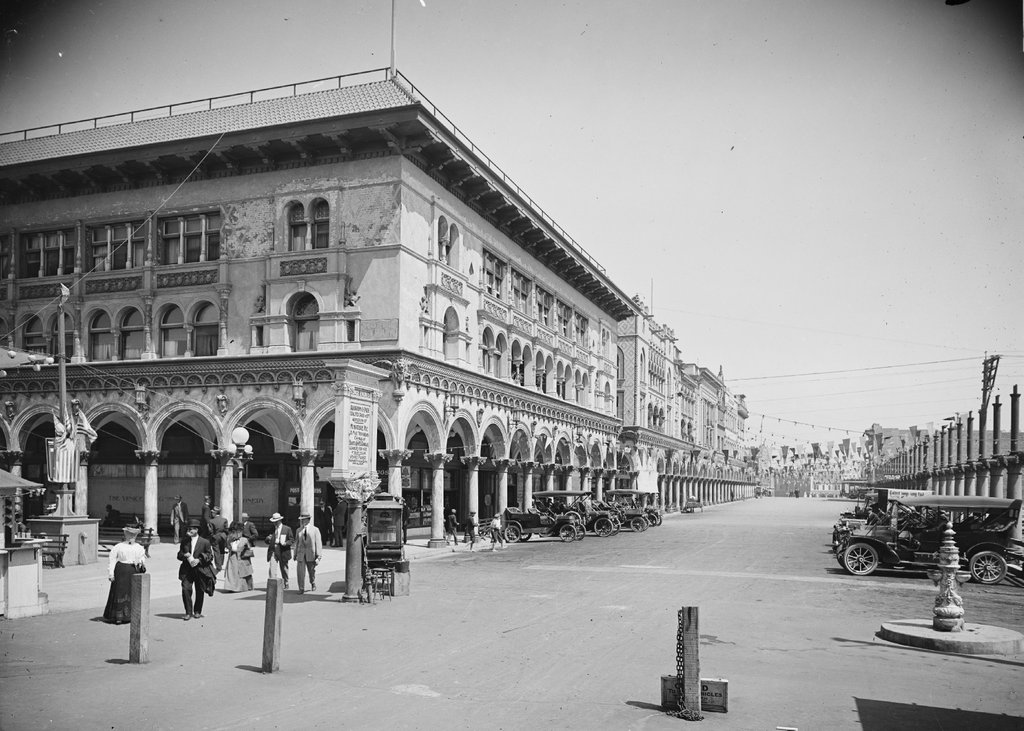 The scene in 2015: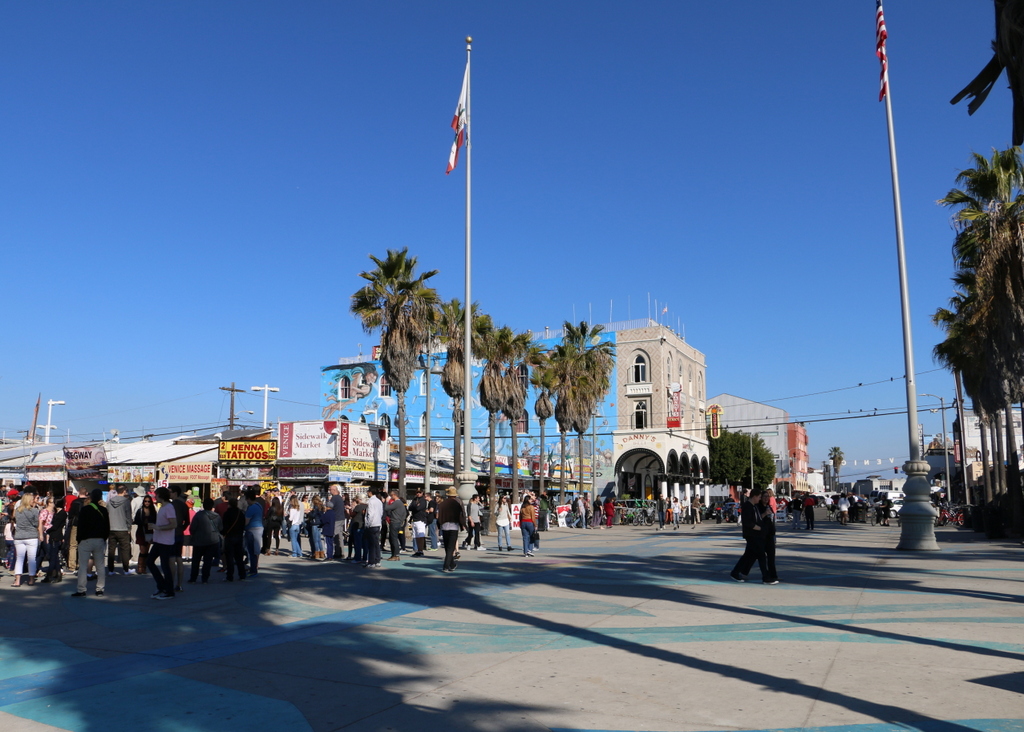 Venice was founded in 1905 as a beach resort town just west of Los Angeles. Its developer, tobacco company owner Abbott Kinney, envisioned it as the "Venice of America," complete with canals, gondolas, and Venetian-style architecture. Among the architectural features in the first photo are the arcades, or arches, along all of the buildings here on Windward Avenue. The building on the left at the corner is the Hotel St. Mark, which was built in 1905, and beyond it are a number of other matching buildings. On the right side, many of the buildings are not yet completed, with a row of columns marking where arches would eventually be built.
When the first photo was taken, Venice had already become a popular tourist destination. The white sign in front of the hotel advertises some of the city's attractions, including the aquarium on the pier (admission 10 cents), the scenic railway, gondolas and boats on the canals, and the Venice Plunge, which was a heated indoor salt-water pool on one of the piers.
The city was successful in attracting tourists, but politically it was unable to support itself, so in 1926 the residents voted to be annexed by Los Angeles. This brought some major changes, which included filling in most of the canals and building roads on top of them. Venice's decline continued during and after the Great Depression, and by the 1950s it was in serious decay. The piers were demolished by the 1960s, as were many of the historic buildings here along Windward Avenue and elsewhere in Venice.
Today, Venice is known for its unique countercultural aspects, including artists, street performers, and an inordinate number of medicinal marijuana dispensaries. A number of small shops now occupy the space where the Hotel St. Mark once stood, but a few of the buildings from the first photo still remain, including the one in the center of the photo and another further down Windward Avenue. Over the years, Venice has been used as a filming location for many movies and television shows, several of which feature this particular view here. The opening scene of Orson Welles's 1958 film Touch of Evil shows the St. Mark a few years before its demolition, and a 2003 episode of Gilmore Girls includes several scenes from this section of Windward Avenue.
This post is part of a series of photos that I took in California this past winter. Click here to see the other posts in the "Lost New England Goes West" series.