The interior of the Eastern States Coliseum during a cattle show in September, 1936. Image courtesy of the Library of Congress, FSA/OWI Collection.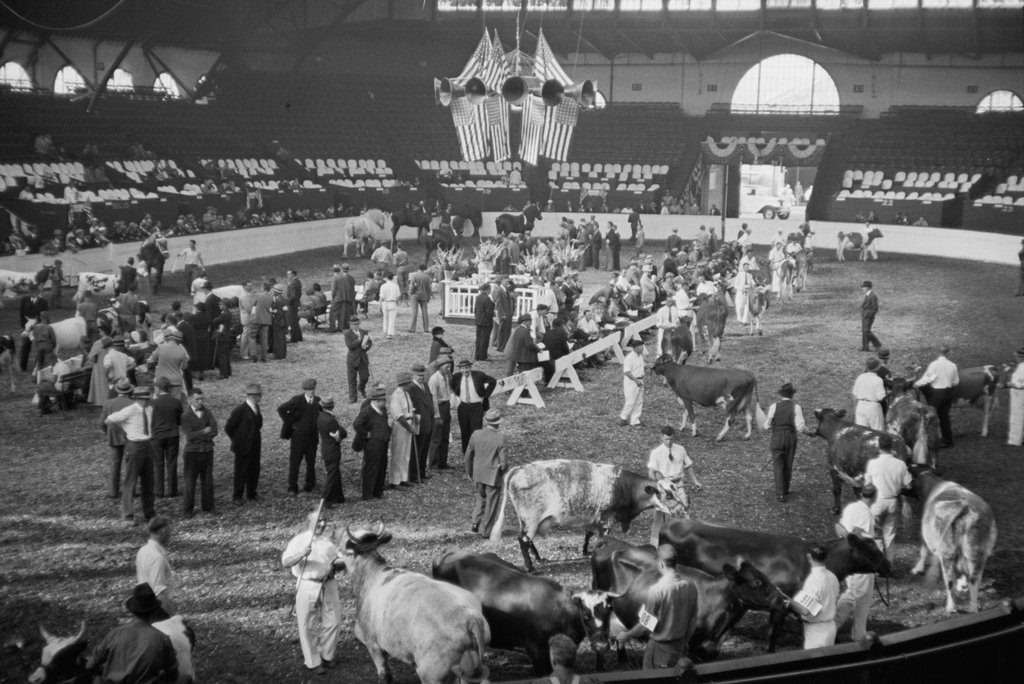 The Coliseum in 2016: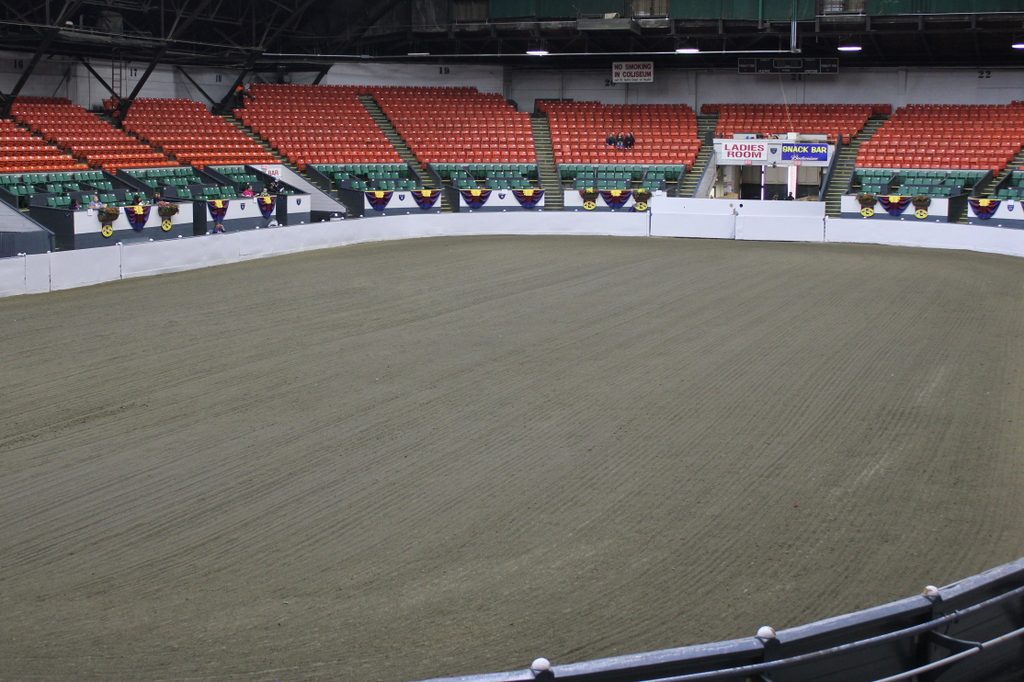 The Eastern States Exposition, better known as the Big E, began in 1916 as an agricultural fair for the six New England states. A century later, it is still held every September on the same site in West Springfield, and one of the centerpieces of the fair has been the Coliseum, seen here in these two photos. It opened in 1916 for the first exposition, and since then it has been used for a variety of events.
The first photo was taken during a cattle judging event at the 1936 exposition, and was photographed by Carl Mydans. He would go on to become a prominent photographer during World War II, and even spent two years as a prisoner of war to the Japanese. In 1936, though, he was working for the Farm Security Administration, traveling around the country and documenting rural life during the Great Depression, and his work can be seen on the Library of Congress website.
Aside from agricultural-related events at the Big E, the Coliseum has also been used as a sports venue, especially hockey. Starting in 1926, it was home to the Springfield Indians, a minor league professional hockey team. A few years after the first photo was taken, the team was purchased by Eddie Shore. A retired Bruins player who was later elected to the Hockey Hall of Fame, Shore played here for three seasons and owned the team for nearly 40 years. In 1972, Shore and the Indians moved across the river to the newly-built Springfield Civic Center, and four years later he sold the team.
The Coliseum was last used for professional hockey a few years later, when the major league New England Whalers of the World Hockey Association briefly used it while their permanent home, the Hartford Civic Center, was nearing completion. After this, it continued to be used for high school hockey games until 1991, when the ice plant was dismantled.
Today, although hockey games are no longer played here, the Coliseum remains in use during the Big E as well as other times throughout the year. With a seating capacity of 5,900, it is still one of the largest arenas in Western Massachusetts, and as the two photos show, the interior has been well-preserved over the years. The windows along the exterior walls have since been covered, but overall the Coliseum is an excellent surviving example of an early 20th century indoor arena.