The house at 1006 Windsor Avenue in Windsor, around 1935-1942. Image courtesy of the Connecticut State Library.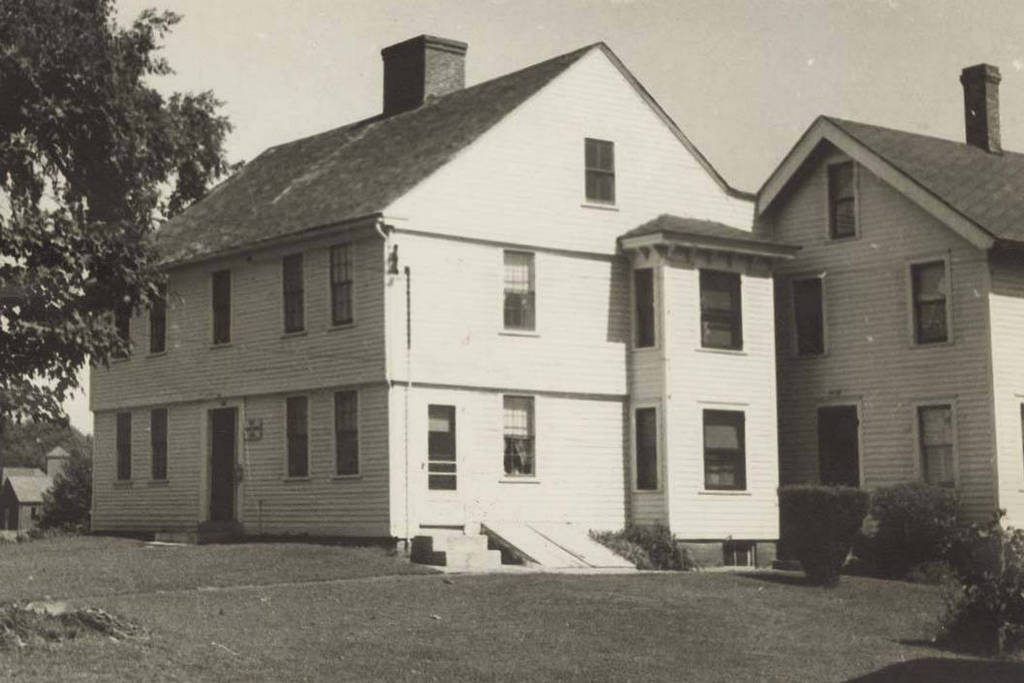 The house in 2017: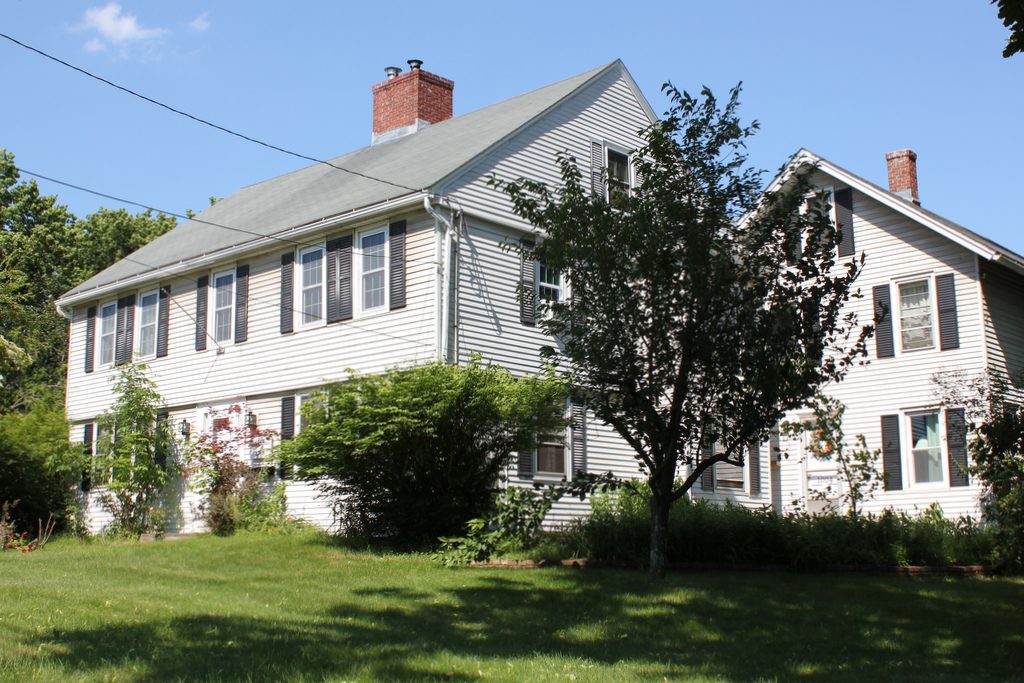 This house was built in 1788, and was originally the home of George Warner. He was in his mid-20s at the time, and a few years later he married his wife, Abigail "Nabby" Mills. They had two children, who were also named Abigail and George, and the older George lived here until his death in 1827. Three years later, his daughter Abigail married Willard Loomis, and their first child, Walter, was born here in this house in June 1830, four months after their marriage.
Willard and Abigail had a second child, who was also named Abigail, but Willard died in 1840, at the age of 35. Walter was just 10 at the time, and within a year he had left school and was helping to support his family by working for farmers and brickmakers in the area. In 1845, when he was 15, the railroad opened through Windsor, and Walter was hired as the first station agent at the town's depot. His responsibilities included selling tickets and handling baggage and freight, and he earned a salary of $5.50 per month. However, he did not care for the work, and after six months he returned to farming. By the 1850 census, he was listed as a farmer, and he was living here with all three generations of Abigails. His grandmother, Nabby, died the following year at the age of 79, but his mother was still living here in 1863, when he married Lucy M. Wilson.
In the 1870 census, Walter was listed as a farmer and a brickmaker, with real estate worth $5,010 and a personal estate of $1,760. His farm here included 50 acres of improved land, plus an additional 10 acres of unimproved land. His livestock included two horses, eleven head of cattle, and three pigs, and his farm produced 1,500 pounds of tobacco, 75 bushels of potatoes, 400 pounds of potatoes, and 30 tons of hay. At the time, he and Lucy had four young children: Edwin, Delia, Fanny, and Walter Marshall. They had one more daughter, Lucy, who was born in 1872, but the older Lucy died a week later, and the infant Lucy lived for only four months.
Throughout the 1870s, Walter continued to operate his farm here, with the 1880 census showing similar numbers of livestock and harvested crops. He also continued his brickmaking business, and in the early 1870s he even produced the bricks for Mark Twain's house in Hartford. Walter's mother Abigail died in 1879, at the age of 73, and a year later he married his second wife, Elizabeth B. Lincoln. However, tragedy struck again in 1881, when his 17-year-old daughter Delia died.
By the late 1890s, Walter and Elizabeth were living here with Elizabeth's great aunt, Anna Maria Benton, who lived here under Elizabeth's care until her death in 1898, at the age of 101. Around the same time, Walter's youngest son, W. Marshall Loomis, married his wife Clara E. Nixon, and they lived here with Walter and Elizabeth for many years. Marshall continued the operation of the family farm, and focused primarily on tobacco and dairy products.
Walter Loomis died here in 1922, in the same house where he had been born 92 years earlier. Clara also died in 1922, at the age of 51, and Elizabeth died three years later. Marshall subsequently remarried to his second wife, Grace, and they were still living here when the first photo was taken around the late 1930s. He retired from farming in the late 1940s, when he was nearly 80 years old, and he proved to have his father's longevity, living here in this house until his death in 1959, at the age of 90.
W. Marshall Loomis's death ended four generations and over 170 years of his family's ownership of this house. The property has not been an active farm in many years, and most of the surrounding area has since been developed as a suburb of Hartford. However, the house itself has not significantly changed since the first photo was taken around 80 years ago, and the house still stands as one of the many well-preserved 18th century homes in Windsor.