The house at 148 Deerfield Road in Windsor, around 1935-1942. Image courtesy of the Connecticut State Library.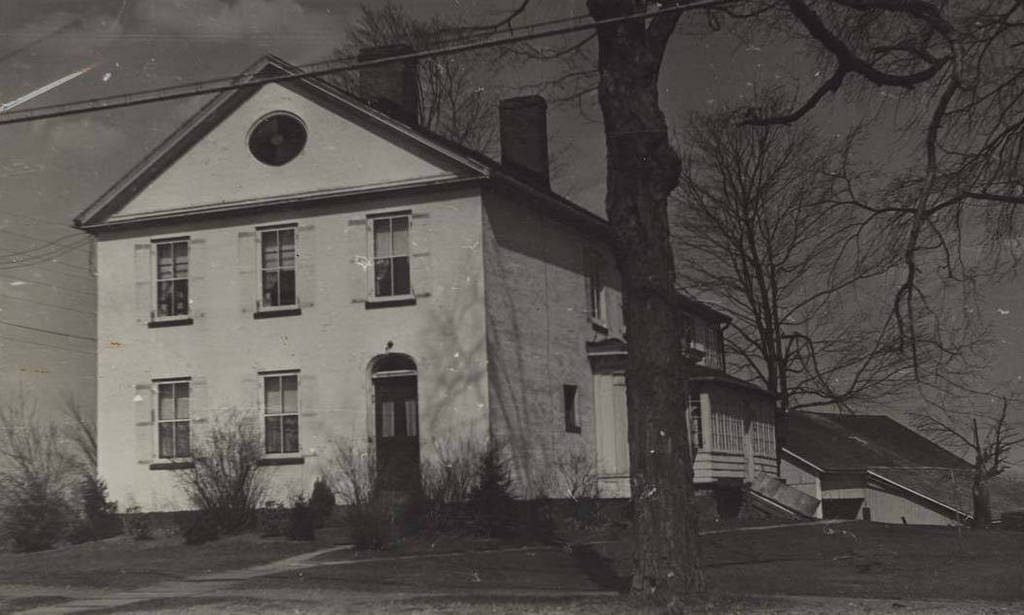 The house in 2017: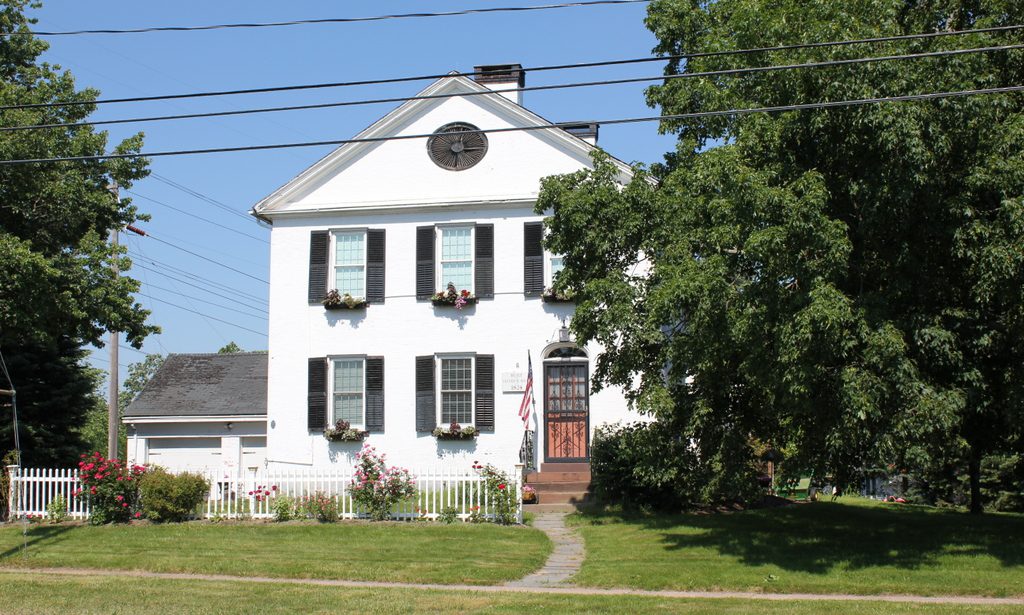 This brick, Federal-style house was built in 1824, and was originally the home of Oliver W. Mills, who built it shortly before his 1825 marriage to Anna Phelps. Mills was a farmer, but he was also a brickmaker, and he produced the bricks that were used in the construction of his house. His was one of many small-scale brickworks that operated in Windsor during the first half of the 19th century, and by 1850 Mills employed three workers and produced 300,000 bricks per year. He and Anna went on to live here for the rest of their lives, and they had five children: Oliver, Helen, Mary, Alfred, and Arthur.
The younger Oliver inherited this house after his father's death in 1866, and during the 1870 census he was living here with his mother, plus his wife Sarah and their two young children, Annie and Oliver. He was listed as a farmer, with real estate valued at $11,400 and a personal estate of $2,085, for a net worth of over $250,000 in today's dollars. The subsequent census, in 1880, provides a more detailed account of the farm's productivity, which included eight acres of tilled land, 22 acres of pastureland and orchards, and 100 acres of woodland. In 1879, the farm had a diversified output that included 400 pounds of butter, 800 dozen eggs, 100 bushels of corn, 30 bushels of rye, 200 bushels of potatoes, and 4,000 pounds of tobacco.
Sarah died in 1899, and Oliver in 1901, but the house would remain in the family for many more years. His son Oliver inherited the property, and lived here with his wife Catherine and their daughter Marguerite. Like his predecessors, he ran a farm here, but he also worked for many years for the National Biscuit Company, the company known today as Nabisco. Marguerite became a kindergarten teacher, and was later involved in a number of community organizations, ranging from the Windsor Historical Society to the Garden Club of Windsor. She and her parents were still living here when the first photo was taken, but Oliver died soon after, in 1943. Catherine died 10 years later, and Marguerite remained here as the fourth and last generation of the Mills family to live here, owning the house until her death in 1985.
Today, most of the former Mills farm has been developed. Logans Way, a short cul-de-sac, is now located directly behind the house, with an industrial development further in the distance. Just to the left of the house, high voltage power lines now cross the property. However, the house itself is still standing, and remains an excellent example of brick, Federal-style architecture. Very little has changed in its appearance since the first photo was taken about 80 years ago, and the house is now listed on the National Register of Historic Places.