Looking north on High Street from the corner of Division Street in Holyoke, around 1910-1915. Image from Illustrated & Descriptive Holyoke Massachusetts.
The scene in 2017: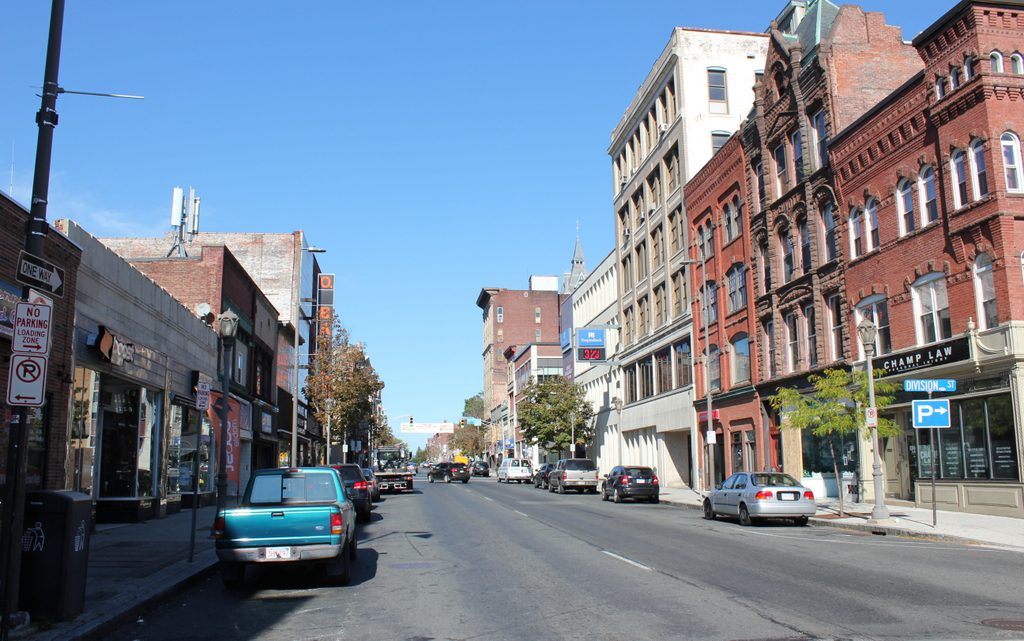 High Street has been the commercial center of Holyoke since the second half of the 19th century, and it is still lined with a number of historic buildings that date back to this period. This particular block, looking north from Division Street toward Suffolk Street, has not remained as well-preserved as some of the blocks to the north, as shown by the differences between these two photos. However, there are still some surviving buildings from the first photo, particularly in the foreground on the right side.
Starting on the far right, closest to the foreground, is the Guyott House, a hotel that was built in the mid-1880s and was operated by brothers Theodore and Victor Guyott. It occupies a corner lot, and features a small tower that projects slightly above the roofline and outward from the walls. Just to the left of it is a four-story building with an ornate brownstone facade. Built in 1892, it was also owned by the Guyott brothers, and was evidently used as part of the hotel at some point. Although these two buildings have very different exterior designs, they both feature Romanesque-style architecture, and both were designed by noted Holyoke architect George P. B. Alderman.
Further in the distance is a four-story, brick building at 320-322 High Street. It was probably built around the same time as its neighbors to the right, although its architect appears to be unknown. On the left side of this building, in the first photo, is the old central fire station, which was completed in 1864. It was probably the oldest building visible in the first photo, and served as the city's first central fire station until around 1915, when a new fire station was built on Maple Street. This new building is still standing as the Holyoke Transportation Center, but the old one was demolished soon after the first photo was taken, and the present six-story Young Men's Hebrew Building was constructed on the site.
Several other buildings on the right side have also since been demolished, including the Cunningham Building, which once stood at the corner of Suffolk Street on the other side of the fire station. However, the left side of the scene has undergone more drastic changes in the century since the first photo was taken. The small two-story building, constructed sometime in the early 1910s, appears to still be there, but not much is left from the 19th century. Perhaps the only relatively unaltered 19th century building along this section of High Street is the Conway Block, which was built around 1885 and still stands in the distance on the southwest corner of Suffolk Street.