Welch Hall (left) and Phelps Hall (right), on the campus of Yale University, around 1900. Image courtesy of the Library of Congress, Detroit Publishing Company Collection.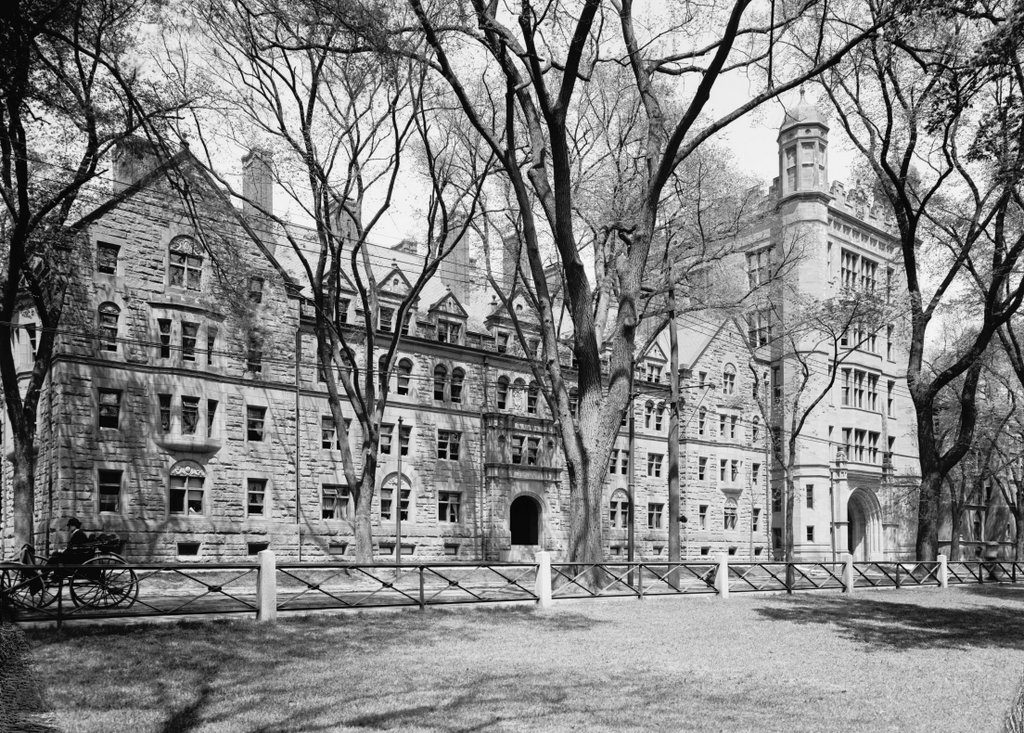 The scene in 2018: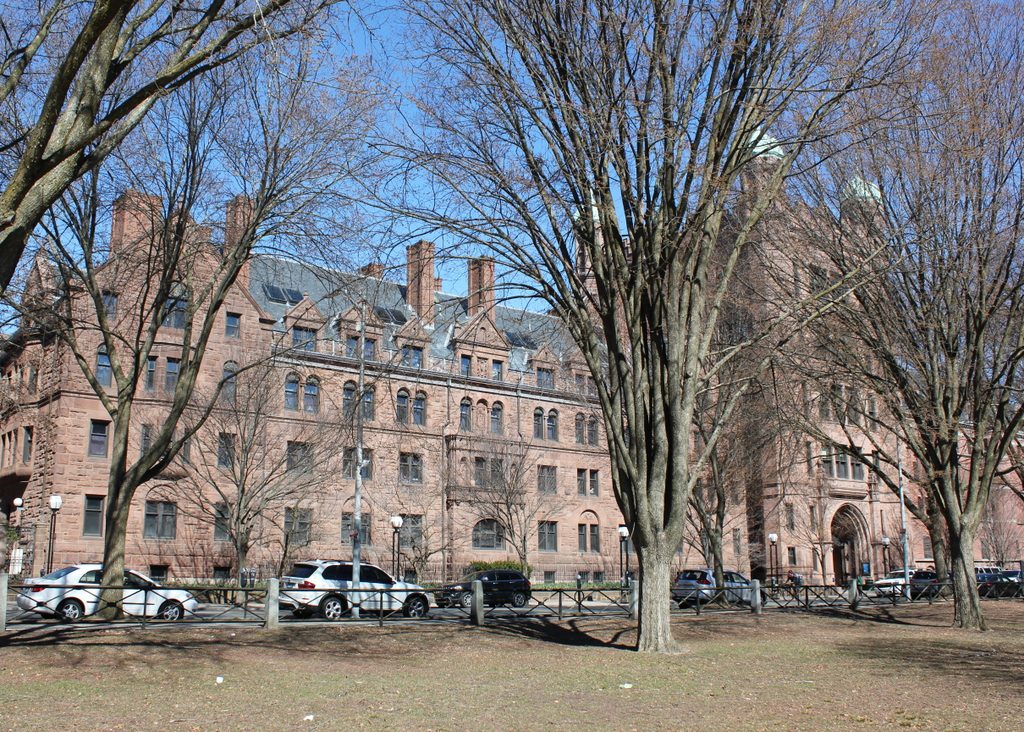 Although at first glance they appear to be part of the same building, these are actually two different buildings, and they form part of the perimeter of the Old Campus at Yale. The older of the two is Welch Hall, the four-story building on the left side. It was completed in 1891 as a dormitory, and was donated by the family the late Harmanus M. Welch, a businessman who had also served as mayor of New Haven from 1861 to 1863. The exterior was constructed of Longmeadow brownstone, a popular building material of the period, and its Gothic-style design was the work of the prominent architect Bruce Price, who had also designed the adjacent Osborn Hall several years earlier.
Just to the right of Welch Hall is Phelps Hall, which was completed in 1896. Its architect was Charles C. Haight, who also designed a number of other buildings on the Yale campus, including several buildings for the Sheffield Scientific School. His design for Phelps Hall filled the narrow gap between Welch and Lawrance Halls, and it was made to resemble a medieval gatehouse, complete with turrets on each corner and crenelations in between them. On the ground floor is the Phelps Gate, the main entrance to the Old Campus from the east. The upper floors were built with recitation rooms, and the building originally housed offices for the campus police as well. Its namesake was the late William Walter Phelps, an 1860 Yale graduate who served as a Congressman and as ambassador to Germany and Austria-Hungary, and it was donated by his family in his honor, following his death in 1894.
Today, nearly 120 years after the first photo was taken, almost nothing has changed about this scene. Both Welch Hall and Phelps Hall are still standing with few noticeable alterations, and even the fence along the New Haven Green is still there. Welch Hall continues to be used as a dormitory, housing the freshmen of Davenport College. From this angle, the only noticeable exterior differences are the addition of skylights on the roof, and the closing of what used to be the front entrance of the building. Next to Welch Hall, the Phelps Gate is still a main entryway into the Old Campus, and the floors above it in Phelps Hall are now the home of the Department of Classics and the Classics Library.