The Soldiers and Sailors Memorial Arch on the east side of the New Hampshire State House, around 1900-1910. Image courtesy of the Library of Congress, Detroit Publishing Company Collection.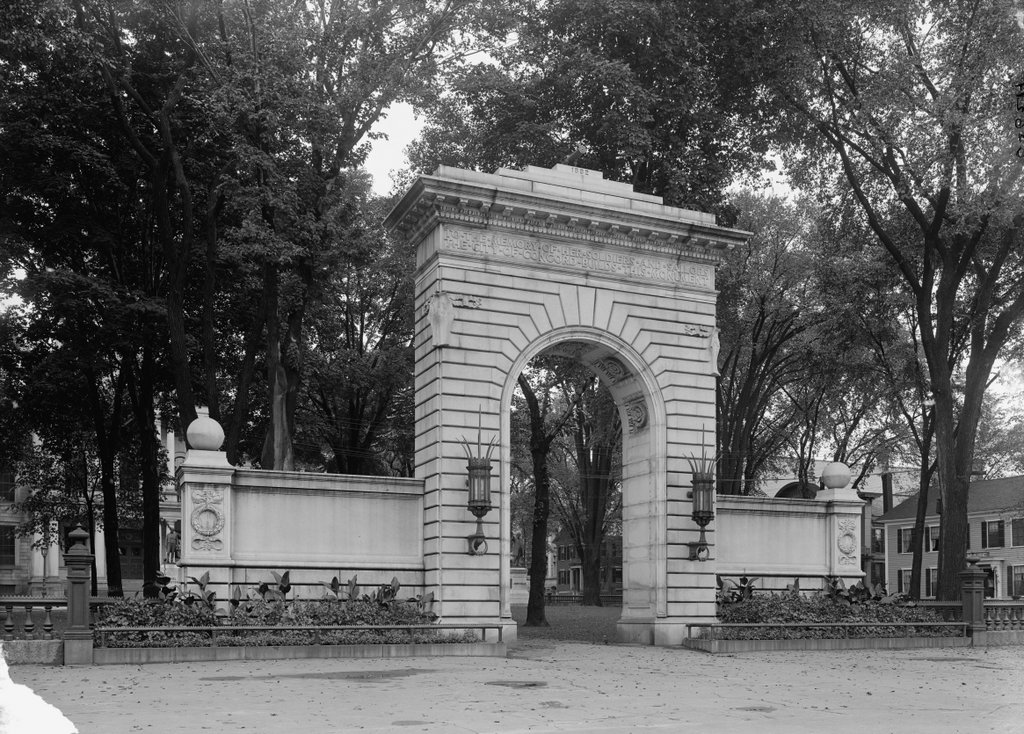 The scene in 2019: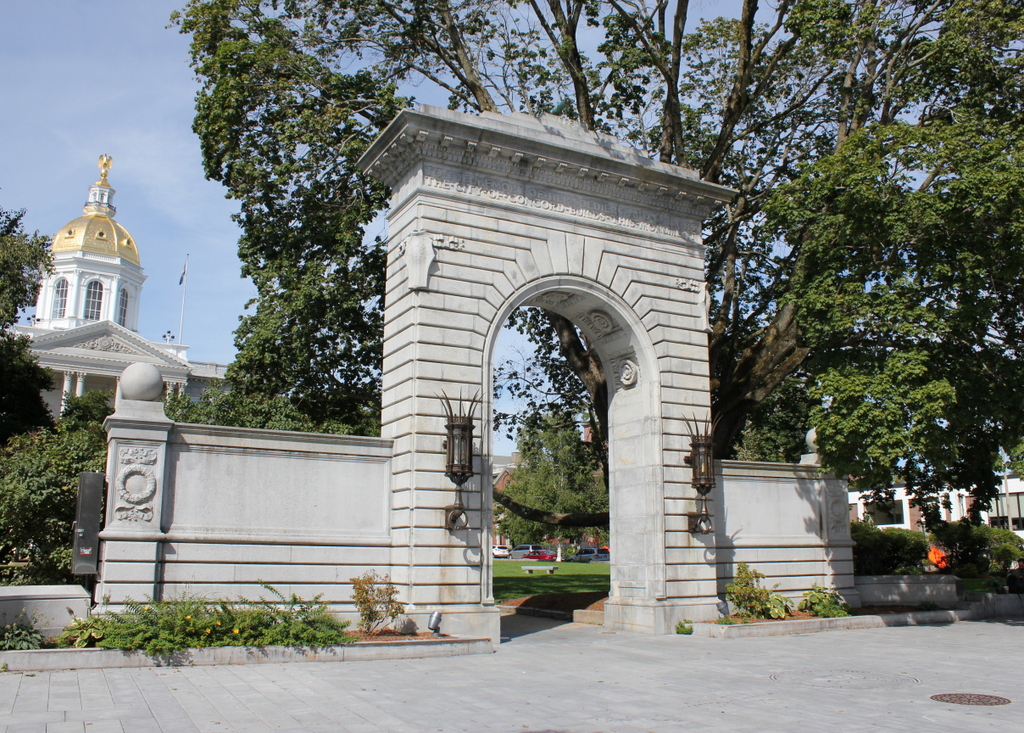 This arch was built in 1892 at the eastern end of the State House grounds, in honor of Concord's Civil War veterans. It is built of granite, measuring 33.5 feet high and 53 feet in width. It was was designed by the prominent Boston architectural firm of Peabody and Stearns, and it features symbolic elements such as wreaths and shields, and it is topped by a Gatling gun. Just below the gun is the year 1892, and beneath the cornice is the inscription "To the memory of her soldiers and sailors the city of Concord builds this monument."
The arch was dedicated on July 4, 1892, in a ceremony that drew Civil War veterans from around the state. In reporting on the event, the Boston Globe compared it to the wartime enthusiasm from decades earlier, noting how "Many of the men who today marched through Concord's streets in honor of this occasion were vividly reminded of the stirring times from '61 to '65 when, with buoyant hearts and with martial tread, they departed from the capital city to meet their country's enemy on the battlefield" In addition to the veterans, other important dignitaries included 95-year-old Nathaniel S. Berry, who had been governor for the first two years of the war, and Harriet P. Dame, a New Hampshire native who served on the front lines throughout the war as a nurse.
During the ceremony, the arch was unveiled by two Civil War veterans. It was then accepted by the mayor of Concord, who in turn introduced the keynote speaker of the day, Senator Joseph R. Hawley of Connecticut. In addition to holding various political roles, Hawley had also served as a brevet major general in the war, and during his speech he spoke about what the monument meant to Union veterans. He also spoke of the appropriateness of dedicating it on July 4, a day that emphasized national unity and patriotism rather than sectional differences and conflict.
The first photo was taken about a decade after the monument was dedicated. Since then, this scene has undergone a few changes, including the demolition of a few of the buildings along Park Street in the distance on the right. Overall, though, this view looks essentially the same as it did more than a century ago, and today both the arch and the State House in the background are part of the Concord Civic District on the National Register of Historic Places.