The view of Manhattan from New York Harbor, around 1913-1920. Image courtesy of the Library of Congress, Detroit Publishing Company Collection.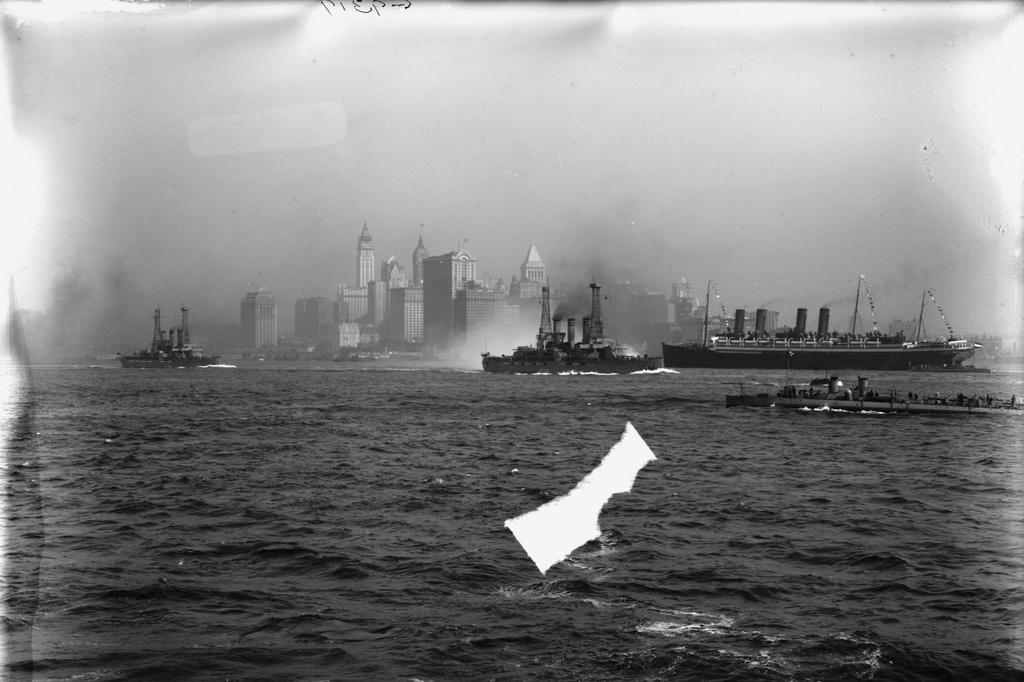 A similar view in 2012: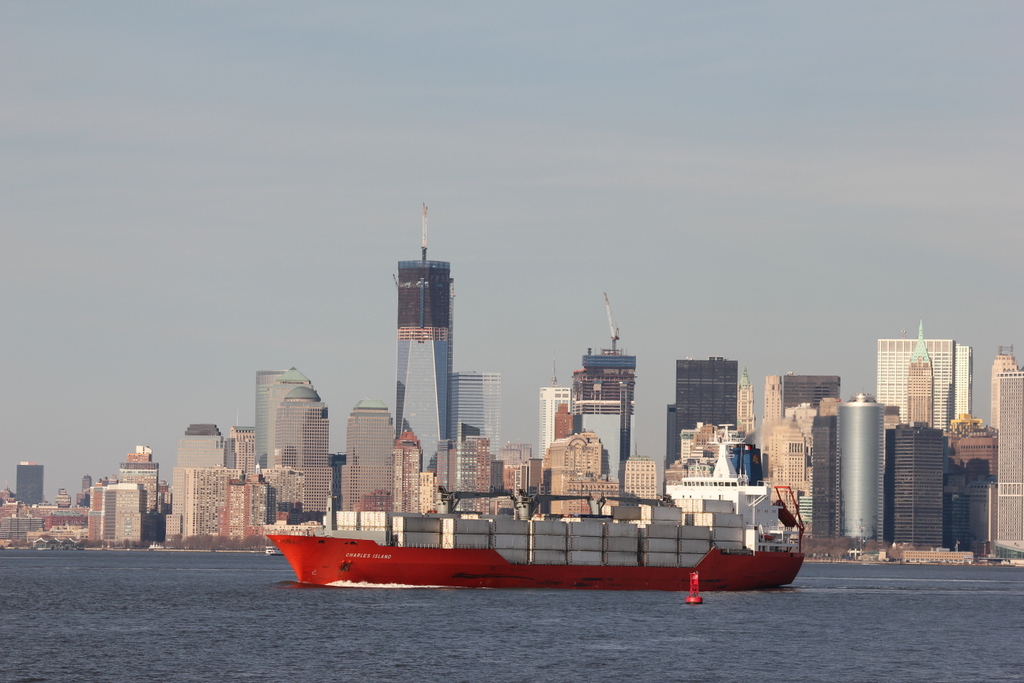 There's a lot going on in the first photo.  New York City has always been a busy port, but it was especially so in the early 20th century.  The top photo shows three major ships – the two battleships, and the passenger liner to the right.  In addition, there are several US Navy torpedo boats visible.
The two battleships are two of the five Virginia-class battleships, which were built by the US Navy between 1905 and 1906.  By the time this photo had been taken, they had already been rendered obsolete by new advances in battleship design, but they remained in commission until 1920, and were scrapped or sunk as target ships by 1923.  As for the ocean liner, it is German, as evidenced by the flag on the stern, but I don't know its exact identity.  The 2012 photo, on the other hand, shows the type of shipping that is most common today.  New York is no longer a destination for trans-Atlantic ocean liner traffic, nor is it a major military base, but today it is a major port for container ships, such as the Charles Island that is seen in the photo.
New York's skyline has obviously changed in the past 100 years, although a few landmarks are still visible.  the angle isn't exact between the two photos – the 2012 one was taken slightly to the east of the first one, but they show the same general view.  Both photos show the Whitehall Building, which is fairly prominent in the first photo, just above the stern of the lead battleship.  Today, its distinctive shape is still visible, just above the middle section of the container ship.  Another major building in the first photo is the Singer Building, seen just behind and to the left of the Whitehall Building.  It was demolished in 1967 to make way for the far less architecturally significant One Liberty Plaza, which is the large, black, rectangular building just above she ship's bridge.  Also in the 2012 photo is the new World Trade Center.  At the time that the photo was taken, the two tallest buildings were still under construction.