Employees of the Dwight Manufacturing Company in Chicopee, Mass, in November 1911. Image courtesy of the Library of Congress, National Child Labor Committee Collection.
In 2014: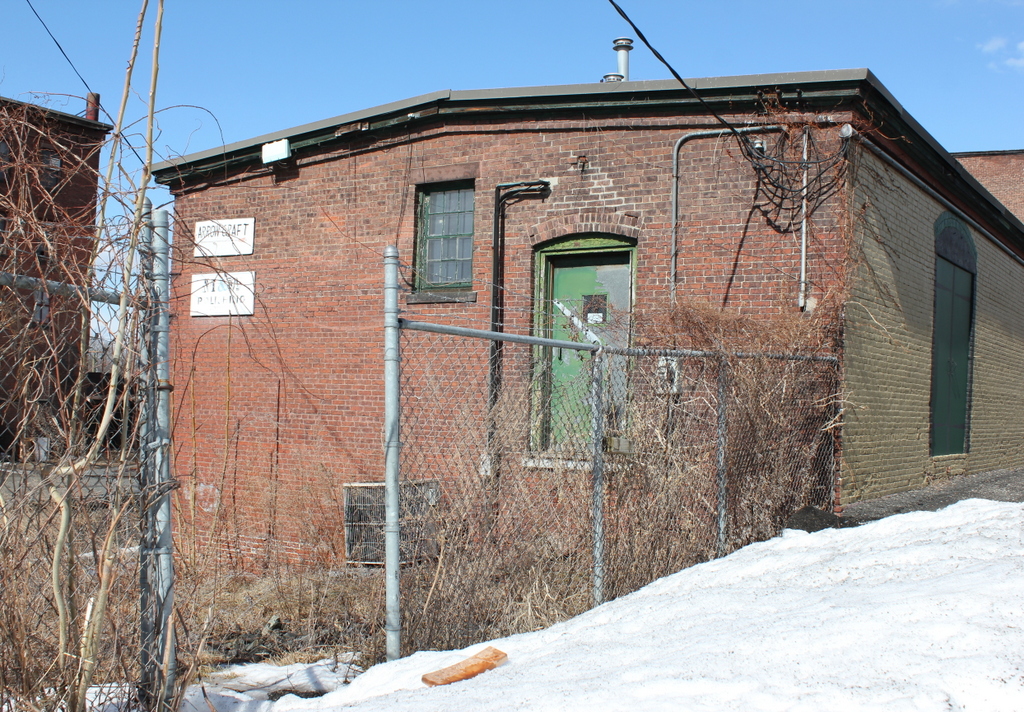 Another photo from Lewis Hine's documentation of child labor issues in the early 1900s, this one shows a group of young workers at Dwight Manufacturing Company in Chicopee, Mass.  Hine writes this in his caption:
Group of workers in Dwight Mfg. Co. Stanley Twarog (one of the smallest boys), 81 Park St. Works in spinning room. Tony Sccha [i.e., Soccha], (Shortest boy in front, overalls. Very young. 65 Exchange St. A bobbin Boy in Room 7; has been there a year. Location: Chicopee, Massachusetts.
Today, all of the boys are (presumably) long-dead, but I'm sure many of their ancestors still live in Chicopee and the surrounding towns, probably unaware of their grandfather or great-grandfather's role in changing child labor laws in the United States.  The buildings do remain, although the picket fence has been replaced by a far less picturesque chain link fence topped with barbed wire, and the railroad tracks in the foreground aren't covered in the snow – they are long gone as well.