The southbound platform of what is today the State station on the Orange Line.  At the time that the photo was taken, around 1912, it was known as Milk station. Photo courtesy of Boston Public Library.
The station in 2014: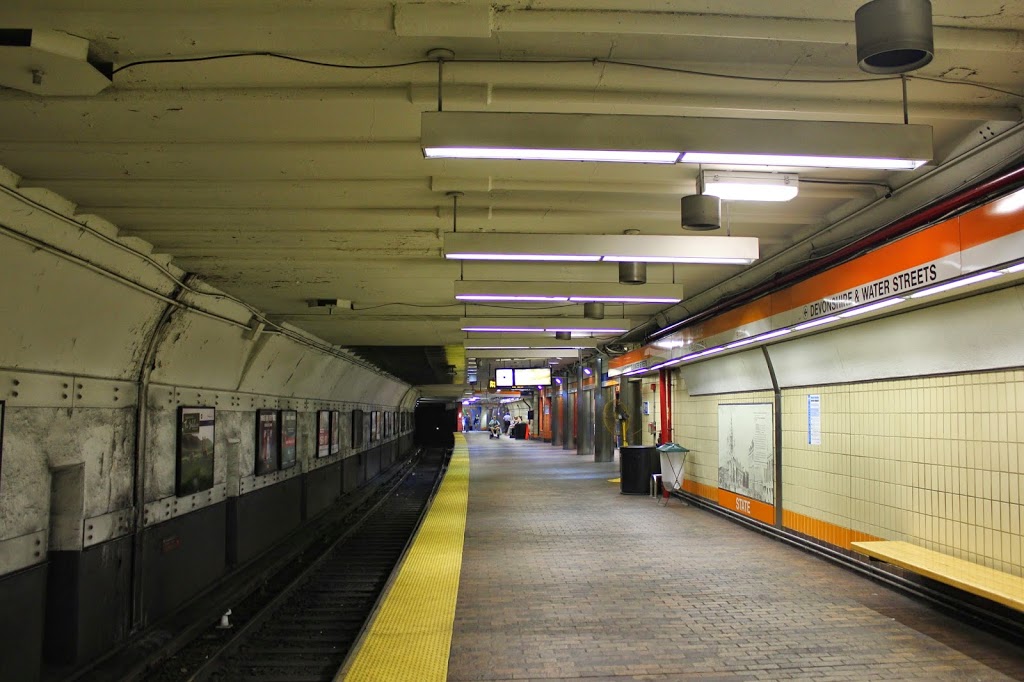 As mentioned in this post, the modern-day Green Line was the first subway in Boston and in North America.  It was opened in 1897, and was followed by the present-day Blue Line in 1904.  However, these were essentially underground trolley lines, as opposed to heavy rail rapid transit most commonly associated with subway systems.  Boston's first true heavy rail rapid transit line was the Washington Street Elevated, which opened in 1901 and, as the name suggests, was elevated above Washington Street.  However, through downtown it was routed through the present-day Green Line's Tremont Street Subway.
This changed in 1908, when the Washington Street Tunnel was opened, allowing elevated trains to bypass the trolley tunnels.  One unusual feature of this line, though, was that the northbound and southbound platforms were treated as different stations, with different names.  In the case of the 1912 photo above, northbound passengers would access the subway through the State station, located at State Street under the Old State House.  However, southbound passengers would enter a couple blocks away, at Milk Street, near Old South Meeting House, which meant the station, as seen on the walls in the 1912 photo, was called "Milk."
Today, renovations have connected the two platforms, so that passengers can access trains in either direction from any entrance.  However, the southbound platform, as seen here, has survived largely unchanged in over 100 years.  The only major difference is the tunnel connecting to the northbound platform, which is barely visible in the 2014 photo off in the distance.