Looking north on Market Street from the corner of Daniel Street at Market Square in Portsmouth, around 1914-1920. Historic image courtesy of the Library of Congress, Detroit Publishing Company Collection.
Market Street in 2015: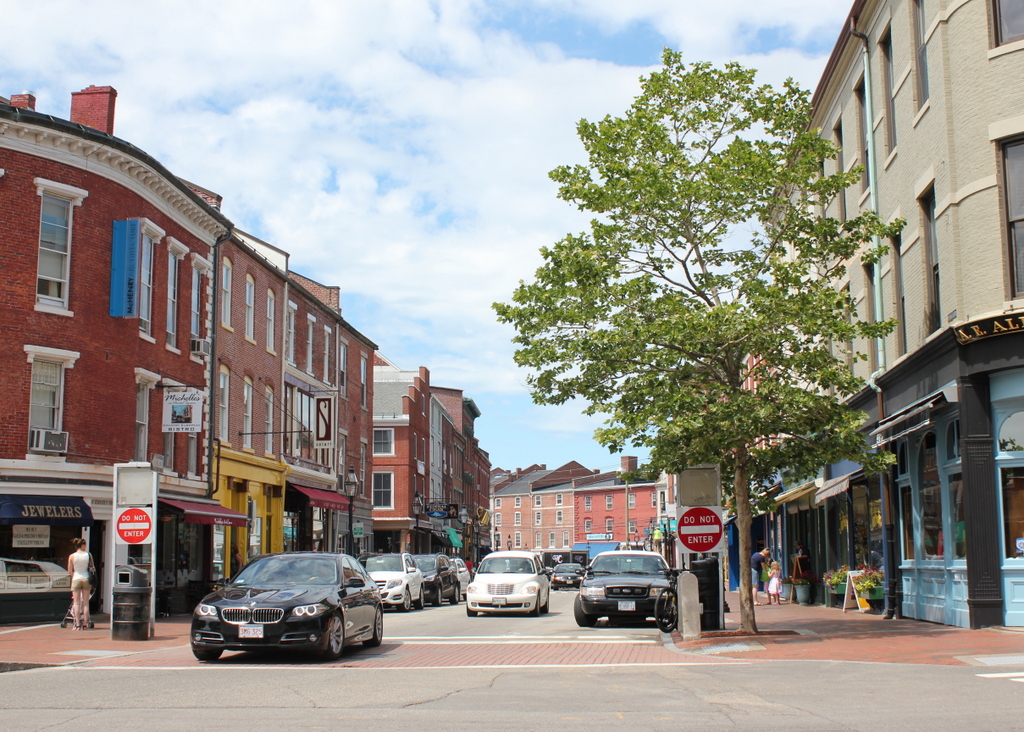 These photos show a view very similar to the ones in this post, and as was the case there, not much has changed here either.  Market Street is located at the northeastern end of Market Square, and is lined with historic early 19th century commercial buildings on both sides, most of which were built in the immediate aftermath of several disastrous fires in the first couple decades of the 19th century.  These were constructed with fire safety in mind, with brick walls, slate roofs, and firewalls extending above the roofs between buildings.  Most of this street was destroyed in a 1802 fire, and the buildings on the left were built by 1807, when Daniel Webster opened his law office on the second floor of either the building with the yellow storefront or the one beyond it with the maroon awning.
The fireproofing efforts seem to have been successful, because this street was already considered historic when the first photo was taken.  Today, a century after the first photo was taken, and two centuries after most of the buildings were built, everything from the first photo is still there.  Even one of the businesses is still there: Alie Jewelers on the far right side, which was established in 1914 and provides the earliest possible date for the first photo.