Looking east on Congress Street from Middle Street, around 1905-1915. Image courtesy of the Library of Congress, Detroit Publishing Company Collection.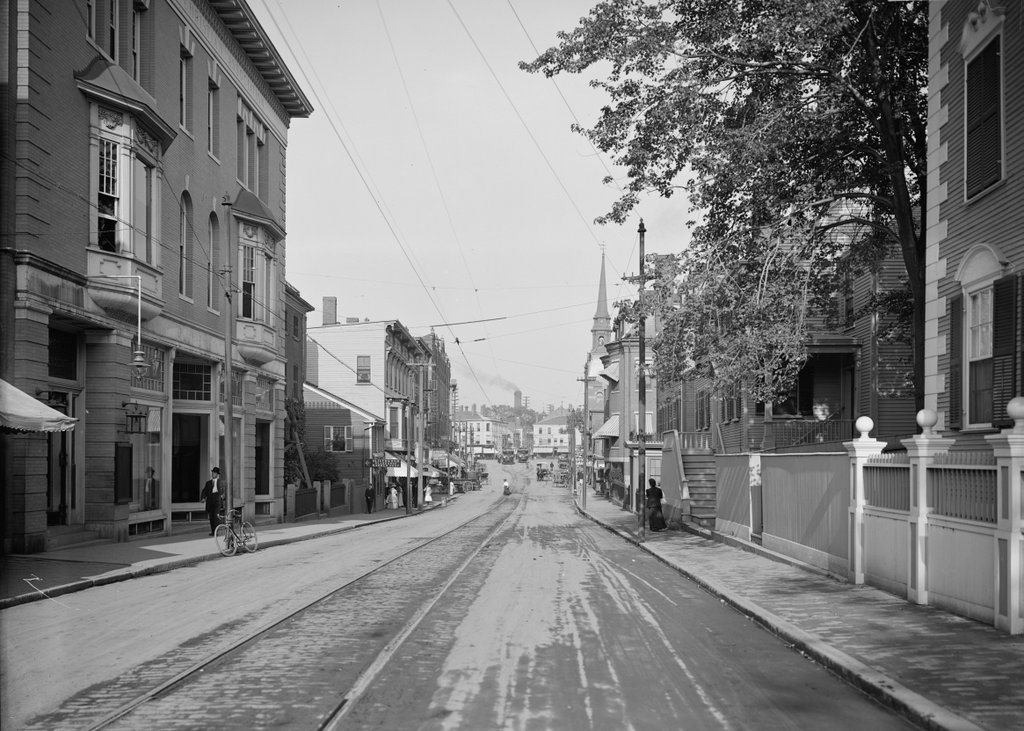 Congress Street in 2015: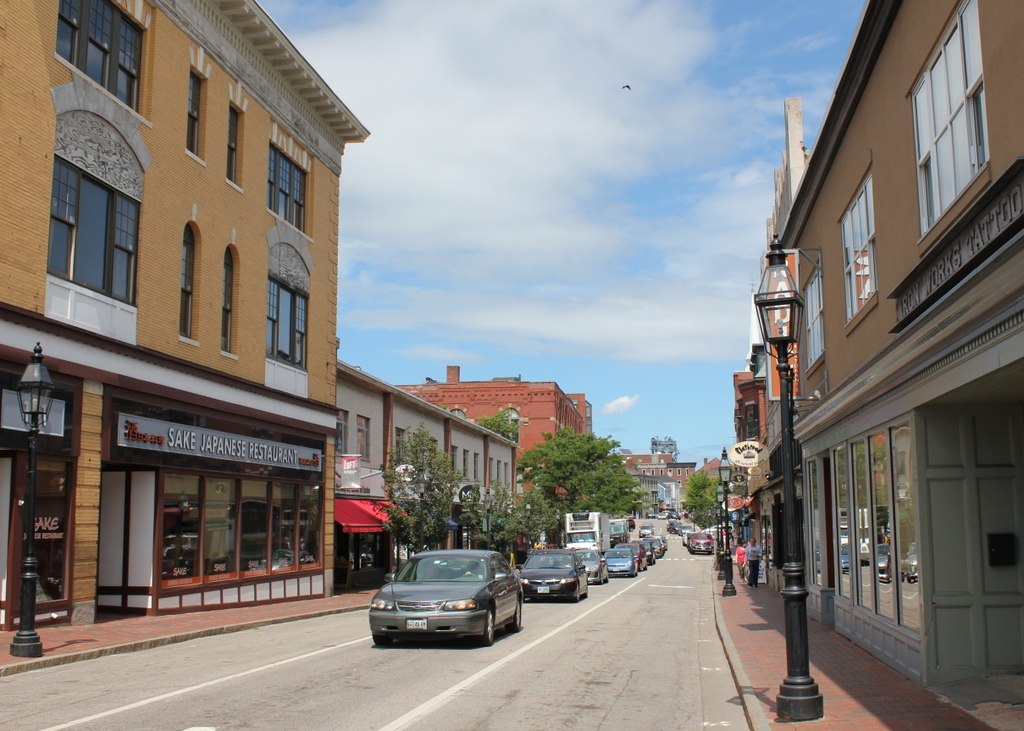 This view faces down Congress Street toward Market Square, where the photos in this post and this post were taken.  Unlike those views, however, there have actually been some changes here.  When the first photo was taken, this area was on the edge of the Market Square commercial district, so the scene shows a mix of both brick commercial buildings and wood-frame houses.  The houses on the right-hand side date to the mid-1700s, when Portsmouth was the colonial capital of New Hampshire and a major seaport and shipbuilding center.
On the far right is the corner of the Cutter House, which was built around 1750 and subsequently owned by Dr. Ammi R. Cutter, a surgeon in the French and Indian War and the American Revolution.  He later gave the house to his daughter, who married Clement Storer, who was also a doctor and military officer.  He served in the War of 1812, and also served one term in the House of Representatives and two years as a U.S. Senator.  In his 1817 trip to New England, President James Monroe stayed at the house; at the time, Storer was a Senator and a fellow Democratic-Republican.
Beyond the Cutter House is the Leavitt House, which was built prior to 1761 and was the home of Wyseman Clagett, a colonial judge who was infamous for his draconian rulings.  It later went through a series of other owners, and by the mid 1800s was owned by a Miss M. Leavitt, from whom we get the historic name of the house.  The third house down the street, barely visible beyond the Leavitt House, was the home of Colonel Joshua Peirce, a New Hampshire militia officer who purchased it in 1839.  It had been built around 1785, making it by far the newest of these three mansions.
Today, all three of these historic houses are gone, having long ago been replaced with 20th century commercial blocks.  Another 18th century house was demolished not long before the first photo was taken; it had been owned by W.H.Y. Hackett, a lawyer, banker, and politician who lived here for over 50 years.  After his death in 1878, the YMCA used the building until 1905, when they demolished it to build the present-day yellow brick building on the same spot.  This is the only building in the foreground that still exists today, and even then it has been altered.  The bay windows on the second floor have been removed, and the storefront has been heavily altered.  The YMCA used this building until 1957, and today the first floor storefront is home to the Sake Japanese Restaurant.