Looking northeast in Market Square in Portsmouth, facing Market Street, around 1902. Image courtesy of the Library of Congress, Detroit Publishing Company Collection.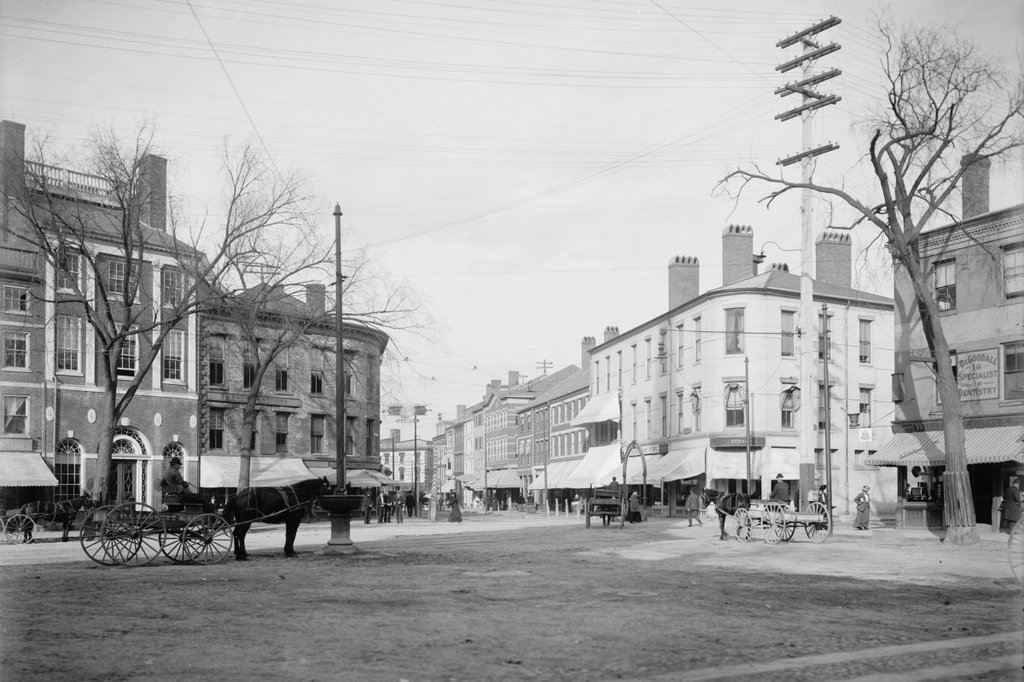 Market Square in 2015: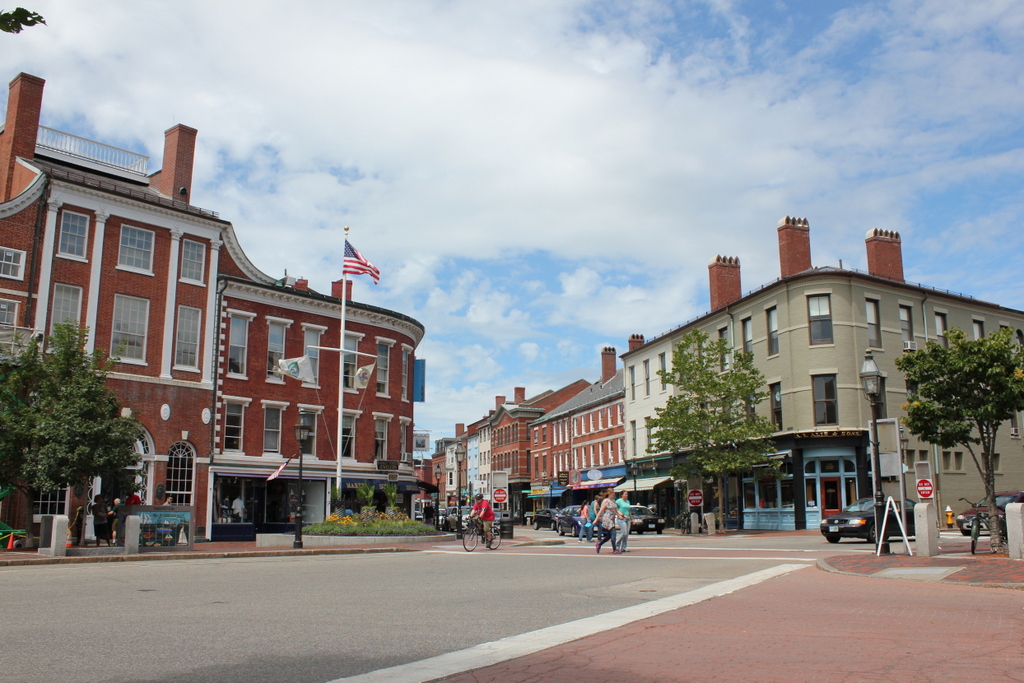 These views show part of Portsmouth's historic Market Square, which as the photos suggest hasn't changed much in well over a century.  In fact, it would require going back nearly 200 years, before the invention of photography, to notice much of a difference here.  The area around Market Square has been the commercial center of Portsmouth since the 1700s, when the seaport town was rapidly growing as a major port and shipbuilding center.  Its heyday came in the early 1800s, with many historic buildings surviving from this time period, including much of this scene here.
Portsmouth was hit with several disastrous fires in the early 1800s, including one in 1802 that destroyed most of Market Square.  The area was soon rebuilt with brick commercial blocks, many of which survive today, including the Portsmouth Athenaeum building on the far left.  The distinctive building was completed in 1805 as the home offices of the New Hampshire Fire & Marine Insurance Company, but the company went bankrupt just eight years later because of the effect that the War of 1812 had on the New England shipping industry.  The Athenaeum, a private library and museum, purchased the building in 1823, and it has been there ever since as one of the few remaining private membership libraries in the country.
Today, Portsmouth is no longer a major shipping center, and hasn't been for a long time.  With the Industrial Revolution of the early 1800s, much of New Hampshire's industry moved from shipping to manufacturing, and the inland mill towns became the state's centers of economic activity.  By 1900, the population of Concord and Nashua was five and ten times larger, respectively, than it had been in 1830.  In Manchester, the increase was even more dramatic, growing from 877 people in 1830 to over 56,000 in 1900. Meanwhile in Portsmouth, the population had grown by just 32%, with virtually no population change at all between 1850 and 1890.  However, little population change also meant little development projects, which is part of the reason why the Portsmouth of today has so many historic early 1800s buildings, including virtually the entire scene here.  By my count there are 14 buildings in the first photo, and all 14 still exist today, which is exceedingly rare to find in a 113 year old street view of the commercial center of a city.  The only building that doesn't appear in the 2015 scene is the one on the far right, at the corner of Pleasant and Daniel Streets.  It is still there, but I couldn't fit it in the frame of my camera.