Looking east on Central Street from the corner of Main Street in Springfield, around 1892. Image from Picturesque Hampden (1892).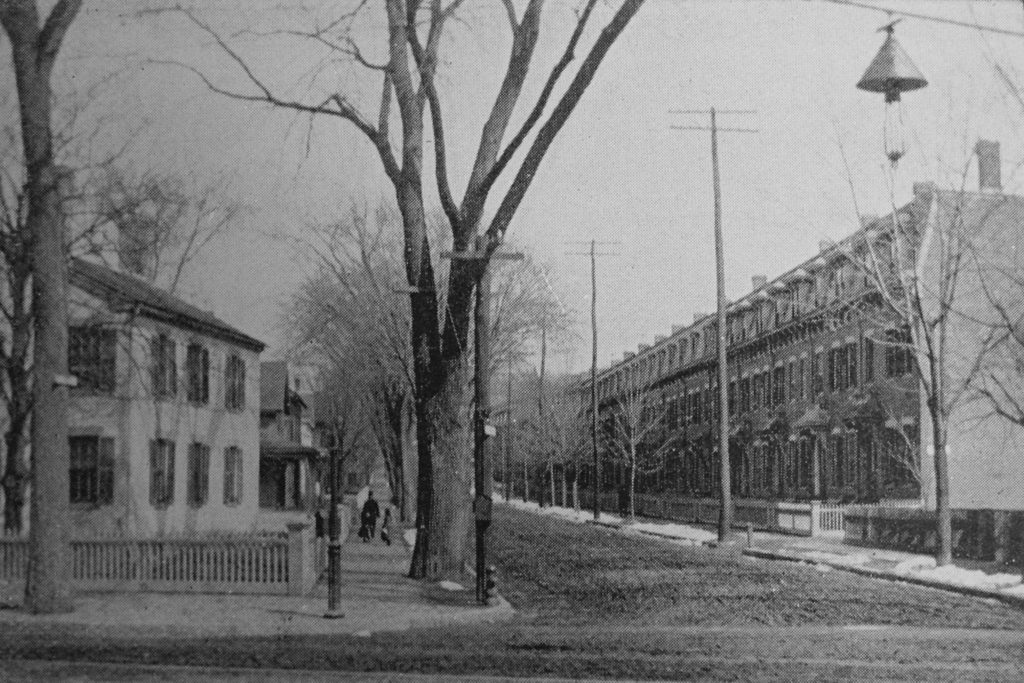 Central Street in 2017: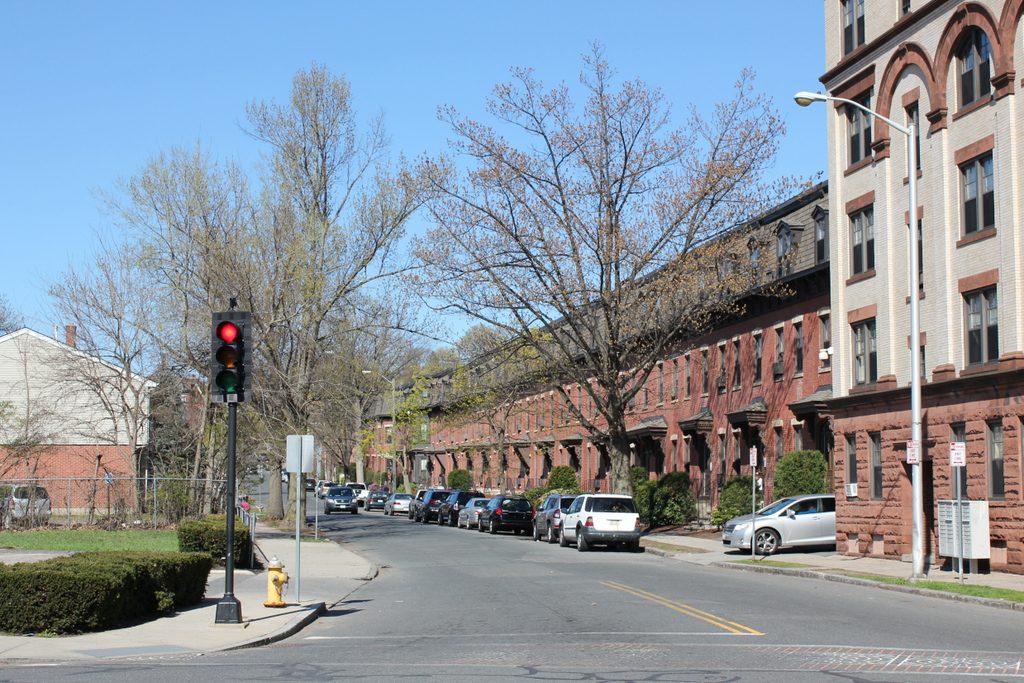 In the 1880s, Springfield acquired the sobriquet of the "City of Homes," thanks to the city's abundance of fine single-family homes. Because such homes were the predominant residential construction of the 19th century, rowhouses were comparatively scarce, and were only built in a few parts of the city. Aside from a few small groups of homes on Temple and Maple Streets, only Mattoon and Central Streets have rowhouses in significant numbers, and this block of Central Street has, by far, the longest unbroken row of these homes.
In general, these rowhouses are less ornate than the ones on Mattoon Street, but they were built around the same time, over the span of about 10 years in the 1870s and early 1880s. They have similar Second Empire-style architecture, with two lower floors and a mansard roof on the third floor, and the western half of the block was built by B. F. Farrar, the same mason who was responsible for some of the homes on Mattoon Street.
The earliest of these houses are the five in the foreground, which were built in 1873 by Farrar. That same year, a financial panic hit the country, leading to a significant drop in demand for new houses, but despite the recession Farrar built nine more identical rowhouses in 1875, directly adjacent to his original five. The eastern half of the block, further in the distance, was built in 1882, and generally matches the design of Farrar's original homes. However, many of the newer homes have bay windows, which contrast with the flat front facade of the earlier homes.
Although the entire south side of Central Street became a continuous set of rowhouses, the north side was never developed in a similar way. When the first photo was taken, the left side was lined with single-family homes, many of which would later be demolished to build a factory for the Springfield Knitting Company. This factory has, in turn, since been demolished, and today only one 19th century home still stands on the left side of the street.
Unlike the left side of the street, the right side of this photo has remained remarkably unchanged, 125 years after the first photo was taken. All of the historic rowhouses are still standing, after having been restored in the mid-1970s. The only significant change to this side of the street is the building on the far right, at the corner of Main Street. Known as The Central, this five-story Classical Revival building was built in 1908, with four stores on the first floor and 27 apartments on the upper floors. Like the neighboring rowhouses, the apartment building was restored in the 1970s, and it is still standing, with few changes from its original exterior appearance.