The house at 383 Union Street, at the corner of Mulberry Street in Springfield, around 1938-1939. Image courtesy of the Springfield Preservation Trust.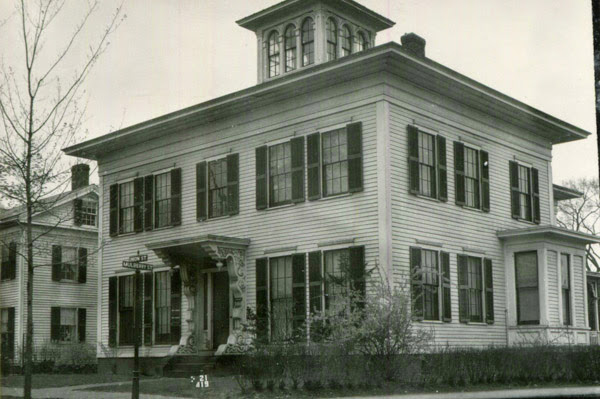 The house in 2017: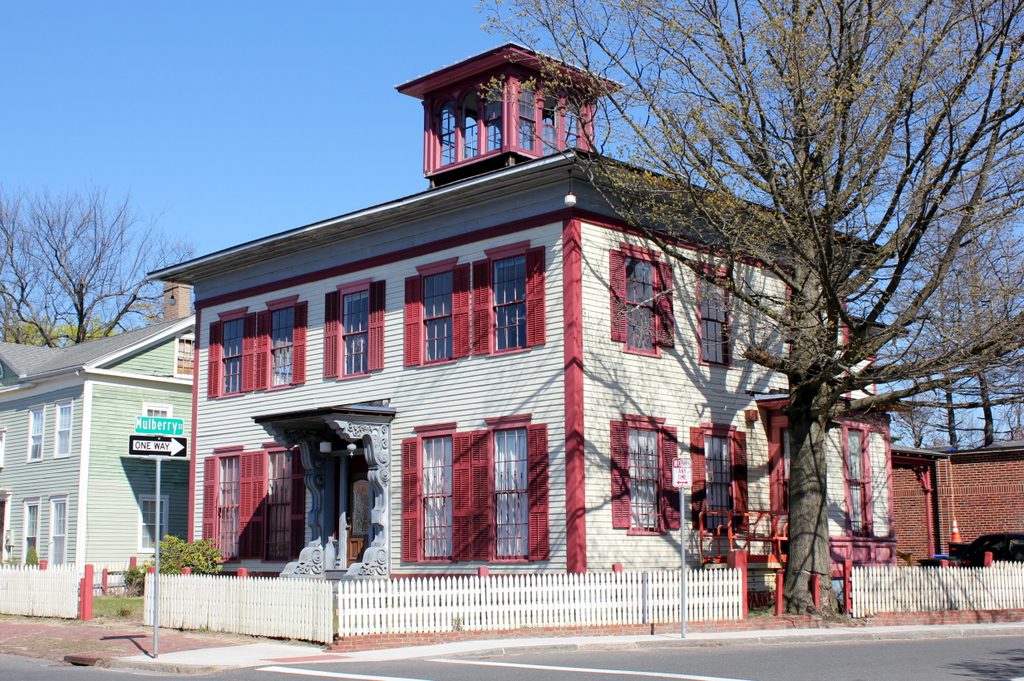 During the mid-19th century, many of Springfield's upper class residents built fine Italianate homes such as this one, which is located at the corner of Union and Mulberry Streets, on a hill overlooking downtown Springfield. It was built around 1864 for Dr. Varillas L. Owen, a Harvard-educated physician who moved to Springfield in the early 1850s and opened his practice in the rapidly-growing city. He lived here with his wife, Maria Tallant Owen, a Nantucket-born botanist who would go on to achieve fame in the scientific community, particularly with her 1888 work Catalogue of Plants Growing Without Cultivation in the County of Nantucket, Massachusetts. Here in Springfield, she worked at several different schools, teaching botany, French, astronomy, and geography. Along with this, she also served for many years as the president of both the Springfield Women's Club and the Springfield Botanical Society.
The Owens had two children, Walter and Amelia, who grew up in this house. Walter attended M.I.T. and went on to become an architect, and later moved to New York, where he joined the firm of Renwick, Aspinwall & Russell. Among his works was the George Walter Vincent Smith Art Museum, which was completed here in Springfield in 1896. That same year, he became a partner in the firm, which was renamed Renwick, Aspinwall & Owen, but he died only a few years later in 1902, at the age of 38. In the meantime, Walter's parents continued living here at this house, long after Walter moved to New York. Varillas died in 1897, and Maria went on to live here for the next 10 years, before moving to Long Island to live with Amelia and her husband, Dr. James Sullivan.
By 1910, the house was owned by Charles H. Barrows, a lawyer and author who lived next door at 375 Union Street, just across Mulberry Street from here. He apparently used this house as a rental property, because during the 1910 census he was renting the house to Cheney H. Calkins, a dentist who lived here with his wife Alice, their son William, and two servants. The family was still living here in 1920, but by the middle of the decade this house was the home of Frederick H. Clodgo, a salesman who lived here with his wife, Charlotte. They were living here as late as 1927, but by 1930 the city directory listed this house as being vacant.
This house appears to have only been sporadically occupied during the 1930s, but around 1936-1937 it was the home of George and Bertha Rand. During this time, they rented rooms to several other people, but they had moved out of here by 1938. The house appears to have been vacant around the time that the first photo was taken, but it has since been restored, and still stands here at the corner of Union and Mulberry Streets. It is probably the best-preserved example of residential Italianate architecture in Springfield, and it forms part of the city's Ridgewood Local Historic District.