College Hall on the campus of Smith College, seen from West Street in Northampton, around 1900. Image courtesy of the Library of Congress, Detroit Publishing Company Collection.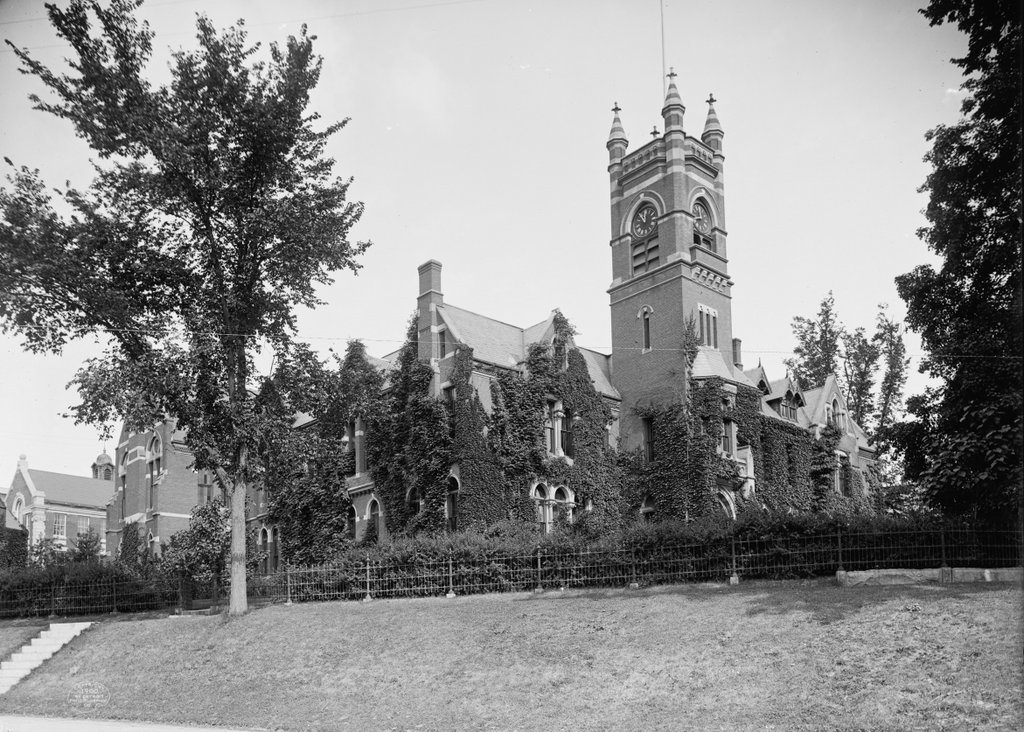 College Hall in 2018: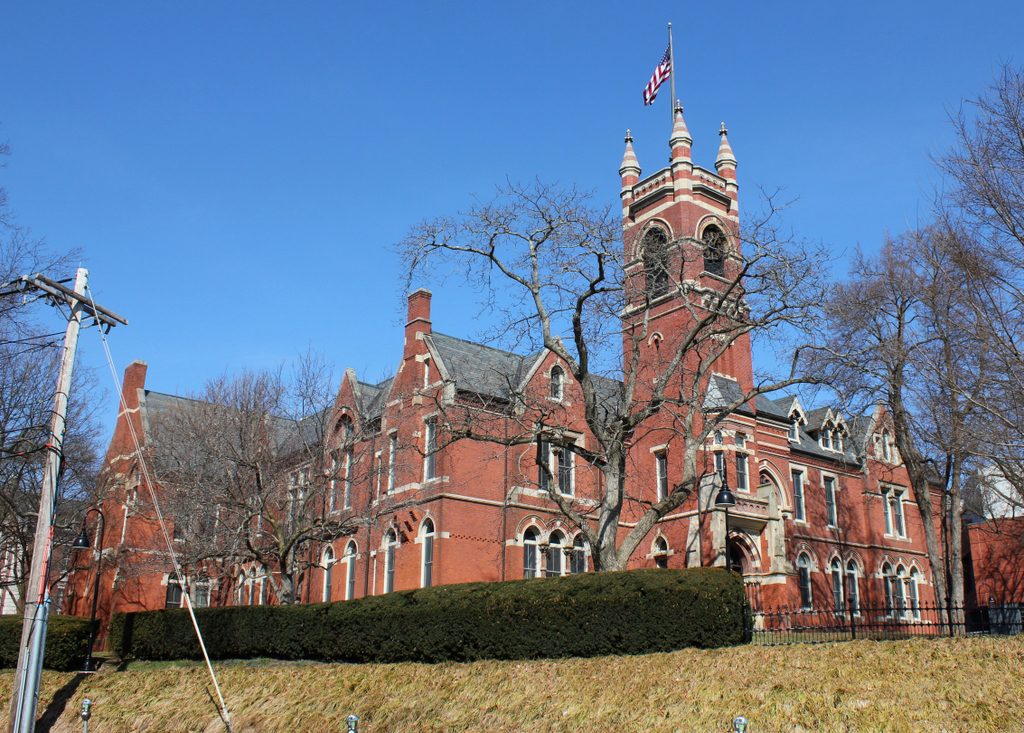 Smith College was established in 1871, as part of the will of Sophia Smith (1796-1870), who left a large bequest to establish a women's college in Northampton. This building, College Hall, was the first building on the campus, and it was completed in 1875, the same year that the school opened. It was designed by Peabody and Stearns, a prominent Boston-based architectural firm, and its design reflected the High Victorian Gothic style that was fashionable at the time. Smith College has just 14 students and six faculty members when it opened in the fall of 1875, and this building was used for almost everything except dormitory space. When completed, it included classrooms, a laboratory, a social hall, an art gallery, and administrative offices, although this soon began to change as the college grew.
By the time the first photo was taken at the turn of the 20th century, the college's enrollment had increased significantly. The campus had grown accordingly, and included new residential buildings, a gymnasium, a music hall, an art gallery building, a science building, a chemistry building, and a new academic building. College Hall itself had also been expanded, with an 1890 addition that increased the capacity of the social hall – renamed Assembly Hall – from 500 to 900. In 1901, Assembly Hall was expanded again, by opening up the second floor above the hall and adding another 500 seats. However, this ended up being a temporary change. John M. Greene Hall, with its 2,225-seat auditorium, was completed in 1910, eliminating the need for such a large auditorium here in College Hall, and the second floor above Assembly Hall was subsequently reconstructed.
By the 1909-1910 school year, Smith College employed 104 faculty members and had 1,635 students, with an annual tuition that had just been increased from $100 to $150. At this point, College Hall was only used for the auditorium, some classrooms, and administrative offices, but over time this would continue to change as more buildings were added to the campus. College Hall would ultimately come to be used only for offices, resulting in significant changes to the interior in he process. However, the exterior appearance has remained well-preserved over 140 years after the building first opened, and today the only noticeable difference between these two photos is the lack of ivy on the brick walls of the building.