Looking east on Elliot Street, toward Main Street in Brattleboro, around 1894. Image from Picturesque Brattleboro (1894).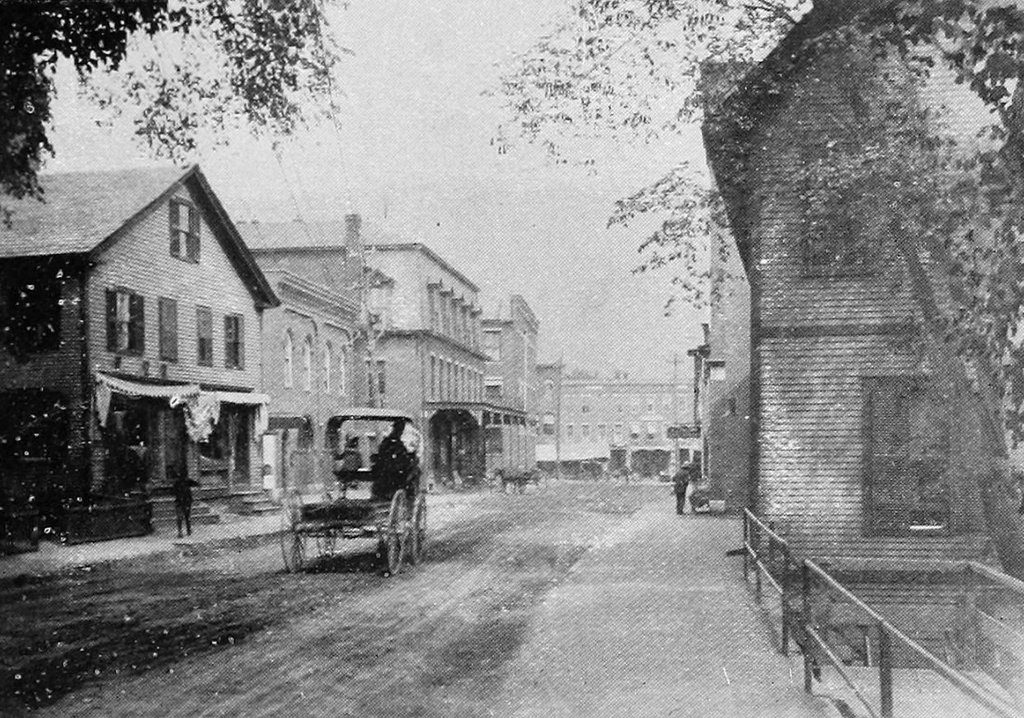 The scene in 2017: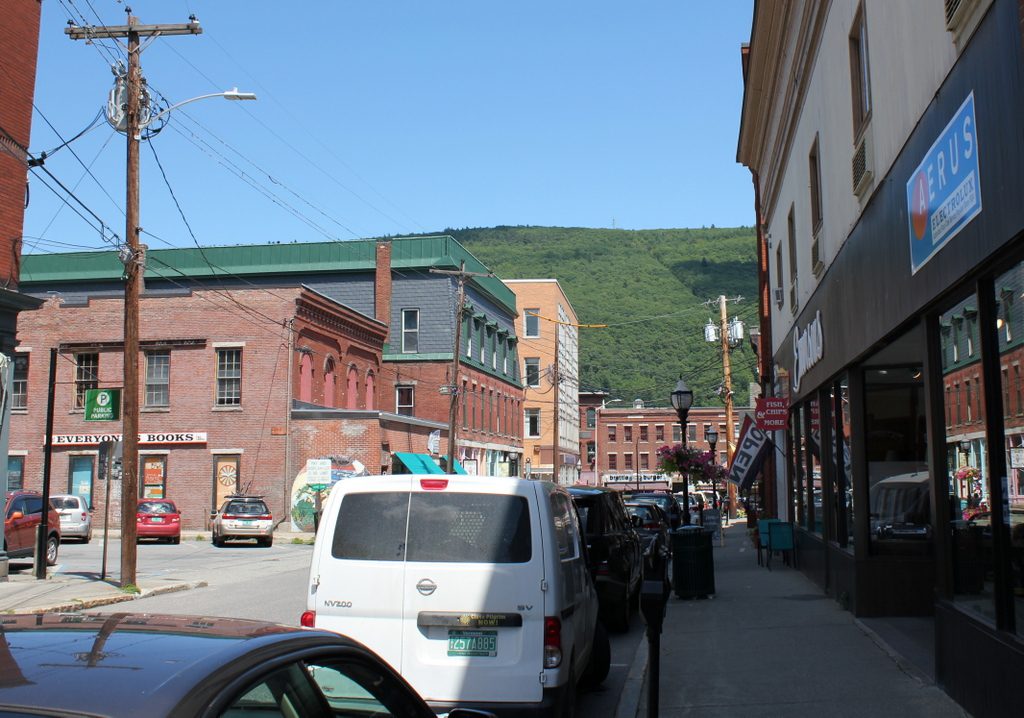 The majority of downtown Brattleboro's central business district is along Main Street, but the commercial center spills around the corner onto several cross streets, including Elliot Street, as seen here. Most of these buildings date back to the second half of the 19th century, and include a variety of brick commercial blocks, typically around three stories in height. When the first photo was taken, there were still several older wood-frame buildings, such as the ones on the far left and far right, but these were steadily being replaced by more modern ones.
There are at least four identifiable buildings from the first photo that are still standing today. On the left is the two-story central fire station, which was built in 1873 and was used by the fire department until 1949, when a new station was built just a little to the west of here. Beyond it is the three-story Market Block, with its large, distinctive mansard roof. This was also built in 1873, and was owned by Edward Crosby, who developed much of this area in the wake of the disastrous fire of 1869. On the other side of the Market Block, at the corner of Main Street, was the Crosby Block, which was built in 1871 and was also owned by Edward Crosby. Probably the oldest brick building in the first photo is visible in the distant center, on the other side of Main Street. Known as Cutler's Block, it is located at 95-97 Main Street, and was built around the early 1840s.
Today, nearly 125 years after the first photo was taken, this scene has not changed significantly. Mount Wantastiquet still towers over downtown Brattleboro in the distance, and many of the 19th century buildings are still standing. The wood-frame buildings on the far sides are gone, but most of the other ones are still there, although with some alterations. The old fire station now has a one-story storefront on the front of the building, and in the late 1950s a portion of the Crosby Block at the corner was heavily altered with a new brick and metal exterior. Overall, though, the scene is still recognizable from the first photo, and most of these buildings are now contributing properties in the Brattleboro Downtown Historic District on the National Register of Historic Places.