The gravesite of James Fisk, Jr., in Prospect Hill Cemetery on South Main Street in Brattleboro, around 1872-1885. Image courtesy of the New York Public Library.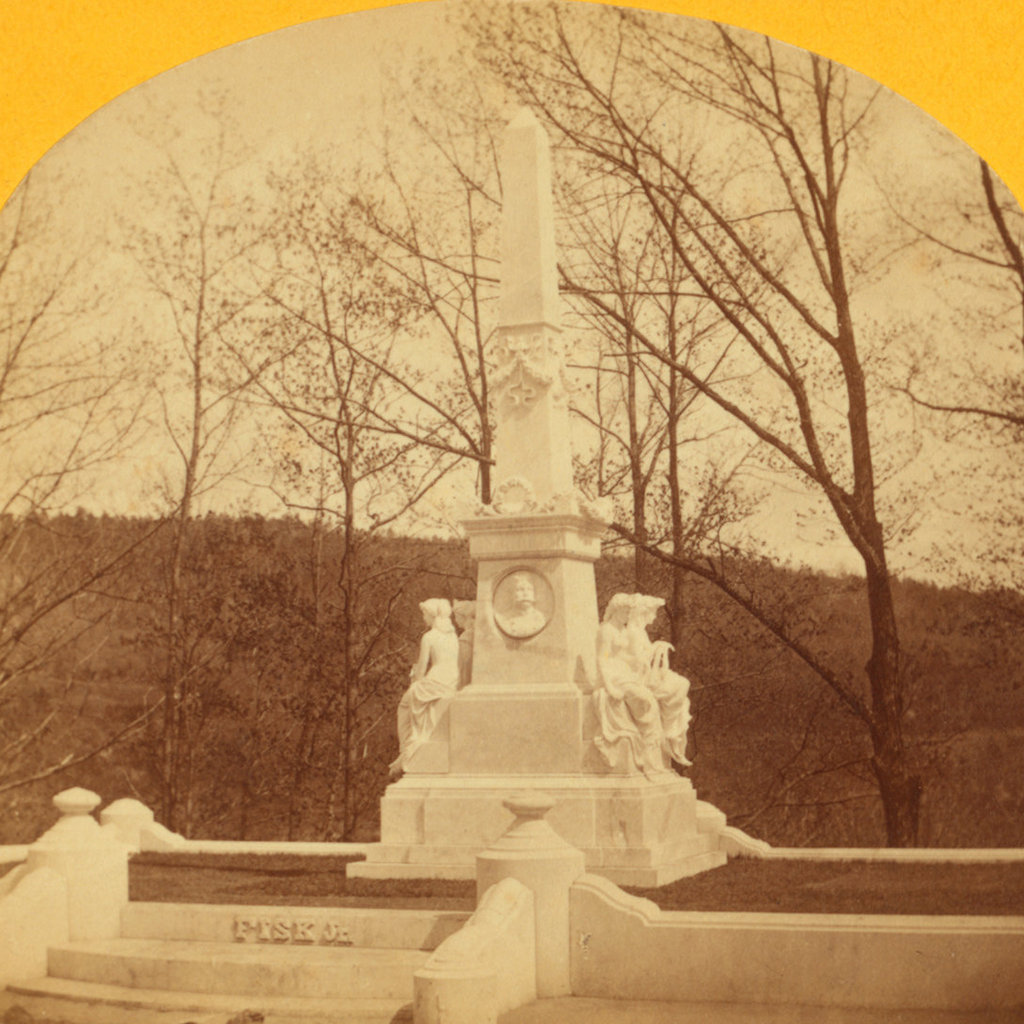 The scene in 2017: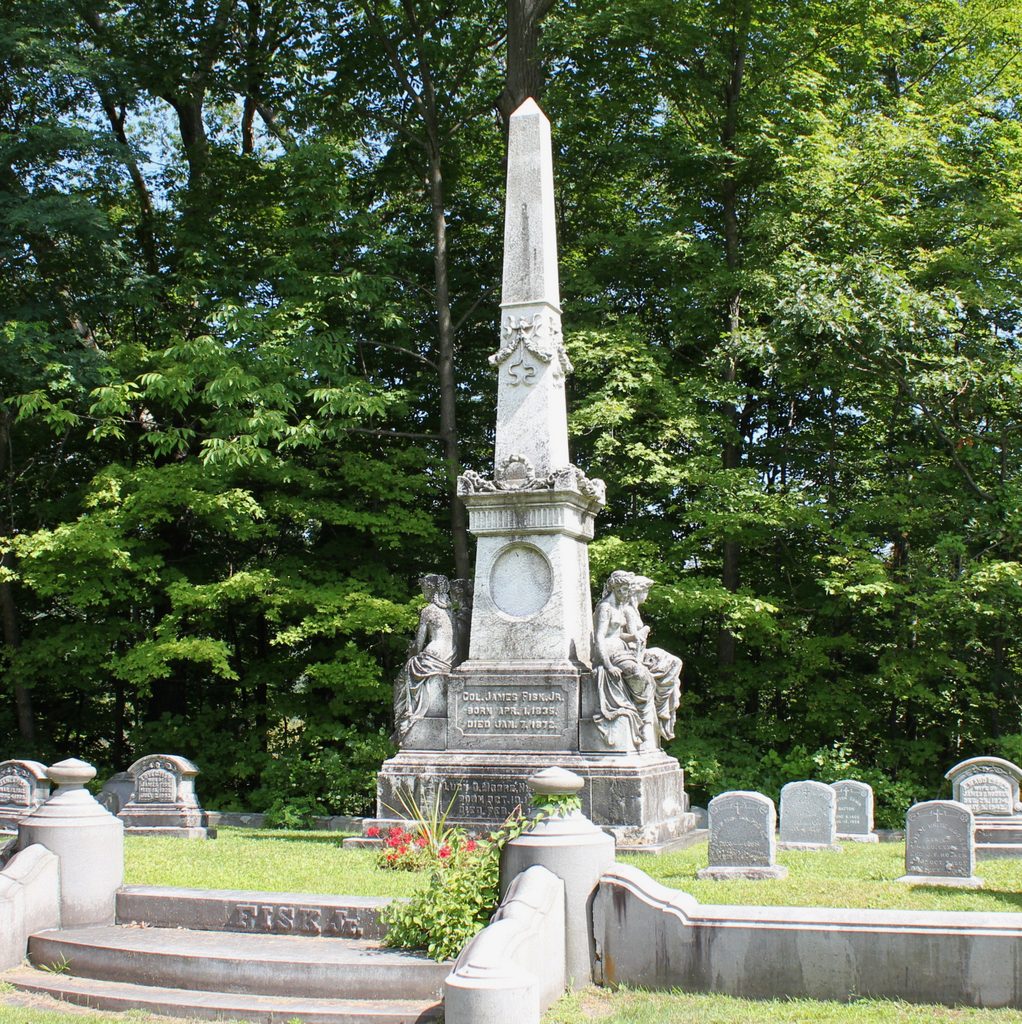 This ornate marble obelisk marks the final resting place of James Fisk, Jr., a Vermont native who became a prominent Wall Street financier and, in the process, one of the most notorious of the Gilded Age robber barons. Fisk was born in 1835 in Pownal, Vermont, and was the son of James Fisk, Sr., a peddler who sold silk dressed and other high-end dry goods. The family moved to Brattleboro in 1843, and in 1849 the elder James opened the Revere House, which became a successful hotel at the corner of Main and Elliot Street. James, Jr. was about 15 at the time, and he lived in the hotel with his father, his stepmother Love, and his half-sister Mary.
For some time, the younger James worked as a waiter at the Revere House, but in 1850 he quite literally ran away with the circus, joining Van Amburgh's Mammoth Circus and Menagerie. His flamboyant, outgoing personality was perfectly suited for the circus, although he primarily performed menial tasks like taking ticket, feeding animals, setting up tents, and cleaning cages. However, his time with the circus gave him valuable business experience. When he returned to Brattleboro a few years later, at the age of 18, he joined his father's peddling business, where he applied some of the techniques he had learned with the circus, including traveling in brightly-colored wagons and wearing fancy clothing.
Fisk's success as a peddler led to him being hired as a salesman for the Boston-based dry goods firm of Jordan Marsh & Company. However, his career remained unremarkable until the start of the Civil War. In 1861, he traveled to Washington, D.C., where his personality and business skills helped win him lucrative government contracts to provide textiles for army uniforms. He became a wealthy man, largely because of these contracts, but he also profited from the war in less scrupulous ways, including smuggling cotton from the south and selling Confederate bonds to European speculators.
Near the end of the war, Fisk became a stockbroker, and in 1866 he established his own brokerage firm of Fisk & Belden. He worked closely with Daniel Drew and Jay Gould, two of the most ruthless business tycoons of their era. Fisk followed in their ways, teaming up with them to gain control of the Erie Railroad and prevent Cornelius Vanderbilt from adding it to his railroad empire. To do so, the trio issued fraudulent shares of the company, which Vanderbilt purchased in large quantities. He lost a considerable amount of money in the process – over $100 million in today's dollars – and, despite the fraud, Drew, Fisk, and Gould were able to retain control after bribing the New York state legislature to legalize the fraudulent shares.
A few years later, in 1869, Fisk and Gould would attempt an even more ambitious scheme to corner the gold market. They managed to drive the price as high as $160 per ounce before President Ulysses S. Grant ordered Treasury Secretary George S. Boutwell to release $4 million in treasury gold. The price of gold quickly plummeted, breaking their corner on the market. Fisk and Gould managed to avoid serious financial losses, but many investors were ruined, and the scheme triggered a nationwide economic panic.
Aside from his questionable business practices, Fisk's personal life also had its share of scandal. He had married his wife, Lucy Moore, in 1854, not long after he left the circus. They remained married even after his rapid ascent from dry goods peddler to Wall Street tycoon, but she spent most of her time in Boston rather than with Fisk in New York. During this time, Fisk had a mistress, the actress Josie Mansfield, whom he housed in a brownstone on 23rd Street in New York. However, after a few years she fell in love with one of Fisk's business partners, Edward Stiles Stokes, and she began threatening Fisk with blackmail. Fisk refused to pay, and the love triangle eventually led to Stokes shooting Fisk on the staircase of the Grand Central Hotel, in January 6, 1872. Fisk died the following day, at the age of 36, although not before identifying Stokes as the shooter.
Fisk's body lay in state on January 8, at the Grand Opera House, where around 20,000 mourners came to pay their respects. On Wall Street, Fisk has been a ruthless businessman, but the poor and working-class of New York admired him for his charity work, and many saw him as the typification of the American Dream: a circus laborer and country peddler who rose to greatness through hard work and determination. That night, his body was returned to Brattleboro, where around 5,000 people – equivalent to the town's entire population at the time – were on hand when the funeral train arrived at almost midnight. His funeral was held the next morning at the Revere House, and then his body was brought here to Prospect Hill Cemetery for burial.
At the time of his death, Fisk's estate was valued at just under $1 million, or about $20 million today. Of this, $25,000 was spent on a marble obelisk here at his gravesite. It was designed by prominent sculptor Larkin Mead, a Brattleboro native whose other works of this era included Abraham Lincoln's tomb in Springfield, Illinois. His design for Fisk's monument included a bas-relief portrait of Fisk in the center, surrounded on all four corners by partially nude female figures. Each figure symbolized trade and commerce in some way, with one representing railroads, another steamships, a third the stage, and the fourth finance.
The first photo was probably taken soon after the monument was installed, because at this point it did not yet include Fisk's dates of birth or death. His widow, Lucy, outlived him by 40 years, and she was interned here after her death in 1912. Her inscription was added to the base of the monument, and over the years other members of the family were buried here in this plot, as shown by the many gravestones in the present-day photo.
Overall, though, the monument has not aged well. No longer the brilliant white of the first photo, its marble has been weathered and blackened by nearly 150 years of New England's climate. Along with this, the bas-relief of Fisk was removed in the early 2000s, leaving a faint shadow in the oval. Souvenir hunters have also caused damage over the years, with Fisk's admirers occasionally chipping off pieces of the marble. However, as one of Fisk's friends noted many years later, in an excerpt published by Jay Gould biographer Edward J. Renehan, Jr., these visitors "have made the monument more fitted to commemorate Jim's career – striking from many aspects, picturesque, but blemished."