Looking east on Flat Street in Brattleboro, around 1894. Image from Picturesque Brattleboro (1894).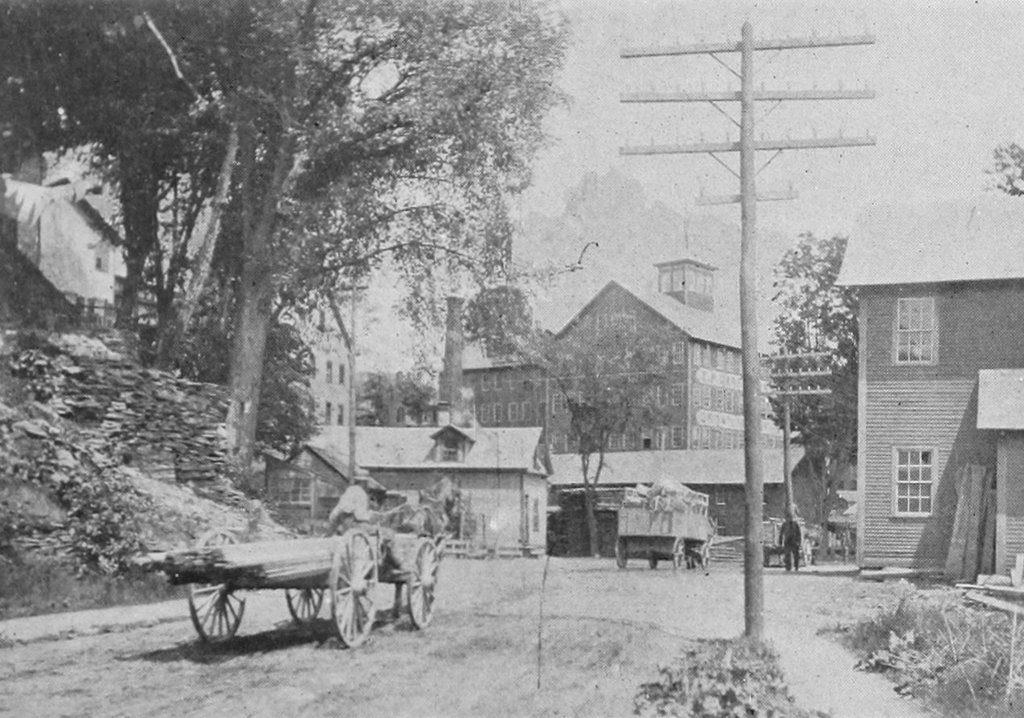 The scene in 2017:
During the second half of the 19th century, Brattleboro became an important manufacturing center, thanks in large part to the water power provided by the fast-moving Whetstone Brook. Much of the town's industrial development was centered along this brook, including here on Flat Street, which runs along its northern banks. At the time that the first photo was taken, the properties on both sides of the street were owned by George E. Crowell, a prosperous businessman who lived in a large mansion to the northwest of here, at the corner of High and Green Streets. The right side of the street included a cabinet shop, which appears to have been the building on the far right. Further beyond this building, out of view in the first photo, was a carriage shop as well as the Brattleboro Jelly Company, which produced cider jelly and cucumber pickles.
The most visible building in the first photo was the six-story Carpenter Organ Company building. Built around the mid-1860s for the Brattleboro Melodeon Company, this factory was purchased about 20 years later by the Carpenter Organ Company, which still occupied the building when the first photo was taken. At the time, organ manufacturing was a major part of Brattleboro's economy, and Carpenter was one of several such companies in the town. George Crowell was one of the owners of this company, but he sold his interest in 1914. By then, pump organs were falling out of fashion, and the company only remained in business for a few more years, closing around 1917.
Today, there is nothing remaining in this scene from the first photo, except for Flat Street itself. The old Carpenter Organ building is long gone, as are all of the other industrial buildings on either side of the street. Like most of the other old New England mill towns, there is very little manufacturing left in Brattleboro, and it has been many decades since any organs were produced in the town. The site of the Carpenter factory is now a parking garage, disguised to make its exterior resemble an old brick mill. On the other side of the street, parking lots are now located where the cabinet shop, carriage shop, and jelly company used to be, although at least one of the historic factory buildings on Flat Street – the C. F. Church building – has since been converted into commercial use, and is located just out of view to the right of the 2017 photo.