The First Presbyterian Church, at 237 Chestnut Street in Holyoke, around 1892. Image from Picturesque Hampden (1892).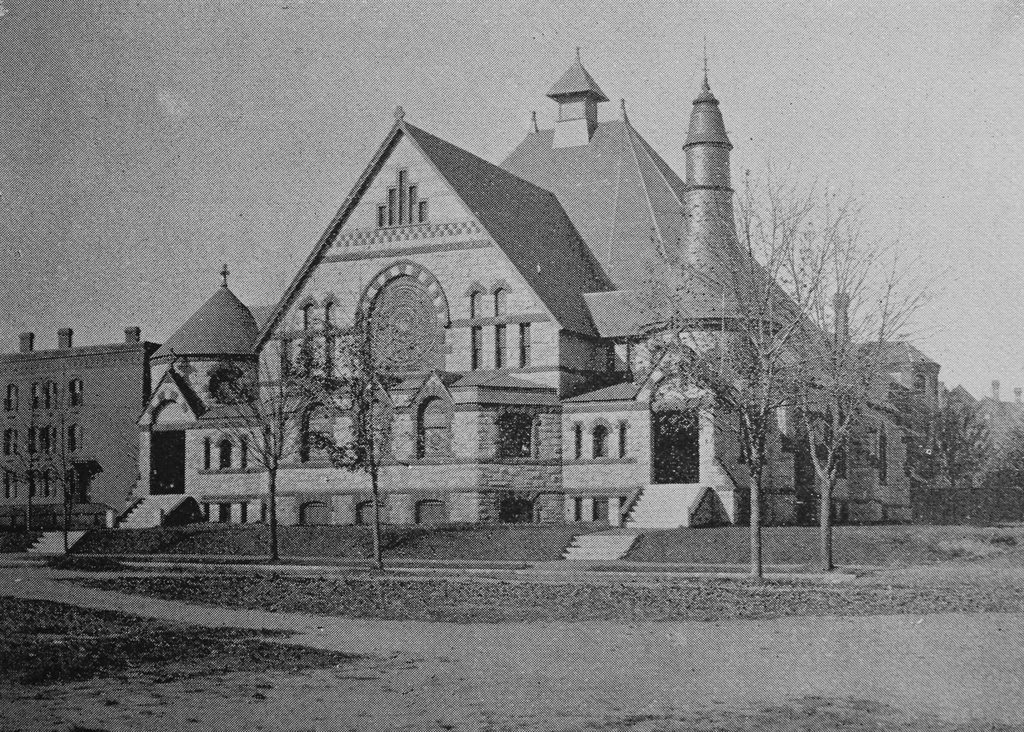 The church in 2017:
The First Presbyterian Church of Holyoke was established in 1886, with an initial membership of 77 people. James M. Craig was ordained as the first pastor, and the congregation worshipped in several different locations over the next two years. However, the church soon outgrew its temporary quarters, and in 1887 it acquired this property, at the corner of Chestnut and Cabot Streets. Construction of the church building began in September, and the first services were held here less than a year later, in August 1888. It was formally dedicated on March 5, 1889, in a ceremony that included a sermon by the Reverend John Hall, the prominent pastor of the Fifth Avenue Presbyterian Church in New York City.
Contemporary descriptions of the church do not mention an architect, but it features a Romanesque Revival-style design, which was popular for churches of this period. The exterior was built primarily of granite, but it also included contrasting brownstone trim that gave it a polychromatic appearance. The Chestnut Street facade, which is seen here in this view, was almost symmetrical, except for the different-sized turrets on the corners. Like most other Romanesque churches, it also incorporates rounded arches, stained glass, and tall, narrow windows into its design.
The congregation continued to grow over the next few decades, and by the early 20th century it had over 700 members. They would worship here throughout the rest of the century, although during this time the exterior of building was altered, including the removal of the upper part of the roof, and the shortening of the turret on the right side. Overall, though, the building survives as a good example of Romanesque Revival-style architecture, and it is one of many historic late 19th century church buildings that still stand in Holyoke. However, it no longer houses its original Presbyterian congregation. The property was sold in 2002, and it is now occupied by the Centro de Restauracion Emanuel.