Looking north toward the Hadley Company mills, from the corner of Canal and Center Streets in Holyoke, around 1892. Image from Picturesque Hampden (1892).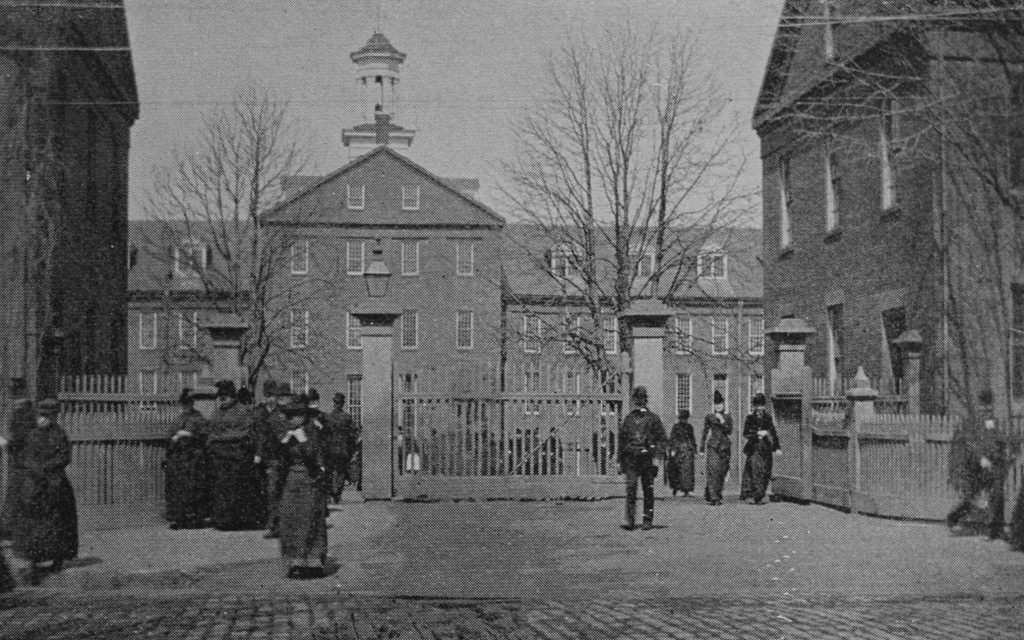 The scene in 2017: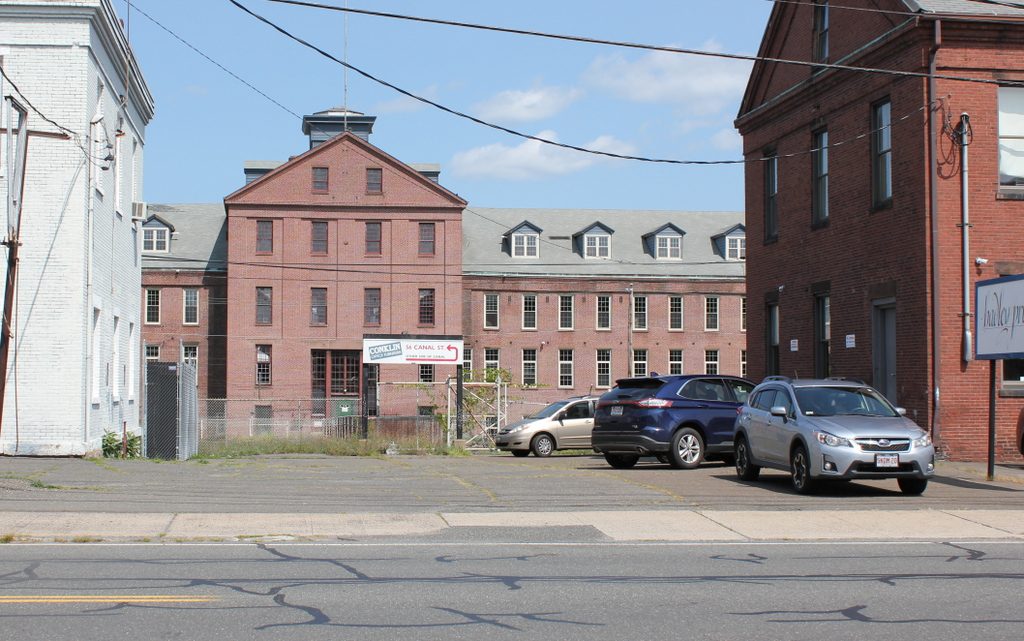 The caption of the first photo reads "Twelve o'clock at the Hadley Mills," and it shows a group of workers leaving the Hadley Company thread mill in Holyoke, evidently on their lunch break. The factory is among the oldest in Holyoke, and was built around the late 1840s by the Hadley Falls Company. This company played a major role in turning Holyoke into a prosperous industrial center, including building the dam and canal system, but it was hit hard by the Panic of 1857 and the subsequent recession. The company's assets were liquidated in 1859, and were subsequently acquired by the newly-established Holyoke Water Power Company.
In 1863, these mills here on Canal Street became the Hadley Company, a thread manufacturer that had no direct connection to its similarly-named predecessor. It was part of Holyoke's booming textile industry, producing a variety of threads, yarns, and twine, and by 1879 it had an annual output of 727,315 pounds of yarn. Like most of Holyoke's industries during this time, the company relied heavily on immigrant labor, and many workers lived in the nearby tenement rowhouses on the other side of Canal Street.
The Hadley Company was acquired by the American Thread Company in 1898, at a time when many industries were consolidating into large corporations. This mill was operated as a division of American Thread for the next few decades, but it was closed in 1928, leaving about a thousand workers unemployed on the eve of the Great Depression. At the time, the New England textile industry was in decline, and the nearby Lyman Mills here in Holyoke had closed just a year earlier, leaving a similar number of unemployed workers. However, it would only get worse for Holyoke, which would continue to lose its industrial base throughout the mid- to late-20th century.
By the 1940s, this mill complex had become the home of the Graham Manufacturing Company, which was later acquired by Johnson & Johnson. Today, the former Hadley Company property has a variety of different owners, but many of the historic mill buildings are still standing, including the three in this scene. The building in the center has lost its cupola, and the fence in the foreground is long gone, but otherwise the scene is still easily recognizable from the first photo 125 years ago.