The view of The Breakers in Newport, seen from the south side of the property, around 1895. Image courtesy of the Library of Congress.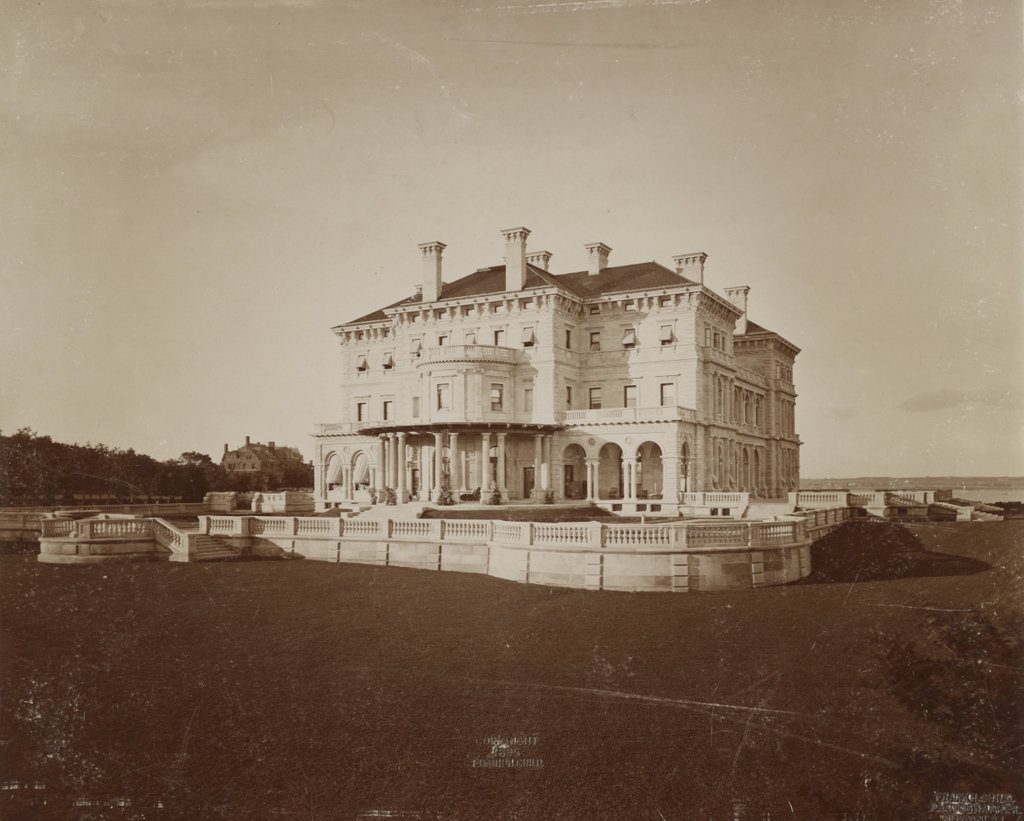 The scene in 2017: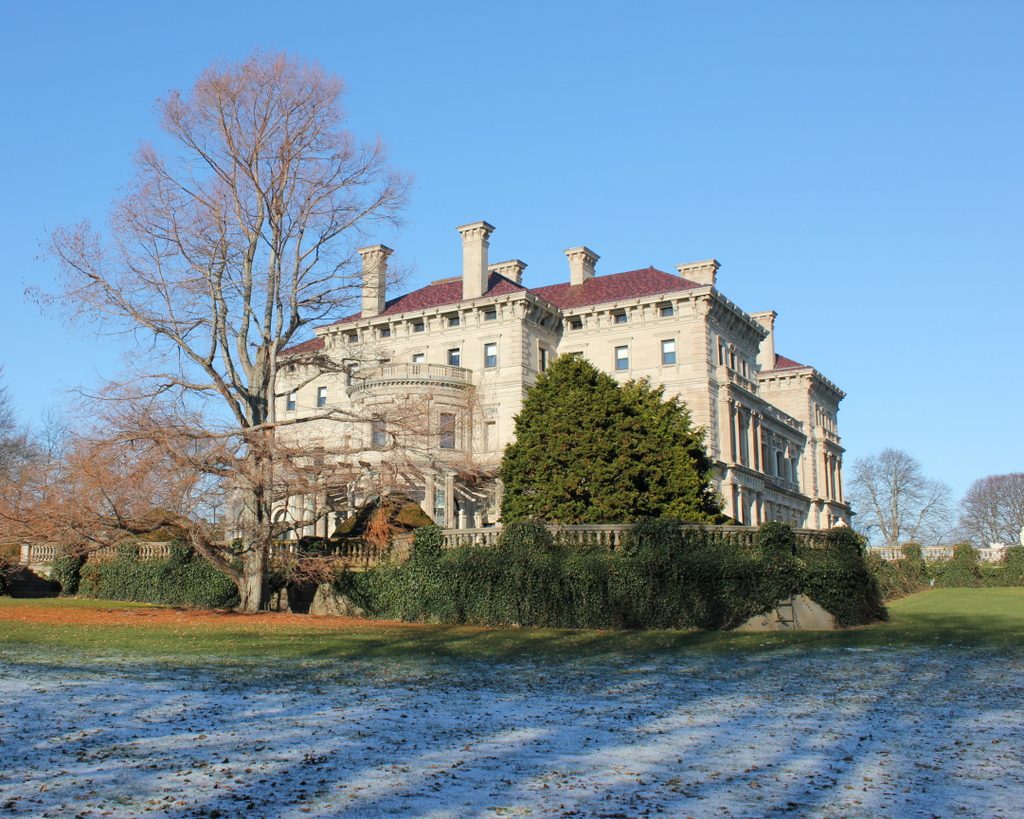 The first photo was apparently taken around the same time as the one in the previous post, and shows the southeastern and southwestern sides of The Breakers, around the time that it was completed in 1895. The Classical Revival-style mansion was the work of noted architect Richard Morris Hunt, and the grounds of the 14-acre property were designed by landscape architect Ernest W. Bowditch. Some of this landscaping is visible in this scene, including the south parterre, which was planted with a variety of flowers in its formal garden.
The Breakers was the largest of the many opulent mansions that were built in Newport during the late 19th and early 20th centuries, and it was originally the summer home of Cornelius Vanderbilt II and his wife Alice. Cornelius had inherited a substantial fortune from his father, William Henry Vanderbilt, and his grandfather, Cornelius Vanderbilt, and upon his death in 1899 he had a net worth of about $73 million – equivalent to about $2.2 billion today. The house would remain in the family for several more generations, with their daughter Gladys Széchenyi inheriting the property after Alice's death in 1934, and Gladys's daughter Sylvia inheriting it in 1968.
During this time, the house itself remained well-preserved, but the grounds underwent some changes. The 1938 hurricane caused only minimal damage to the house, but it significantly altered Bowditch's landscaping. Over the years, the landscaping also suffered from neglect, and by the late 1950s the garden here on the south parterre were replaced with turf. Beginning in 1948, The Breakers was leased to the Preservation Society of Newport County for the nominal sum of $1 per year, and it was opened to the public for tours. The family continued to occupy the third floor of the house, but in 1972 Sylvia sold the property to the Preservation Society for $365,000, with the stipulation that she be allowed to use the third floor apartment for the rest of her life.
Today, the grounds look very different compared to their appearance over 120 years ago. However, the garden on the south parterre was replanted at some point after the Preservation Society acquired the property, and it now features a symmetrical design similar to what Bowditch had envisioned. In the meantime, the house itself has remained well-preserved on both the exterior and interior, and in 1994 it was designated as a National Historic Landmark. It is also the most popular tourist site in Rhode Island, drawing around 400,000 visitors each year.