The Trinity Church on the Green, at the corner of Chapel and Temple Streets in New Haven, around 1900-1915. Image courtesy of the Library of Congress, Detroit Publishing Company Collection.
The church in 2018: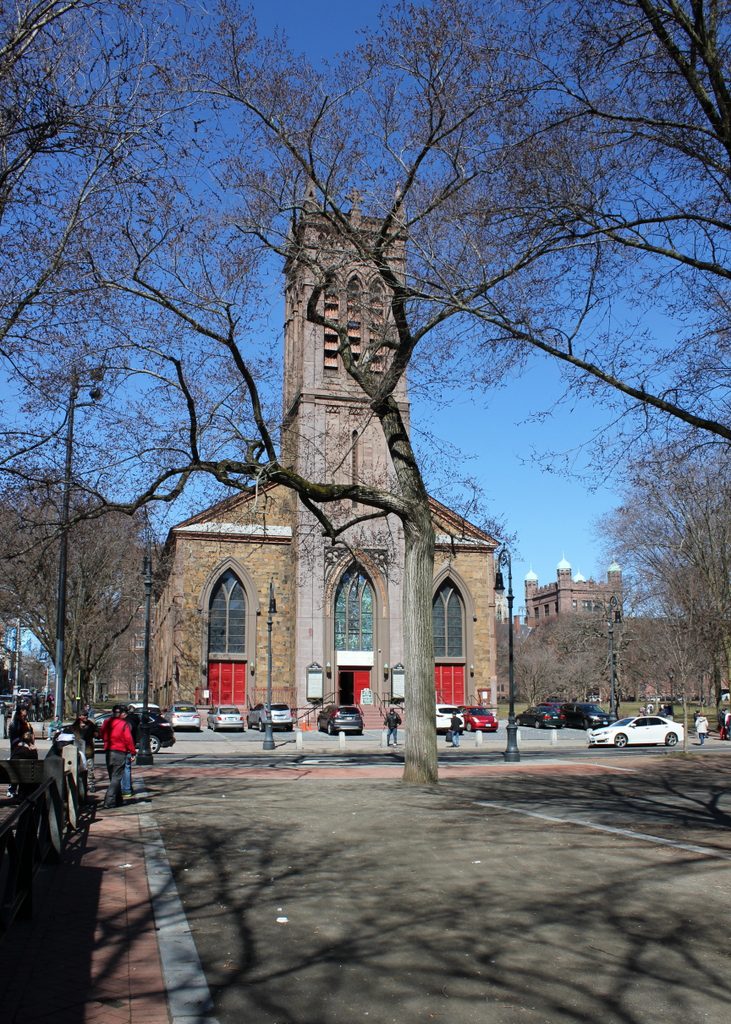 As discussed in an earlier post, Trinity Church was one of three churches that were built on the New Haven Green in the mid-1810s. However, unlike the other two, which were Congregationalist churches designed in the typical Federal-style architecture of the period, the Episcopalian Trinity Church featured a very early Gothic Revival design. Completed in 1816, it was the work of prominent Connecticut architect Ithiel Town, and it is perhaps the first Gothic church to be built in the country. Unlike the neighboring Congregationalist churches, which were built of brick, the exterior of Trinity Church was made of trap rock, quarried from the nearby East Rock. The top of the tower, however, was originally built of wood, and the Town's design also featured wooden balustrades along the roofline.
The most significant exterior change to the church came in 1871, several decades before the first photo was taken, when the wooden tower was rebuilt of stone. During this renovation, the rotting wooden balustrade was also removed, and was not replaced. Other changes that were done before the first photo was taken included the installation of stained glass windows, and the addition of the pyramidal spire on the top of the tower. Aside from this, the exterior remained largely unaltered from its early 19th century appearance, although the interior has seen some significant changes, including a major renovation by architect Henry Austin in the late 1840s.
Today, very little has changed since the first photo was taken more than a century ago. The pyramidal spire has been removed, although it was not original to the church anyway, and the rest of the exterior has been well-preserved. Along with the other two neighboring churches, it is now part of the New Haven Green Historic District, which was designated as a National Historic Landmark in 1970. Much of the area around the church has also remained largely unchanged, including the Green, which still serves as a park in the center of the city. Both photos also show part of the Old Campus of Yale University, particularly Phelps Hall, which stands in the distance to the right of the church in both photos.