The Alpha Delta Phi house at 15 Hillhouse Avenue, on the campus of Yale University in New Haven, around 1901. Image taken by William Henry Jackson, courtesy of the Library of Congress, Detroit Publishing Company Collection.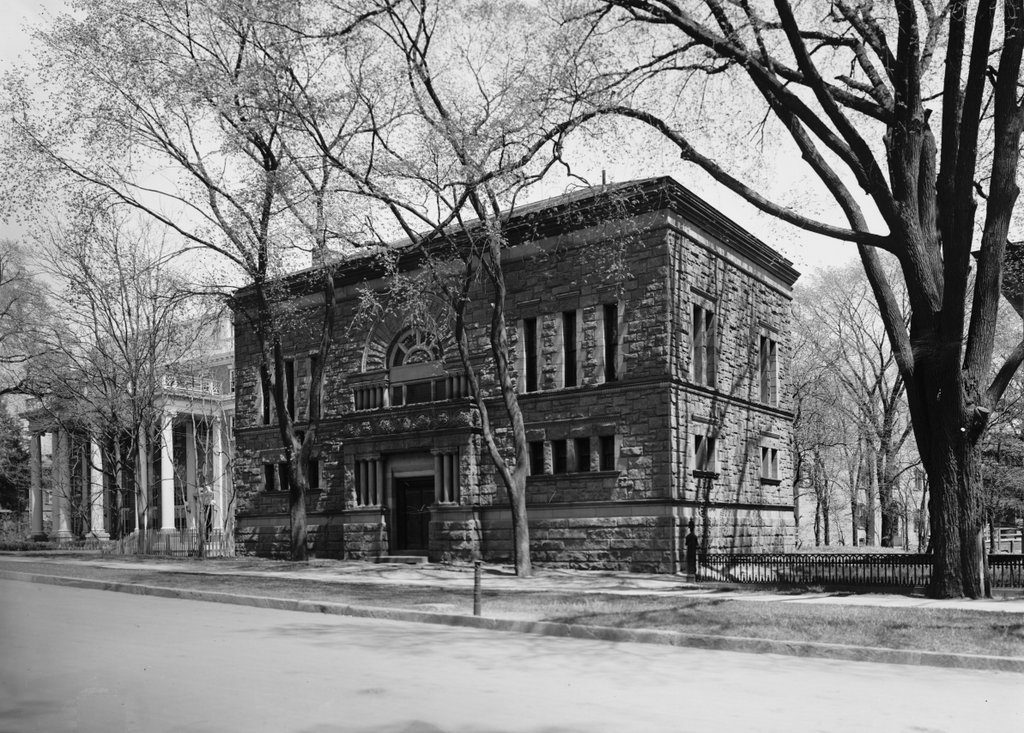 The scene in 2018:
This building was designed by local architect William H. Allen, and was completed in 1895 for the Alpha Delta Phi fraternity. The Yale chapter of this fraternity had been established in 1836, but it was disbanded in 1873. However, it was revived in 1888, and in 1895 it became one of the school's junior societies – as opposed to the senior societies such as the Skull and Bones. It moved into this building around the same time, and remained here until the early 1930s. During this time, notable fraternity members included author Stephen Vincent Benét, University of Chicago president Robert Hutchins, Time magazine and Life magazine publisher Henry Luce, Chicago Tribune editor and publisher Robert R. McCormick, and playwright Thornton Wilder.
Alpha Delta Phi again disbanded in 1935, and at some point around this time the property here on Hillhouse Avenue was sold to Yale. The fraternity would again return to Yale in 1990, although not to this building. Since 1960, it has been the home of the Yale Collection of Musical Instruments, and during this time its exterior has seen few changes from the first photo. However, the surrounding area is very different from the turn of the 20th century, and the old fraternity house is now flanked by much larger academic buildings, birth of which are part of the School of Engineering and Applied Science.