The Exchange Building, at the northeast corner of Church and Chapel Streets in New Haven, around 1900-1912. Image courtesy of the Connecticut State Library, Herbert Randall Survey of New Haven and Environs.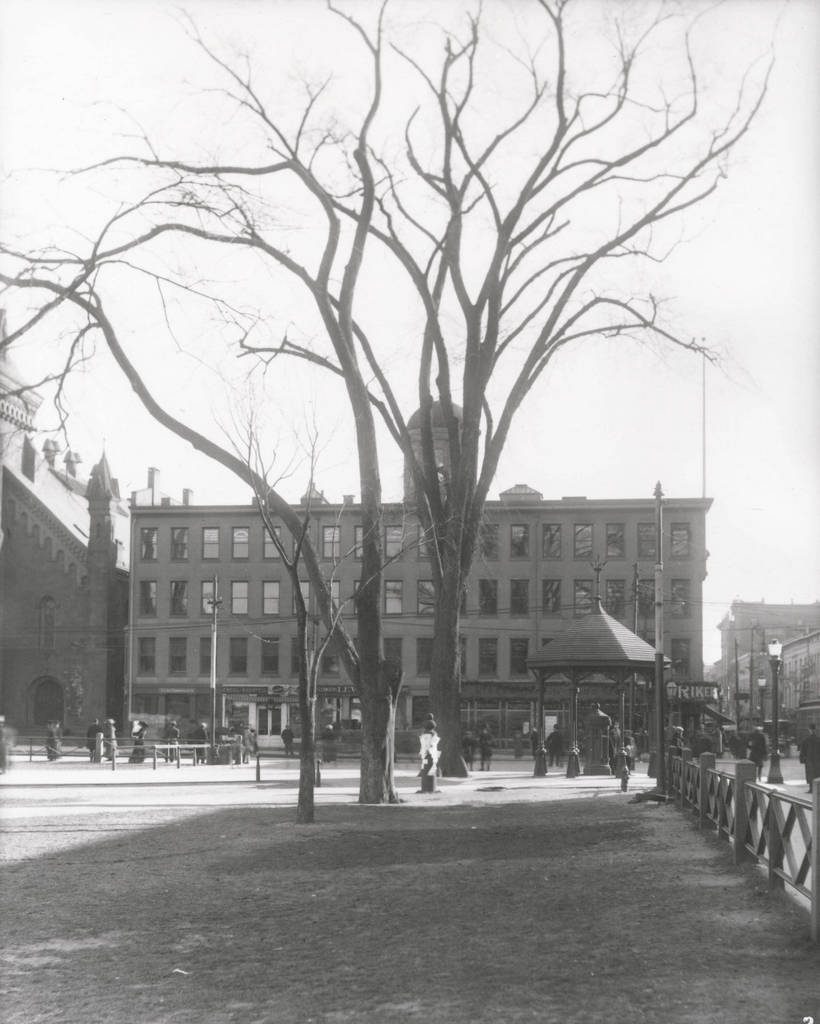 The building in 2018: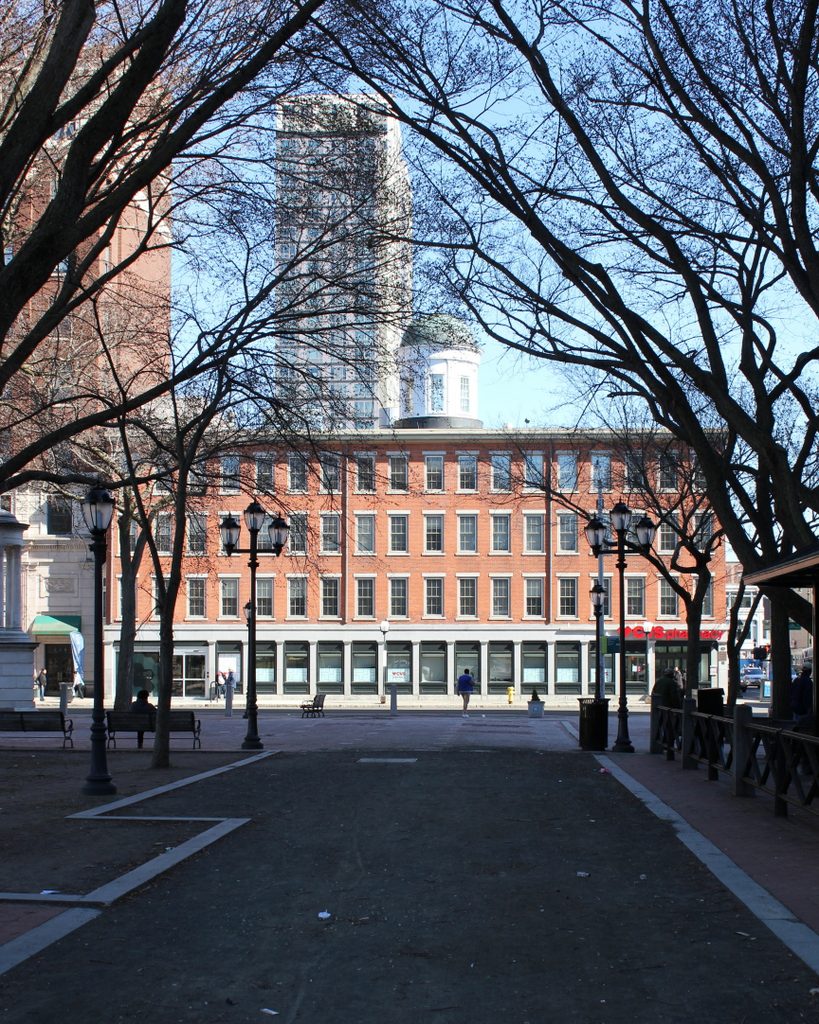 The Exchange Building was completed in 1832, as one of the first major commercial blocks in downtown New Haven. The brick, Greek Revival-style building stands four stories tall, and it is topped with a large cupola. It has a roughly square footprint, with 18 window bays here along Church Street, plus 17 window bays around the corner along Chapel Street. Over the years, it has housed a variety of businesses and offices. Perhaps most notably, attorney Roger Sherman Baldwin had his law offices here during his work on the 1841 Amistad case. Baldwin successfully defended the Africans who had been illegally sold into slavery, and he subsequently became governor of Connecticut from 1844 to 1846, and a U. S. Senator from 1847 to 1851.
By the time the first photo was taken around the turn of the 20th century, the ground floor tenants included the F. S. Butterworth & Co. investment broker, the O'Neill-Shortell millinery shop, Alfred T. Ostermann's florist shop, and Riker's Wholesale Drug Store, which occupied the corner storefront on the right side of the building. Many of the upper floor windows are lettered with the names of the professional offices that were located there, although most of these are not legible in this photo. On the far left side of the photo, the Exchange Building abutted the 1856 Third Congregational Church, which had been converted into the New Haven Free Public Library in 1890.
At some point during the 20th century, the distinctive cupola was removed, and the building featured a large billboard that overlooked the corner of Church and Chapel Streets. However, the exterior was renovated in the early 1990s, including the addition of a new cupola and a restoration of the storefronts, and today the Exchange Building looks much the same as it did over a century ago when the first photo was taken. As a result, the only significant difference between the two photos – aside from the skyscraper in the distance, is on the left side, where the church-turned-library once stood. It was demolished around 1912, and was replaced by the eight-story Second National Bank of New Haven building, which still stands on the left side of the scene today.