Looking east on the New Haven Green, from near the corner of Temple and Chapel Streets in New Haven, around 1900-1910. Image courtesy of the Library of Congress, Detroit Publishing Company Collection.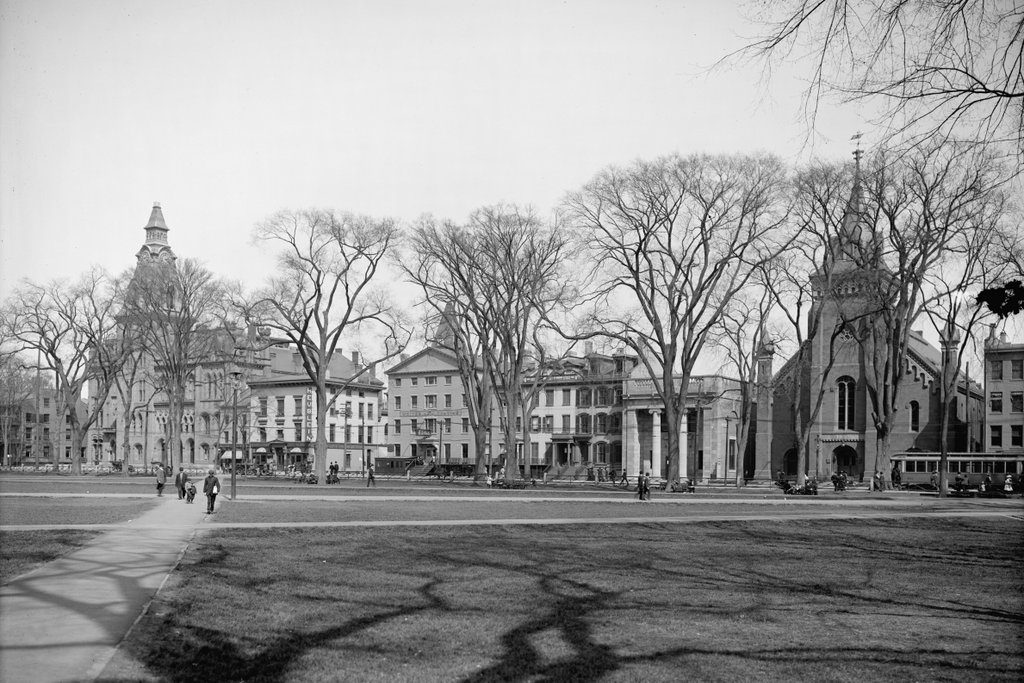 The scene in 2018: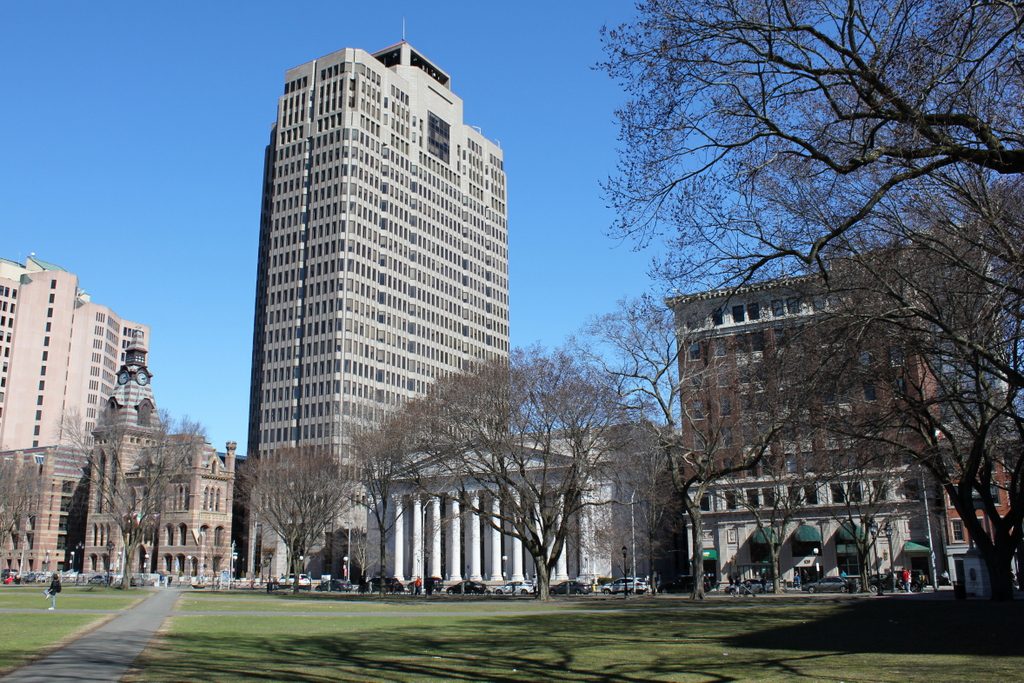 The first photo was taken from about the same spot – and presumably on the same day – as the one in the previous post, although this one shows the view looking toward Church Street on the eastern edge of the New Haven Green. Like the scene in the previous post, this view underwent dramatic changes within about a decade after the first photo was taken. The city saw rapid growth at the turn of the 20th century, with the population more than doubling between 1880 and 1910, and this helped to spur several major redevelopment projects that replaced older buildings here along the Green.
Beginning on the left side of the first photo is City Hall, an ornate High Victorian Gothic-style building that was completed in 1861. To the right of it, at the corner of Court Street, was a three-story building that housed Heublein's Cafe. This restaurant was owned by Gilbert Heublein, a prominent food and beverage distributor who later built the Heublein Tower in Simsbury. Further to the right, in the center of the photo, was the Tontine Hotel, which was built in the 1820s, and on the far right side was the former Third Congregational Church. Built in 1856, it served as a church until 1884, when its congregation merged with the United Church. In 1890, it became the home of the New Haven Free Public Library, and it was used until the current library building opened in 1911.
The most significant change to this scene came soon after the first photo was taken. In the early 1910s, both the Tontine Hotel and the former Third Congregational Church were demolished to make way for two new buildings. On the left side, the Tontine Hotel was replaced with a new post office and federal courthouse, which was constructed between 1913 and 1919. Just to the right of it, the site of the church became the Second National Bank of New Haven, with an eight-story building that was completed in 1913. Today, both of these are still standing, but the only surviving buildings from the first photo are City Hall on the far left, and the Exchange Building, which is partially visible on the extreme right side of both photos.