Belcourt, seen from the west side along Ledge Road in Newport, around 1895. Image courtesy of the Library of Congress.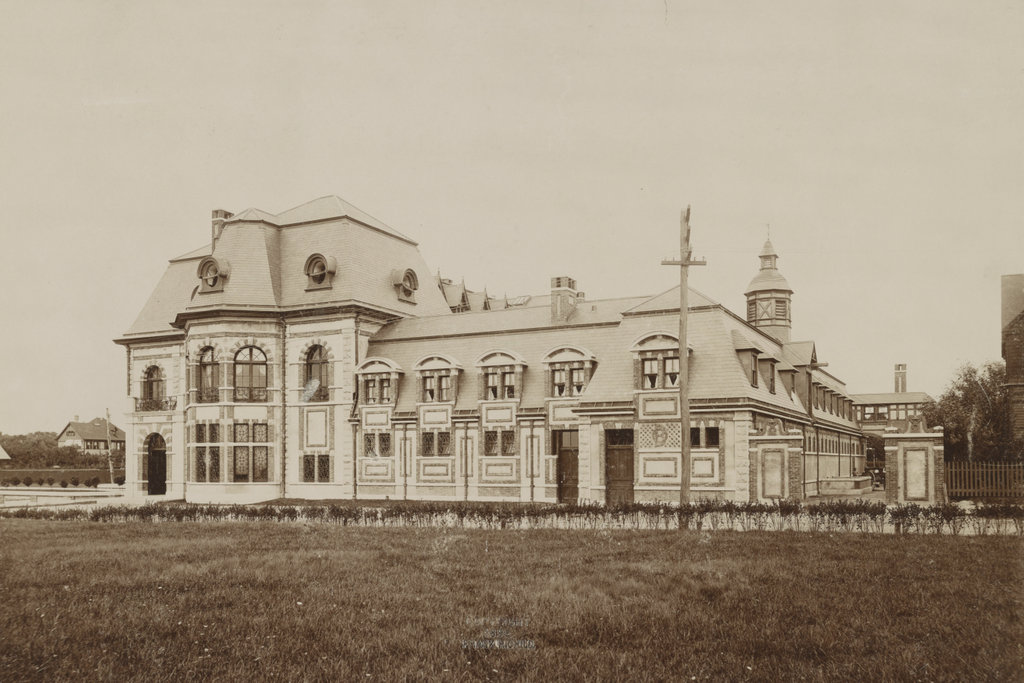 The scene in 2018: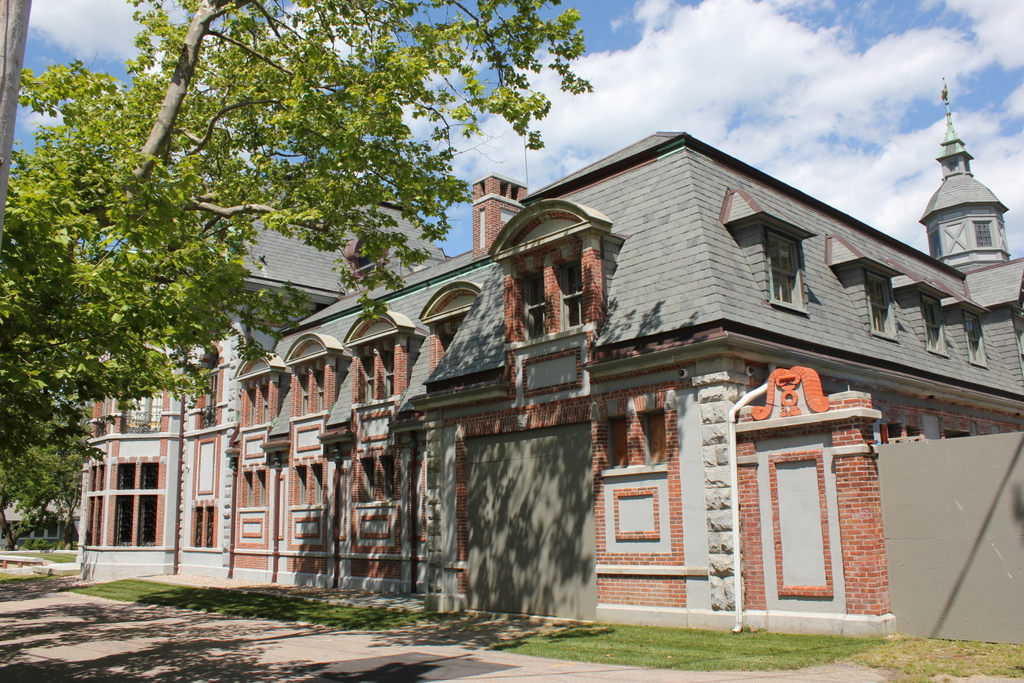 As discussed in more detail in the previous post, Belcourt was completed in 1894 as the summer home of Oliver Hazard Perry Belmont, a banker from the prominent Belmont family of New York. It was the third-largest mansion ever built in Newport, and like many of the others it was designed by noted architect Richard Morris Hunt. However, its design was unusual in that Belmont – a young, divorced man with a penchant for horses – dedicated the entire first floor to storage space for carriages and luxurious stables for his horses.
The first photo was taken within about a year after Belmont moved into the house, but it would soon undergo significant changes to the interior, after his 1896 marriage to the recently-divorced Alva Vanderbilt. She was much more interested in using the house for entertaining people than for stabling horses, so after moving in she converted much of the ground floor into a banquet hall, among other alterations to the house.
Oliver Belmont died in 1908, and in 1916 Alva sold the house to his brother, Perry Belmont. He owned Belcourt for the next 24 years, before selling it for just $1,000 in 1940. The house would go through several more owners in the mid-20th century, before being purchased by the Tinney family in 1956. By this point, the house had suffered from serious neglect, but the Tinneys worked to restore it, and opened part of the house for public tours. It would remain in their family until 2012, when it was sold to Carolyn Rafaelian, the founder of the Alex and Ani jewelry company.
Today, it is not possible to photograph Belcourt from the exact same spot as the 1895 photo, as the previously-vacant land in the foreground is now occupied by houses. However, the 2018 photo shows a very similar angle of the west side of the house, seen from Ledge Road. The photo also shows some of the major restoration work that Rafaelian has done, including the replacement of the deteriorated roof. As a result, the exterior looks as good as it did when the house was completed some 125 years ago, and the only noticeable difference between these two photos is the garage door in the foreground, which was added sometime in the 20th century.