The S. F. Cushman & Sons Woolen Mill on Cushman Street in Monson, probably around 1912. Image courtesy of the Monson Free Library.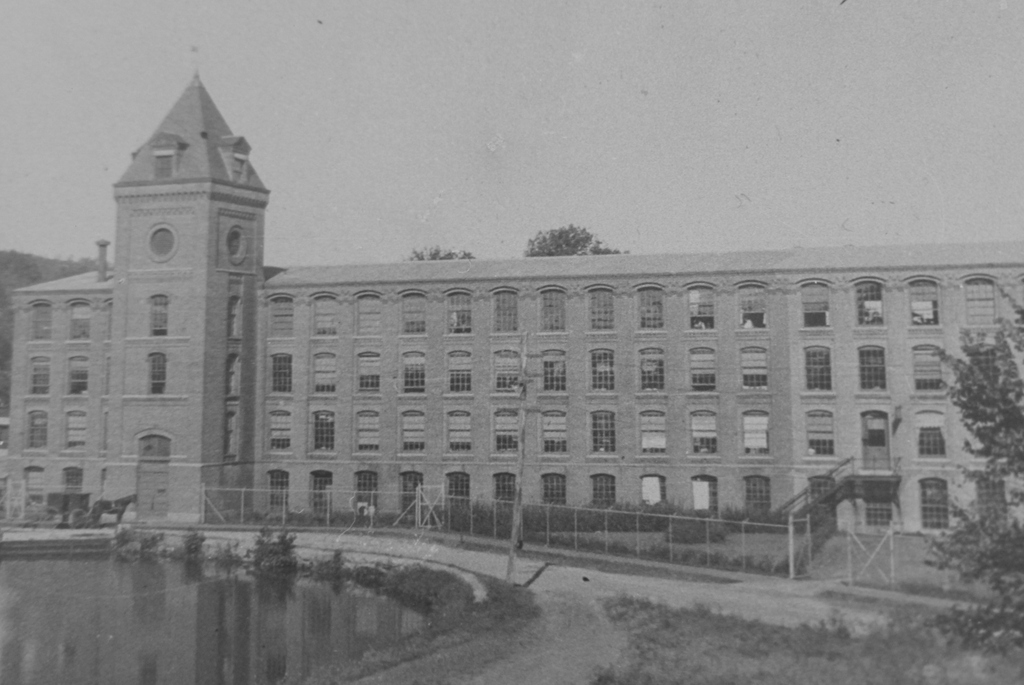 The scene in 2018: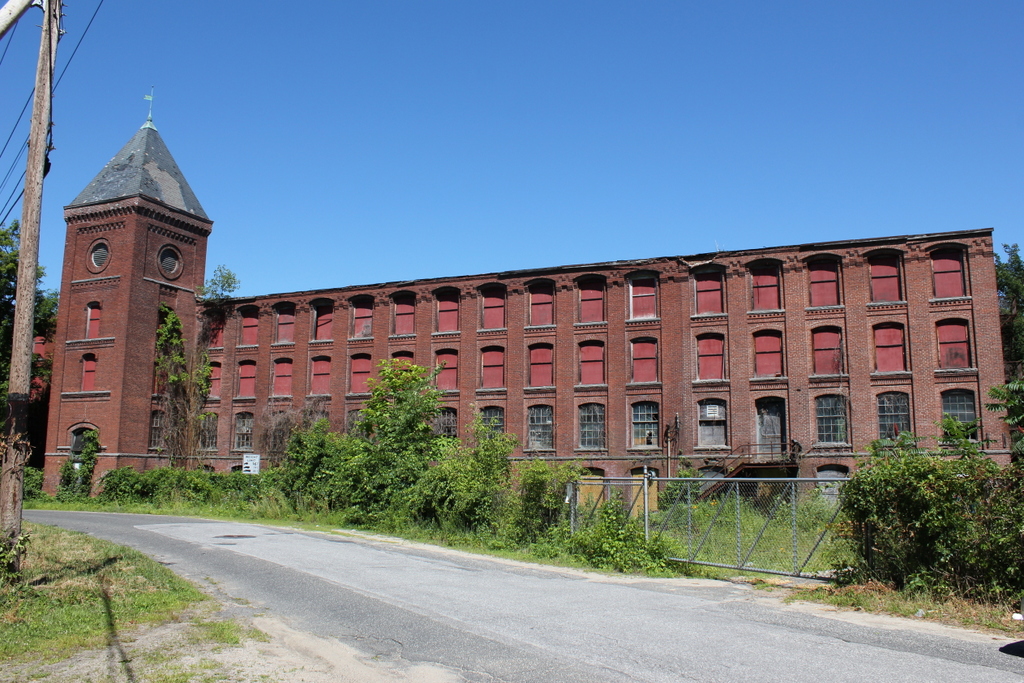 During the 19th and early 20th centuries, the town of Monson had a small but thriving woolen industry, with several factories that were located along the Chicopee Brook. The earliest of these was established around 1800 by Asa Gates, who constructed a mill here on this site. In 1816, this mill was acquired by the Monson Woolen Manufacturing Company, and this firm continued to produce textiles here throughout much of the 19th century. Throughout this time, there were several different buildings here. One was constructed around 1854, but it burned only a few years later, and it was subsequently replaced by another mill in 1858.
In 1877, the Monson Woolen Manufacturing Company was acquired by Solomon F. Cushman, who had been working for the firm since 1856, when he took a job as a bookkeeper after moving here from Monson, Maine. He renamed the company S. F. Cushman & Sons, and in 1883 he expanded it by purchasing another mill on Elm Street, which became known as the Branch Mill. In the meantime, the 1858 mill here on Cushman Street continued to be used to manufacture textiles until 1886, when it too burned. Both this building and its predecessor had been made of wood, but its replacement – shown here in these two photos – was built of brick. This four-story mill was completed later in 1886, and it featured an ornate exterior that was highlighted by a stair tower on the west side of the Cushman Street facade.
Solomon Cushman died in 1900, and his sons took over the business, although just a year later they sold the Branch Mill, which subsequently became the Somerset Woolen Mill. However, they continued to operate the Cushman Street mill for more than a decade, and the 1902 book Our County and Its People: A History of Hampden County provides the following description of this facility:
It contains 5 sets of modern machinery. The mill has made in years past broadcloth, satinets, cassimeres, and doeskins. At present the mill employs about 85 operatives (about evenly divided between men and women) with an annual pay roll of $40,000. The present manufactures are kersey and cloakings.
In 1912, the Cushman brothers sold the property to Heimann & Lichten, a hat manufacturing company whose previous factory, located on Main Street on the present-day site of the town hall, had burned earlier that year. The new owners converted the Cushman Street mill into a hat factory, and the building was evidently expanded around the same time, with the addition of five window bays on the right side. Although it features the same design as the original section of the building, it was constructed with lighter-colored bricks, as shown in these two photos. The first photo was probably taken shortly after this addition was completed, and it also shows the mill pond that was once located on the opposite side of Cushman Street.
Julius Heimann and Morris C. Lichten had been partners in the hat industry since 1884, and in 1890 they began manufacturing in Monson. Following the fire in their original building, they carried on operations here in this mill for several more years. However, both men died only a few months apart. In October 1918, Heimann was killed in a car accident after visiting Lichten in a New York City hospital. Lichten, who had been ill at the time, died the following January, leaving control of the firm to its vice president, Daniel E. Nolan. He would continue to run the company for another nine years, before it closed in 1927.
In 1934, A. D. Ellis Mills, Inc. purchased this property. A. D. Ellis was another major textile manufacturer in Monson, and at the time it operated two other factories, with one on Bliss Street and another on Main Street. This factory was used for storage, and it was owned by by A. D. Ellis until the company dissolved in 1962. The building subsequently changed ownership several more times over the next few years, and in 1966 it was purchased by M & M Chemical Sales Corporation, who occupied it for the next 20 years.
M & M Chemical went bankrupt in 1986, and this property was subsequently sold at auction. However, the building has been vacant ever since, and it has steadily deteriorated after more than 30 years of neglect. In 2010, one of the dormer windows collapsed, sending bricks and other debris onto the street below. This caused a temporary closure of Cushman Street, until the other dormer windows could be safely removed. Otherwise, though, the rest of the building is still standing, with few exterior changes from this angle since the first photo was taken. Today, it is Monson's oldest surviving factory building, and it is one of the few existing remnants of the town's industrial heritage.