The house at 276 Union Street, at the corner of School Street in Springfield, around 1938-1939. Image courtesy of the Springfield Preservation Trust.
The house in 2018: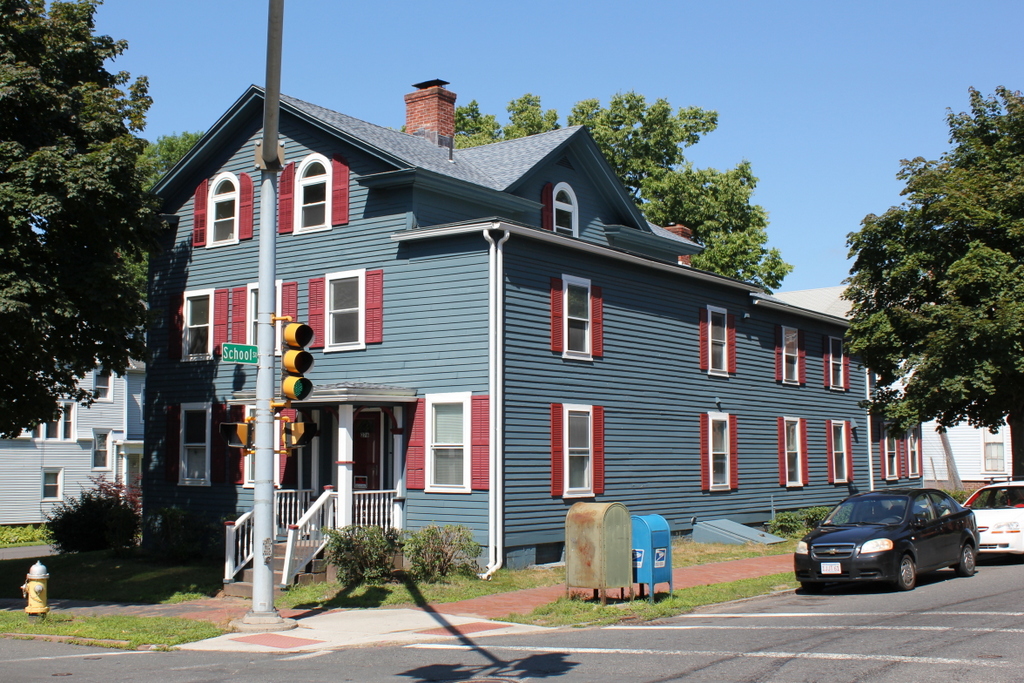 This house was built around 1822, as the home of Apollos Marsh. He was in his late 20s at the time, and he moved in to the house within a few years after his 1819 marriage to Catharine Warner. The house was constructed by Simon Sanborn, a master builder who was responsible for many of Springfield's early 19th century homes, although the exterior would have looked significantly different than its appearance in these two photos. Marsh would go on to become the first superintendent of Springfield Cemetery, a position that he held from 1841 until his death in 1869, but it seems unclear as to how long he lived here in this house. The 1835 map of Springfield shows that this property was owned by a Charles Ball, and the first Springfield directory, published in 1846, lists Marsh as living on Elm Street.
In the absence of street numbers during the mid-19th century, the subsequent ownership of this house is difficult to trace. However, by 1854 it was the home of Abijah W. Chapin, the city's postmaster. He lived here with his wife Sarah, although she died in 1857 at the age of 39. The 1860 census shows him living here with his young sons Frederick and Edmund, and it lists the value of his real estate at $4,000, plus another $5,000 for his personal estate, for a combined total equivalent to about $260,000 today.
Chapin was still living here a decade later, and by then he had remarried to his second wife, Elizabeth, and had another child. No longer the postmaster, Chapin was instead an insurance agent in the firm of Chapin & Lee. His net worth had substantially increased during this period, with the 1870 census assessing his real estate at $40,000, and his personal estate at $7,000. Together, this was equivalent to nearly $1 million today. He and Elizabeth had one more child, who was born later in 1870, but within a few years the family would move out of this house and relocate to Deerfield, Massachusetts.
At some point in the 1850s, probably during Chapin's ownership, this house underwent a major expansion with an addition to the rear. The third floor may have been added during this project as well; the Italianate-style rounded arches on the windows were almost certainly not part of the original 1822 design of the house, but they were fashionable by mid-century when this renovation occurred. The house was further expanded around the 1870s, with a narrow addition on the right side that brought the house almost all the way to the sidewalk on School Street.
By the mid-1870s, this house was owned by George H. Deane, a steam pump manufacturer in the firm of G. H. Deane & Co. The 1880 census shows him living here with his wife Maria, their children Charles and Isabella, Charles's wife Mary, and two granddaughters, along with two servants. By this point, George had become the city auditor, but Charles was still involved in the family's steam pump business. The Dean family would continue to live in this house until around 1885, and by the following year Charles was residing at 78 Maple Street, while George was at 18 School Street.
This house was subsequently owned by John A. Murphy, a partner in the stationery firm of Taylor, Nichols & Co. He was living here by the late 1880s, along with his wife Henrietta – who was known as Etta – and their daughter Ritta. He lived here for the rest of his life, until his death in 1915 at the age of 65. During this time, he had a successful career in the paper manufacturing business. Taylor, Nichols & Co. became the Murphy-Souther Company, and then he eventually purchased the entire business, which was renamed the John A. Murphy Company. In addition to this, he served on the city's board of aldermen from 1889 to 1891, and he was the board's president in 1891.
Following Murphy's death, Ritta's husband, Joseph L. Pitman, succeeded his father-in-law as president of John A. Murphy Company. During the 1920 census, they were living in a nearby house at 43 School Street, along with their daughter Henrietta and Ritta's mother Etta. However, this house on Union Street remained in the family, and by 1922 they were all living here again. Etta Murphy died in 1934, but the Pitmans were still in this house when the first photo was taken about five years later. Joseph was still in the paper business, but by this point he was the president and treasurer of Colonial Papeteries Inc.
Ritta died in 1950, and Joseph in 1952, but their daughter Henrietta continued to live here for many years while working as a secretary for a patent and trademark law firm. Her husband, David E. Hoxie, died in 1973, and by the end of the decade she was retired. She sold the house in 1980, nearly a century after her grandfather had purchased it, and she moved to Vermont, where she died in 2004.
Today, the exterior of the house is not very different from its appearance when the first photo was taken some 80 years ago. At some point after the first photo was taken, the house was covered in asbestos siding, but this was removed during a 1980s restoration. Along with the other nearby homes, it is now part of the Lower Maple Local Historic District, and, at nearly 200 years old, it stands as one of the oldest surviving buildings in the city.