Sculptor Augustus Saint-Gaudens sitting on the pergola of his Little Studio in Cornish, around 1905. Image from The Reminiscences of Augustus Saint-Gaudens, Volume 2 (1913).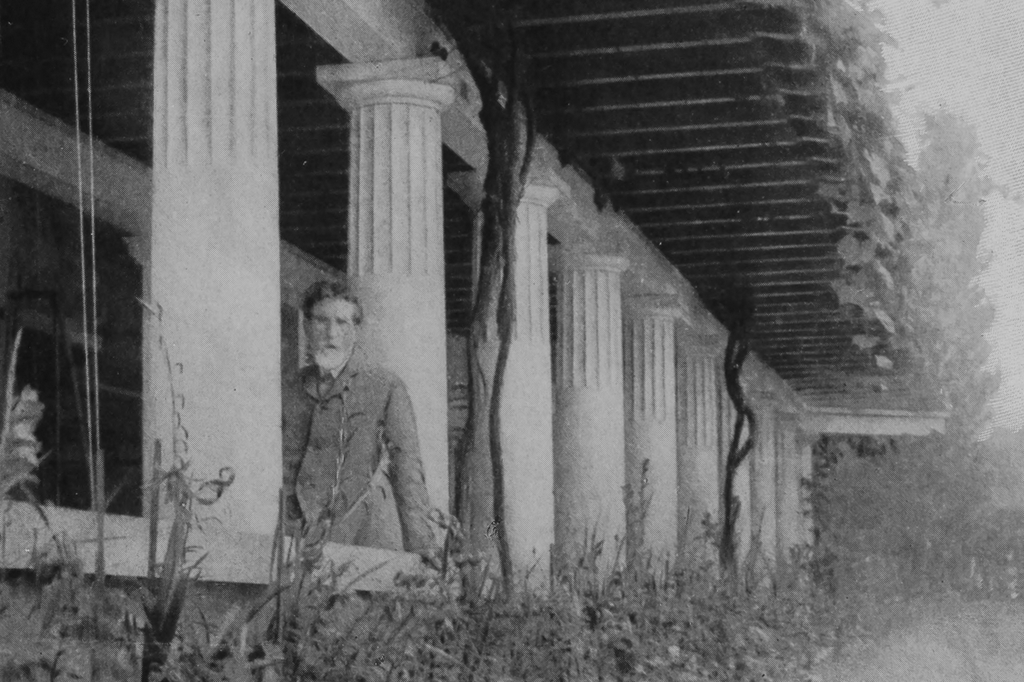 The scene in 2019: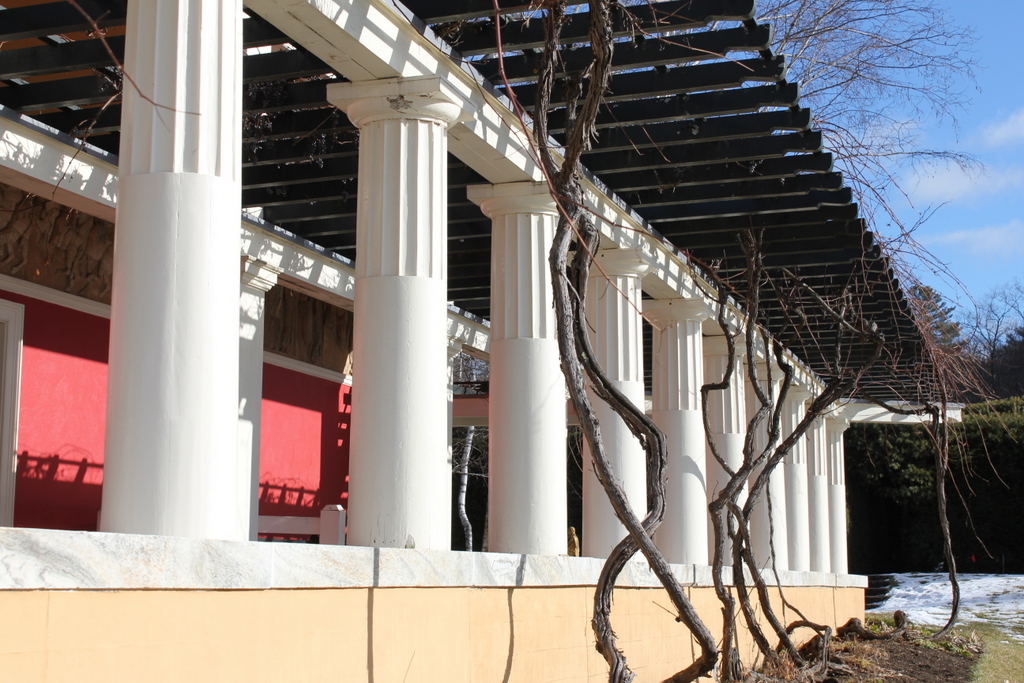 As explained in the previous post, this building was the primary studio of sculptor Augustus Saint-Gaudens for the last three years of his life, from its completion in 1904 until his death in 1907. It was built on the site of an earlier barn, which Saint-Gaudens had converted into a studio. The new building was similar in size to the old barn, but with a higher roof with more windows for natural light. The barn also had a pergola that Saint-Gaudens had added to the south side, and the new studio featured a similar one, as shown here in these two photos.
Augustus Saint-Gaudens had begun spending his summers here at this property in Cornish in 1885, and it became his full-time residence in 1900, after he was diagnosed with colon cancer. Hoping that the rural setting and fresh air would improve both his health and his spirits, he continued his sculpture work here at Cornish. However, his health continued to deteriorate, as shown by his gaunt appearance in the first photo around 1905. By this point, he was working on an ambitious project to redesign American coinage, having been commissioned by Theodore Roosevelt a year earlier. He was only able to finish the designs for the $20 and $10 gold coins before his death, but his $20 coin would go on to become one of the most celebrated coin designs in American history.
After his death in 1907, the property remained in the Saint-Gaudens family until 1921, when his widow Augusta transferred it to the Augustus Saint-Gaudens Memorial. This organization maintained the house, grounds, studio, and other outbuildings until 1965, when the National Park Service acquired the property as the Saint-Gaudens National Historical Park. Throughout this time, the studio has remained well-preserved on both the interior and exterior, with essentially no visible changes here in this view of the pergola.