The Hay Barn Studio at the home of Augustus Saint-Gaudens in Cornish, around 1900. Image from The Reminiscences of Augustus Saint-Gaudens, Volume 1 (1913).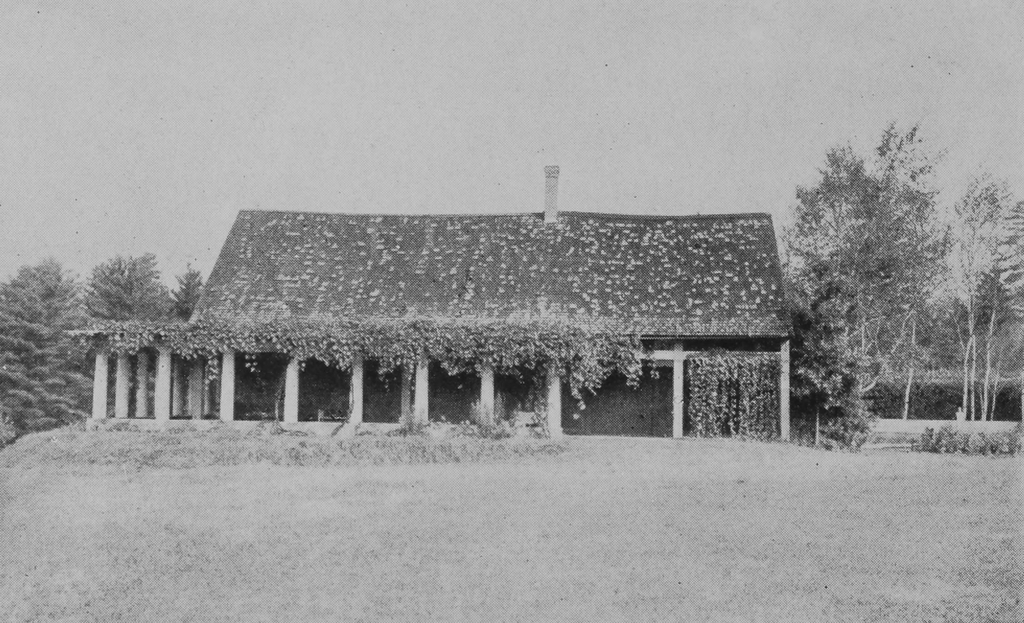 Its replacement, the Little Studio, on the same site in 2019: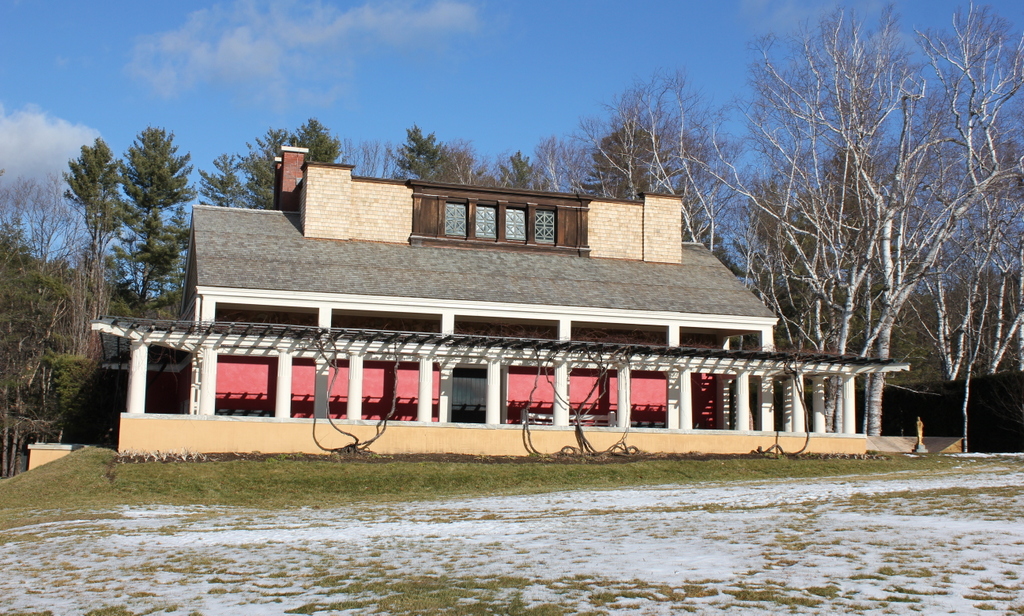 During the late 19th and early 20th centuries, this property in Cornish was the home of prominent sculptor Augustus Saint-Gaudens. The main house was built sometime in the early 1800s, and Saint-Gaudens began renting it as a summer home in 1885. He subsequently purchased it in 1891, and it served as his year-round residence from 1900 until his death in 1907. During this time, he made a number of improvements, including building several studios, one of which is shown here.
The first photo shows Saint-Gaudens's original studio, which was known as the Hay Barn Studio. As the name suggests, it was originally a barn, and it was already standing here when he arrived in Cornish in 1885. He soon converted it into a studio, in a project that included cutting skylights into the roof on the north side. Then, in 1894 he added a pergola to the south and west sides of the barn, as shown in the first photo.
By the turn of the 20th century, the studio was in poor condition, so around 1903 it was demolished and a new studio was built on the site. Completed in 1904 and shown here in the second photo, this building was similar in size and style to the old barn, but with a higher roof and more windows. This was Saint-Gaudens's personal studio for the last three years of his life, and it was known as the Little Studio, in contrast to the larger building that his assistants used.
The larger studio building burned in 1904, and its replacement, named the Studio of the Caryatids, likewise burned in 1944. However, the Little Studio has remained here ever since, remarkably well-preserved on both the exterior and interior. In 1921, Saint-Gaudens's widow Augusta transferred this property to the Augustus Saint-Gaudens Memorial. This organization maintained the house, studio, and other buildings on the grounds until 1965, when the National Park Service acquired the site as the Saint-Gaudens National Historical Park.