The Old Patent Office Building, seen from the corner of 7th Street NW and F Street NW in Washington, DC, around 1900. Image courtesy of the Library of Congress, Detroit Publishing Company Collection.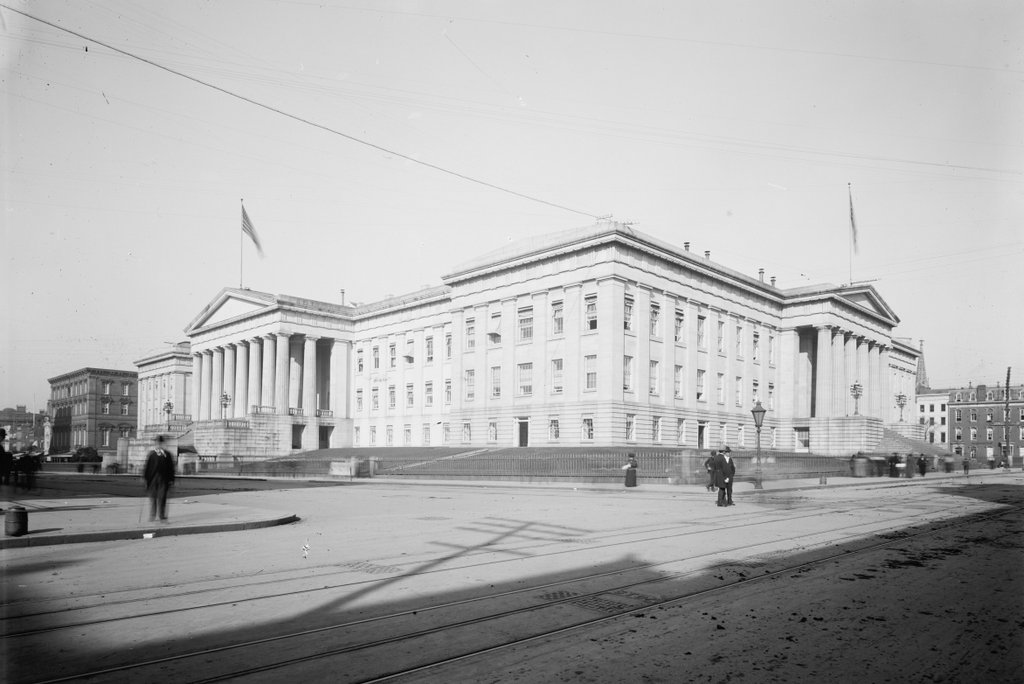 The building in 2021: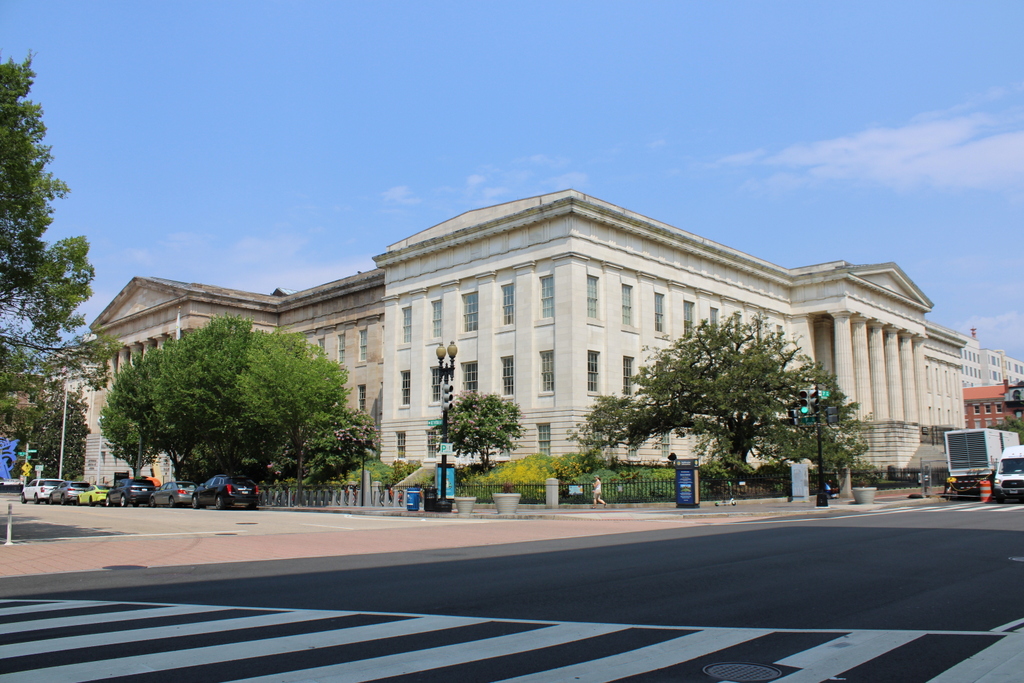 These two photos show the Old Patent Office Building, which was constructed in stages between 1836 and 1867. The building has a roughly rectangular footprint, with a courtyard in the center, and it occupies the entire block between F Street NW, G Street NW, 7th Street NW, and 9th Street NW. It was designed by prominent architect Robert Mills, with a Greek Revival style that was popular for public buildings of this era.
The oldest part of the building is the southern wing, shown here on F Street NW on the left side of the scene. It was completed in 1853, and it can be distinguished from the rest of the structure by the darker-colored sandstone exterior, in contrast to the lighter-colored marble of the later wings on the east and west. This wing originally had a large staircase at the main entrance, as shown in the first photo, but this was removed in 1936 when the street was widened.
The primary purpose for this building was to serve as a repository for models of new inventions, which had to be submitted as part of the patent process. However, the building also served a number of other roles in its early years, including as the home of the Department of the Interior from 1852 to 1917, as a hospital and barracks in the aftermath of the Battle of Antietam in 1863, and as the site of Lincoln's second inaugural ball in 1865.
The building suffered a major fire in 1877 that caused significant damage to the building and the loss of many patent models, but it was subsequently restored. The Patent Office remained here until 1932, and the building was subsequently occupied by the Civil Service Commission. It was threatened by demolition in the 1950s, but it was ultimately preserved and designated as a National Historic Landmark in 1965. Since 1968, it has been the home of the Smithsonian American Art Museum and the National Portrait Gallery. With the exception of the stairs on the left side, the exterior has remained well-preserved throughout this time, and it stands as perhaps the finest example of Greek Revival architecture in Washington.