The Laundry and Machine Shop at Hancock Shaker Village in Hancock, Massachusetts, in 1939. Image courtesy of the Library of Congress, Historic American Buildings Survey Collection.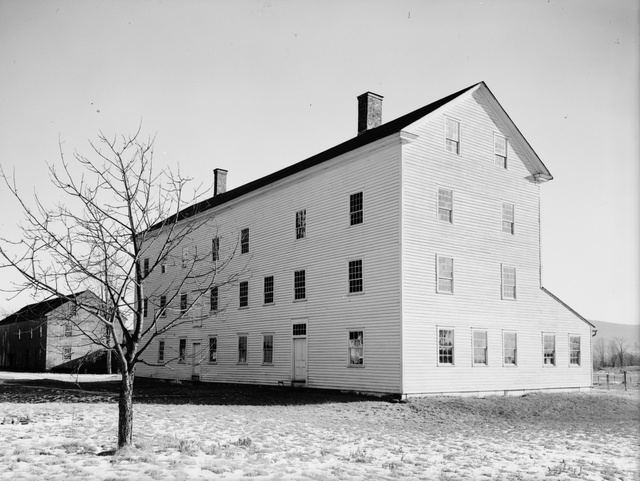 The building in 2023: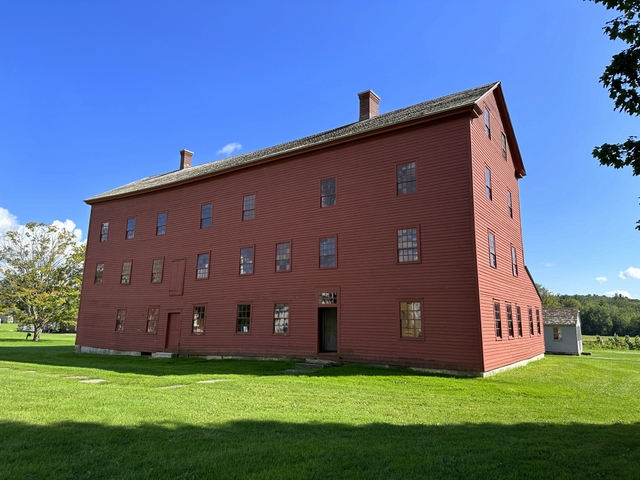 This building is probably the oldest surviving building here at the Hancock Shaker Village. The earliest portion of the building, here in the foreground on the northwestern side, is said to date back to about 1790, around the same time that the Shaker community was established here. It may have originally been used as a dwelling, but it has seen a number of alterations and changes in use over the years. By the 1830s the east side of the ground floor, on the left side of the building from this angle, was a machine shop, which was powered by an overshot water wheel. This was later improved with the installation of a water turbine, and at some point in the 19th century the west side of the building was used for laundry.
Shaker communities were segregated by gender, and this included not only separate living areas but also separate workspaces. In this case, both men and women worked in this building, where the machine shop and laundry equipment were both powered by the same water power source. However, these two facilities were otherwise separate, with men working in the machine shop and women in the laundry.
When the first photo was taken in 1939, this site was still an active Shaker community, although its numbers had seen significant decline since its peak of around 300 members in the 1840s. The photo was taken as part of the Historic American Buildings Survey (HABS), a federal program that began during the Great Depression as a way of providing work for unemployed people while also documenting historic properties around the country. According to the written documentation that accompanied the photo, the machine shop on the east side was not restored, but that the west side was in the process of being restored to its use as a laundry facility. The survey also included line drawings, which indicate that the ground floor of the west side was used for washing laundry, while the two upper floors were for drying.
The Shaker community here ultimately closed in 1960, and a year later the site became Hancock Shaker Village, an open-air museum that has preserved many of the historic buildings on the property. Today, the laundry and machine shop building is still standing here, and the only significant difference is the paint color. It was white in the first photo, but it is now painted a more traditional red color, which was commonly used by Shakers during their heyday in the 19th century.