The First Congregational Church and the old Town Hall in Westfield, around 1892. Image from Picturesque Hampden (1892)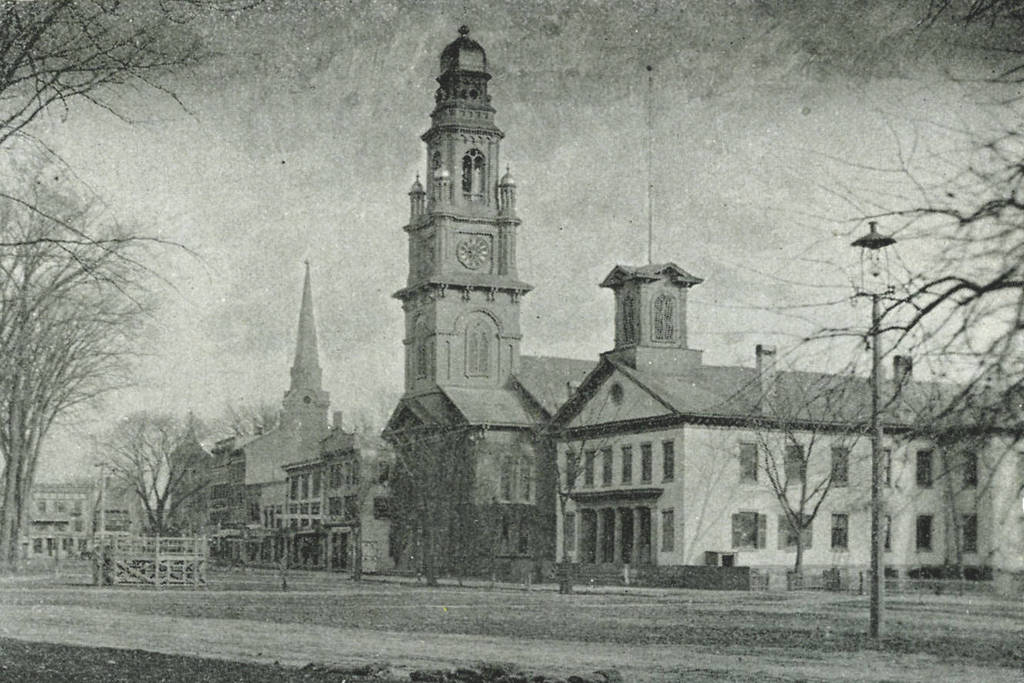 The buildings in 2015: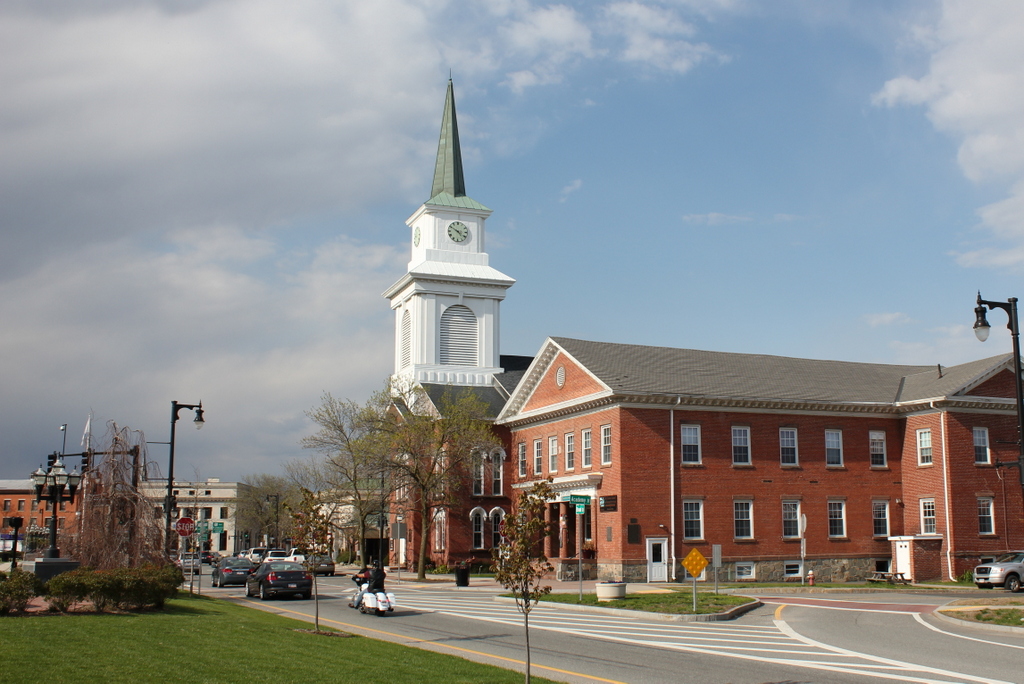 The scene at the rotary in downtown Westfield is very different from over 120 years ago, but several historic buildings have survived, including the First Congregational Church and the Town Hall.  The Town Hall in the foreground is actually the older of the two, having been built in 1837.  It served a variety of roles since then, first as a town hall and later as a city hall, when Westfield was incorporated as a city in 1920.  However, it was also used for high school classrooms from 1855 until around 1868, and later as a police station and district court.  It was used as city hall until 1962, when the city offices were moved up Broad Street to the former State Normal School building.  The building has seen some changes over the years, with the most obvious being the removal of the cupola, which happened in 1912.  However, it otherwise retains much of its historic exterior appearance, and today it is used as offices for a mental health agency.
Beyond the old Town Hall is the First Congregational Church.  The original church was established in 1679, with Edward Taylor serving as the town's first pastor.  He had first come to Westfield in 1671 and began serving as pastor before the church was formally established, and he would continue until his death in 1729 at the age of 87.  However, today he is probably best known as one of the first American poets, although his works weren't published until over 200 years after his death.
His original church building is long gone, and the one that stands on the site today was built in 1860.  The original steeple was destroyed in a storm in 1886, and I'm not sure if the first photo was taken before or after that.  It was published in 1892, but the photo itself could date to much earlier than that. According to the Massachusetts Historical Commission, "Several smaller steeples were in use until 1962 when a tall steeple was erected similar to the original one."  The steeple in the first photo doesn't appear to be a "small steeple," yet the present-day one also doesn't bear much resemblance to the first one, so I'm not sure which one is shown in the first photo.  In any case, though, otherwise the brick exterior of the church is well preserved, and it continues to be used by the same congregation that Edward Taylor began serving in 1671.