Normal Hall, the boarding house at the Westfield Normal School, at the corner of Washington and King Streets in Westfield, around 1892. Image from Picturesque Hampden (1892).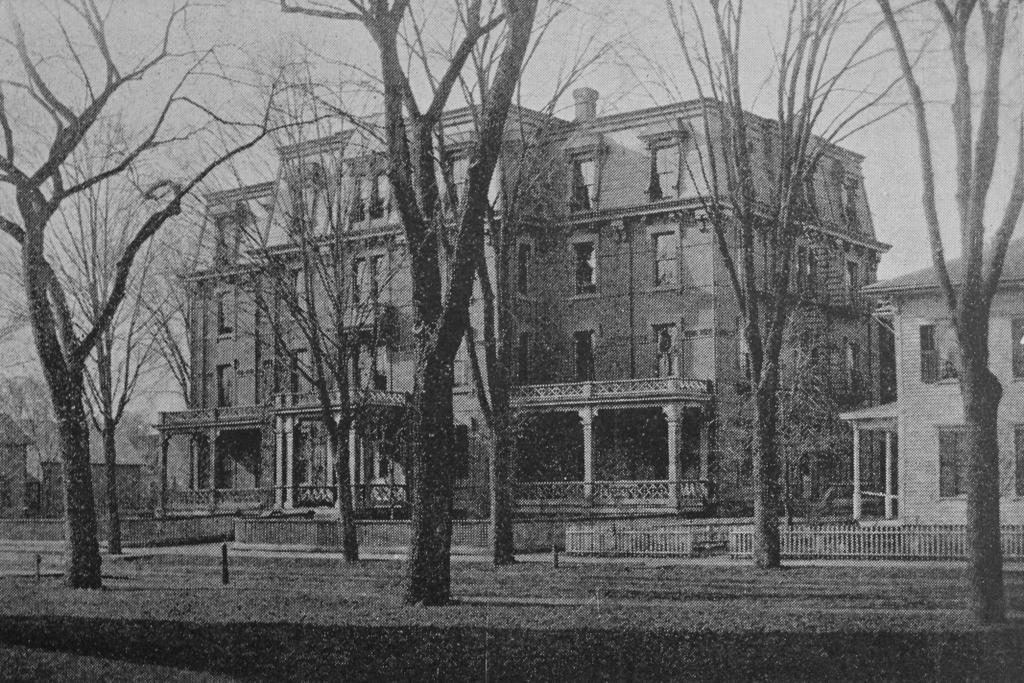 The scene in 2018: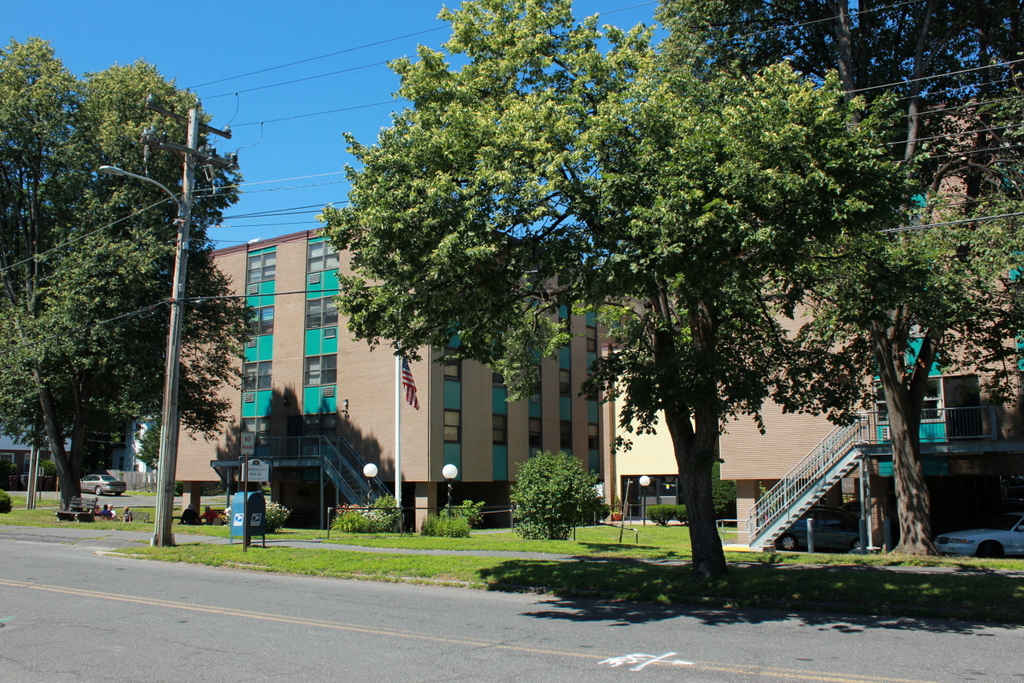 As discussed in an earlier post, the Westfield Normal School was established in 1838 as a teacher training school in Barre, Massachusetts, where it operated for several years before relocating to Westfield in 1844. Starting in 1846, the school occupied a building a block away from here, at the northeast corner of Washington and School Streets, but for many years it lacked a residential building for students who did not live locally. This problem was not resolved until 1874, when the state constructed the dormitory building in the first photo, which was located here at the northwest corner of Washington and King Streets.
This Second Empire-style building was the work of noted architect Alexander Rice Esty, and it was constructed at a cost of $10,600. It could accommodate up to 130 students, with two per room, and each student paid $3.75 per week, equivalent to about $86 today. The school furnished the rooms, including providing a mattress, pillows, and coverlet, but students were required to bring their own bedding, towels, napkins, napkin rings, and clothes bags. The recommended bedding, according to the school's 1874 catalog, was four pillow cases, three sheets, and two blankets. These items all had to be marked with their owner's name, lest they get lost in the laundry.
Aside from students, some of the school's faculty also lived here, as did John W. Dickinson, who was the principal when the building was completed. He had served as the head of the school since 1856, and he remained in this position until 1877, when he left to become secretary of the state board of education. He later became the namesake of Dickinson Hall, a new residential building that opened in 1903, and the name lives on today with a second Dickinson Hall, located on the present-day campus of Westfield State University.
By the time the first photo was taken in the early 1890s, the normal school was undergoing significant changes, with the construction of a new academic building on Court Street. Later in the 1890s, the old school building was demolished, and replaced with a new training school. During this time, though, Normal Hall remained in use as the school's boarding house. Room rates had remained largely the same in the intervening years, with female students paying $75 for a 20-week term, or just under $2,200 today. They did have an option to live here without a roommate, although it cost an additional 50 cents per week. Male students were also permitted to live here, at the rate of $80 per term, but at this point the school was still overwhelmingly female, with only 6 men enrolled during the 1892-1893 school year, out of 155 total students.
The 1900 census lists all of the students and faculty who lived here in this building at the time. There were 60 students, all of them female, along with nine female teachers. One teacher had an older woman, presumably her mother, who lived here with her, and there were also seven servants who lived here. The building was supervised by 35-year-old Belle Wilson, who resided here with her husband Charles and their teenaged son Carroll. Charles was a noted marine biologist, and he taught at the normal school for many years, including heading the science department from 1897 until 1932. He is remembered today as the namesake of Wilson Hall, the main science building at Westfield State University.
Normal Hall remained in use until 1903, when Dickinson Hall opened nearby on King Street, in the rear of the new Court Street school building. The old boarding house was subsequently sold to a private owner and converted into an apartment building. It stood here until the early 1970s, when it was destroyed by a fire, and the site was subsequently redeveloped as Washington House, a 112-unit apartment building for elderly housing. Although begun by a private developer, it was sold to the Westfield Housing Authority in 1974, shortly before its completion. This building is still standing here today, as shown in the 2018 photo, and it continues to be used as public housing for elderly residents.