St. Mary's Church, on Hillhouse Avenue in New Haven, around 1918. Image from A Modern History of New Haven and Eastern New Haven County (1918).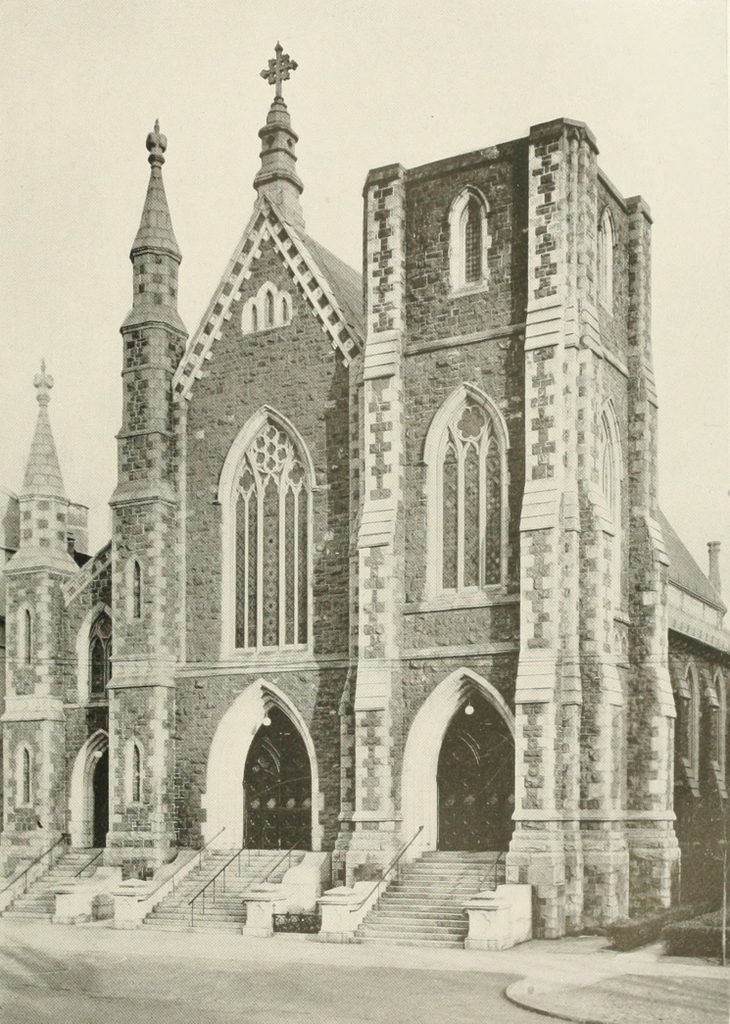 The church in 2018:
St. Mary's Church is the oldest Catholic parish in New Haven, having been established in 1832. Its first permanent location was on York Street, but later moved to Church Street. However, in the early 1870s the growing parish began constructing a new building here on Hillhouse Avenue, in the midst of an upscale, largely Protestant neighborhood. The stone, Gothic-style church was dedicated in 1874, and it was the work Irish-born architect James Murphy, who specialized in designing Catholic churches across New England. Murphy's other churches included the Cathedral of St. Patrick in Norwich, which was constructed around the same time and features a design that is very similar to St. Mary's here in New Haven.
Perhaps the most notable event here at this church came in 1882, when curate Michael McGivney established the Knights of Columbus. This organization, which served as a Catholic alternative to fraternal societies such as Freemasonry, was intended to provide support for the working-class immigrants of the parish, particularly for widows and orphans. It began here in the basement of the church, but it soon spread around the country, and today has a membership of nearly 2 million. However, the Knights of Columbus are still headquartered in New Haven, albeit in a much larger building, and Father McGivney's remains are interred here in the church.
A century after the first photo was taken, St. Mary's Church is still standing, and it is still an active Roman Catholic parish. Over the years, its surroundings have changed as Yale University steadily expanded its campus northward along Hillhouse Avenue, but the exterior of the church still looks much the same as it did when it was completed. The only significant difference is the spire at the top of the tower. Although designed with a spire, the church did not have one until 1986, when the Knights of Columbus donated one that matched Murphy's original plans.