The Great Hall at the Thomas Jefferson Building of the Library of Congress, around 1897. Image courtesy of the Library of Congress, Detroit Publishing Company Collection.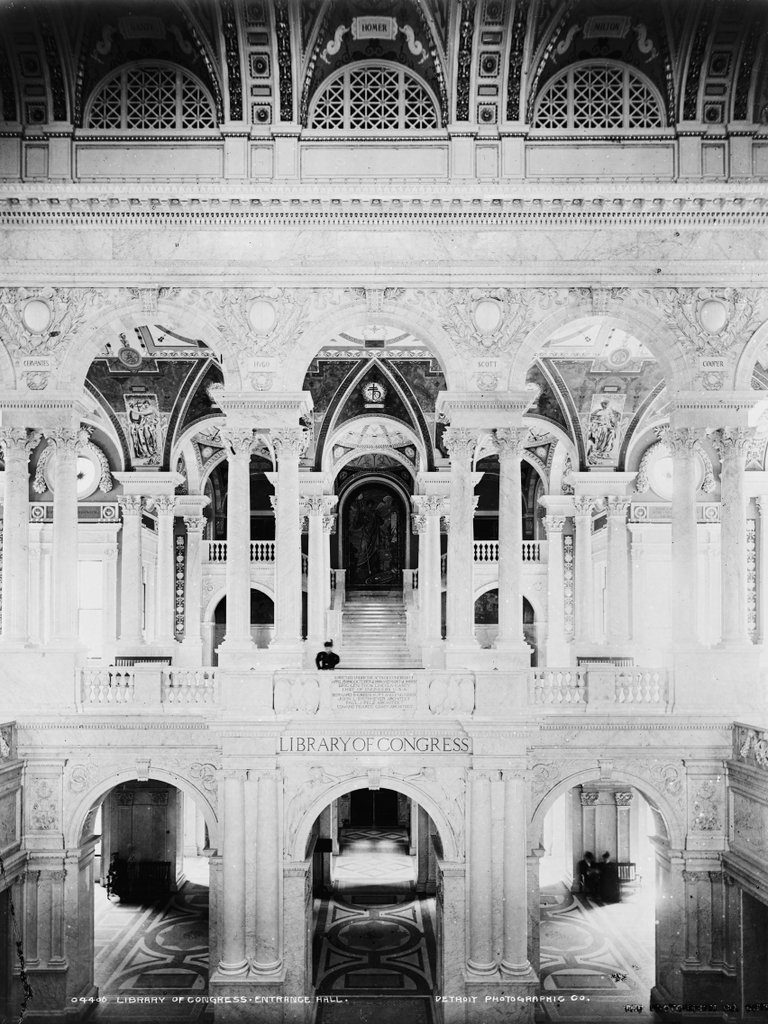 The scene in 2018: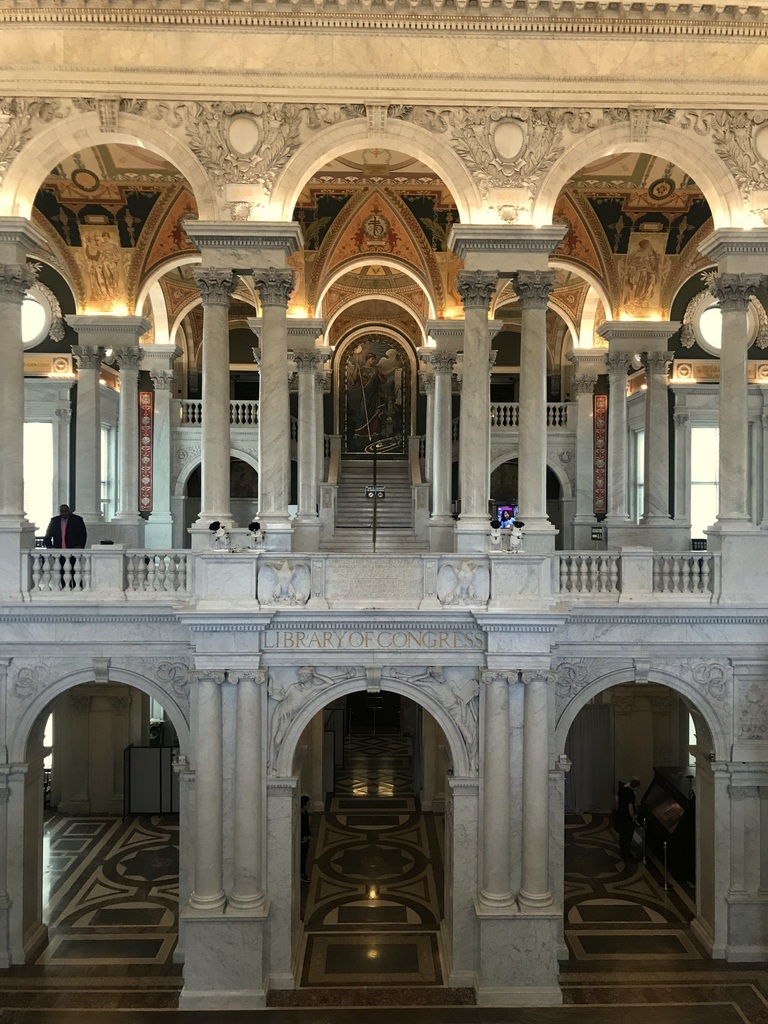 The Great Hall at the Library of Congress was previously featured in an earlier blog post, although these photos here show a different angle, facing east toward the entrance to the Main Reading Room. As with the rest of the building, the Great Hall features ornate Beaux-Arts architecture, and it is decorated with symbolic carvings and paintings.
Starting at the bottom of this scene are three arches, which lead to the Main Reading Room. The central arch was designed by sculptor Olin L. Warner, and it features two male figures: one young, representing the search for knowledge, and the other old, representing wisdom and reflection. Above these figures is a tablet inscribed with the names of the people involved in the construction of this building, and the tablet is flanked by a pair of eagles.
On the second floor, the ceiling is supported by pairs of Corinthian columns, connected by more arches. Above each pair of columns in the foreground is a small tablet with the name of a prominent author. From left to right in this scene, they are Cervantes, Hugo, Scott, and Cooper. Further in the distance is another row of columns, and above these are painted figures of women, personifying the different genres of literature. In this scene, from left to right, they are Lyrica, Tragedy, Comedy, and History, and they were all painted by artist George Randolph Barse Jr. Beyond these, at the top of the stairs in the center of the scene, is a mosaic of Minerva, representing learning and wisdom. At 15.5 feet in height, the mosaic is more than double life size, and it was the work of artist Elihu Vedder.
The first photo was taken around 1897, the same year that this building opened. More than 120 years later, hardly anything has changed in this scene, and the Library of Congress remains one of the capital's great architectural masterpieces, in addition to its role as one of the world's largest libraries. Most of its collections are only accessible through the Main Reading Room, which requires a Reader Identification Card to enter. However, some of its most important items are on display here in the public parts of the building, including its copy of the Gutenberg Bible, which the library acquired in 1930. It is one of only five complete Gutenberg Bibles in the United States, and one of only 21 worldwide, and it is currently on display here in the Great Hall, just beyond the arch in the lower right corner of the present-day photo.