Copley Square as seen from the steps of Trinity Church in Boston, around 1900-1910. Image courtesy of the Library of Congress, Detroit Publishing Company Collection.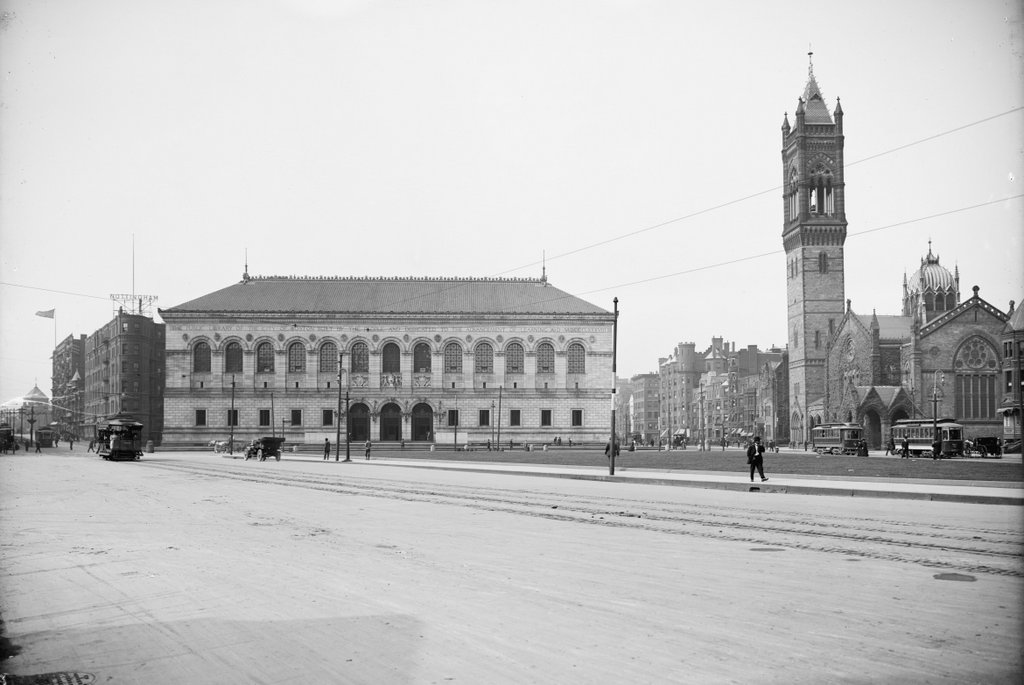 Copley Square in 2015: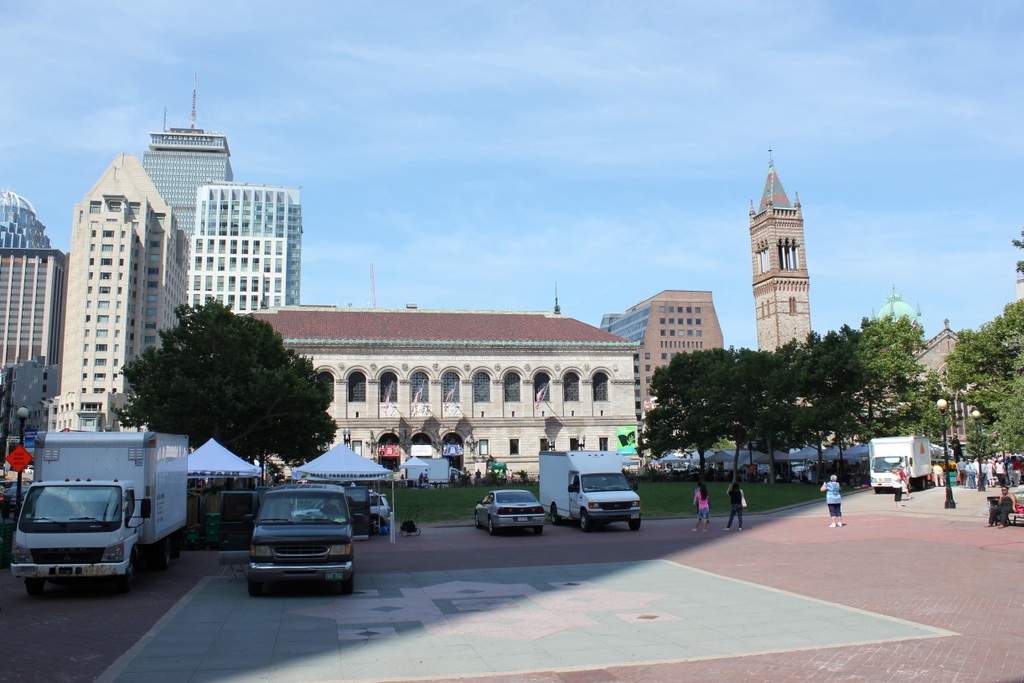 Today, Copley Square is one of the focal points of the Back Bay neighborhood in Boston.  The park is often used for public events, such as the farmers market seen in the first photo.  However, it wasn't always that way.  In a neighborhood where everything was meticulously planned by 19th century planners and landscape architects, Copley Square as we know it today did not come about until the 1960s.
Like the rest of the Back Bay, Copley Square was once just a polluted tidal mudflat, but throughout the second half of the 19th century it was steadily filled, providing the overcrowded city with a new, upscale neighborhood.  As the wealthier citizens moved west, so did many of the city's major institutions.  Many were located in the vicinity of Copley Square, including Trinity Church, Old South Church, the Museum of Fine Arts, MIT, and later the Boston Public Library.  However, Copley Square itself was originally just a triangular intersection, where Huntington Avenue and Boylston Street met just west of Clarendon Street.
The first photo shows Huntington Avenue crossing diagonally through the square, with a small triangular park on the right.  Originally, even this was not intended to be a park; an atlas from 1874 shows a building on part of the triangle, and the rest of it was divided into housing lots.  Because the Museum of Fine Arts was located here, it was called Art Square until 1883, when it became Copley Square.  The new name was keeping with the art theme, though; it was named for John Singleton Copley, an early American painter from Boston.
The two most prominent buildings in both photos are the Boston Public Library in the center and the New Old South Church to the right.  Completed in 1895 and 1873, respectively, they are two major Copley Square landmarks that have survived largely unchanged.  The only major difference in the buildings is the church tower, which was replaced in the 1930s after the ground under it began to subside, causing a three foot lean at the top of the tower.
The most dramatic change in the two photos is the surrounding neighborhood.  Huntington Avenue now ends at St. James Avenue, so now the square is literally a square.  In the 2015 photo, much of it is in the shadow of the John Hancock Tower, which is located just behind and to the left of where I took the photo.  The background shows some of the other high-rise construction that the Back Bay has seen over the years, including the Prudential Tower, 111 Huntington Avenue, and several other buildings in the Prudential Center complex.