The north side of Main Street at the corner of School Street in Greenfield, sometime around the 1880s. Image from Greenfield Illustrated.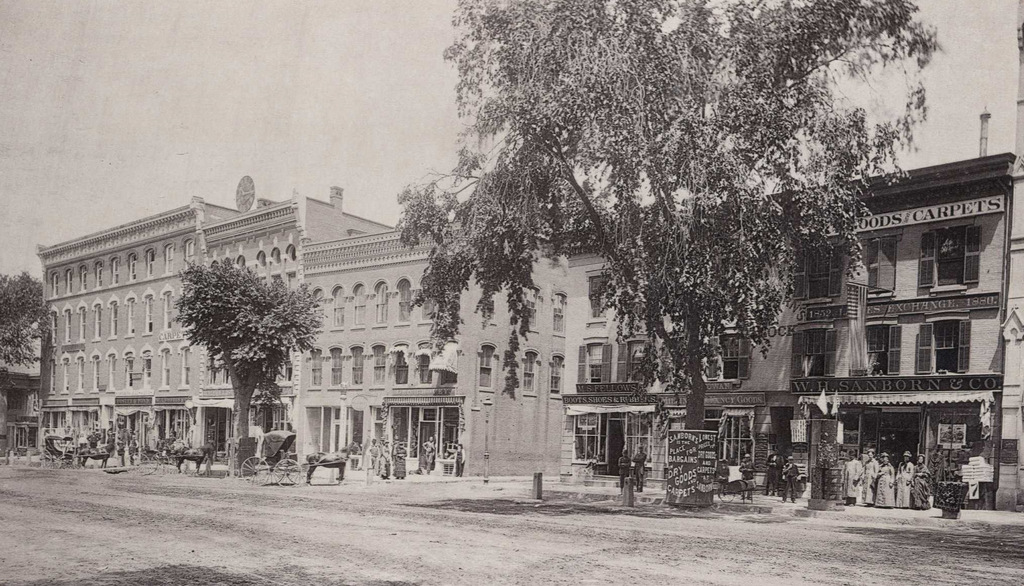 The view in 2016: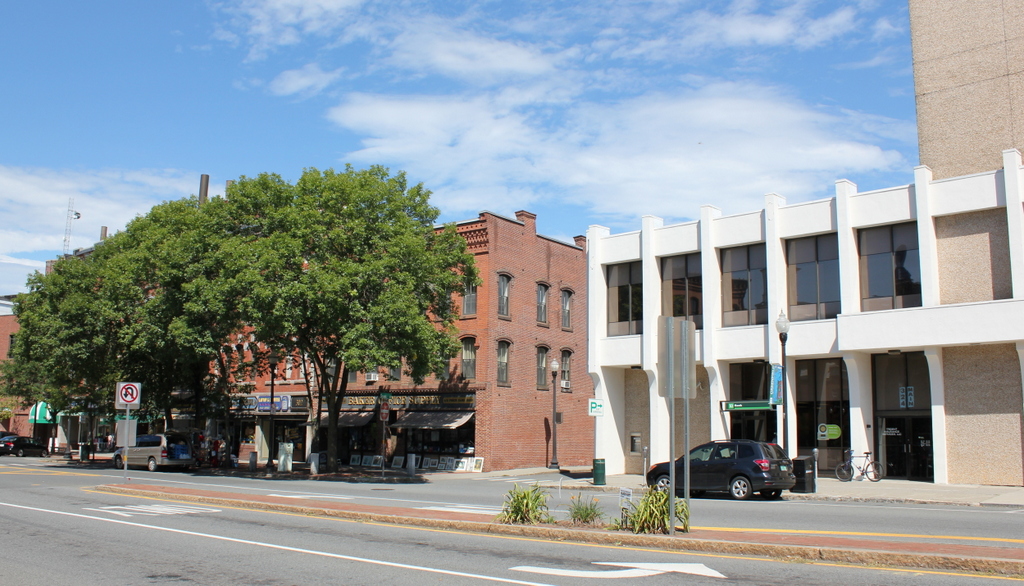 Greenfield's Main Street is lined with a number of historic 19th century commercial blocks, including several in this scene, located opposite the Common. The ones on the left are partially hidden by trees in the present-day scene, but they are the same ones that stood here in the first photo.
Starting on the far left is Pond's Block, a four-story Italianate building that dates back to around 1874. Just to the right of it is the smaller but architecturally similar Hollister Block, which was built around the same time. Both were built on the former site of the Long Building, which had burned down in 1873. The Bird-Hovey Block, at the corner of School Street in the center of the photo, also matches the architecture of the other two buildings. However, it is actually far older, with parts of it dating back to 1812. It originally had two stories, but in 1872 a third was added. During this renovation, the current Italianate facade was also added, in keeping with commercial architectural trends of the mid-19th century.
Today, the Bird-Hovey Block stands as the city's oldest surviving commercial building, and its neighbors to the left are also still standing, with largely the same appearance as they had in the 1880s photo. Together, they form part of the Main Street Historic District on the National Register of Historic Places. The only major difference between the two photos is the building on the right side. It was built in 1870, and stood here for about a century until it was mostly demolished to build the Franklin County Trust Building in 1972. Parts of the old building were incorporated into the new structure, but there is nothing recognizable on the exterior. Today, the building houses Greenfield's branch of TD Bank.