The view looking across City Hall Park toward Union Station in Providence, around 1906. Image courtesy of the Library of Congress, Detroit Publishing Company Collection.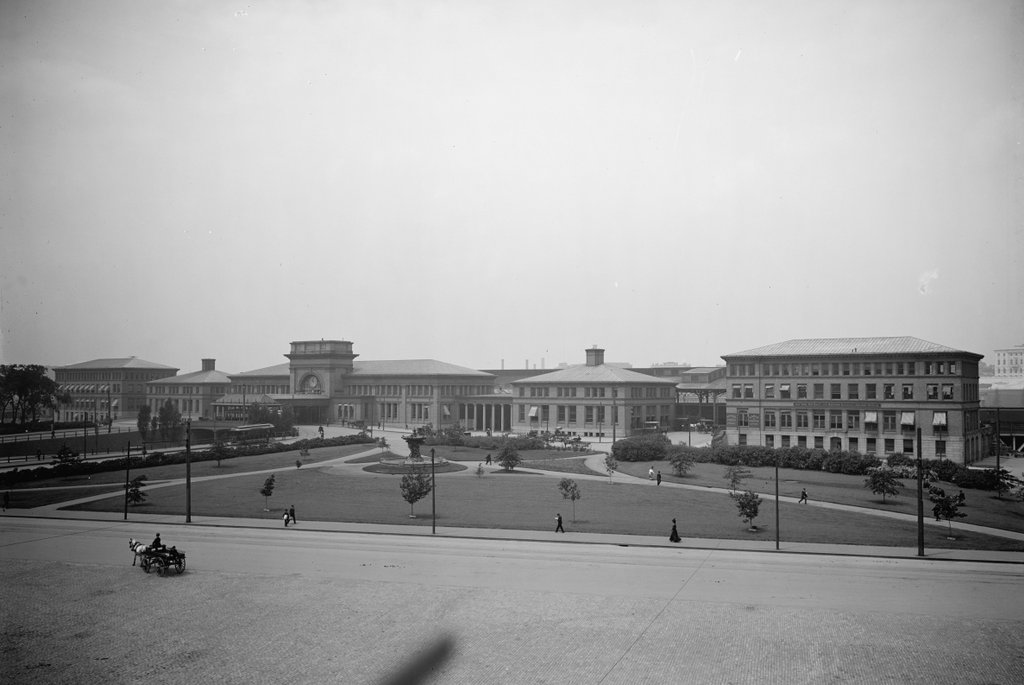 The view in 2016: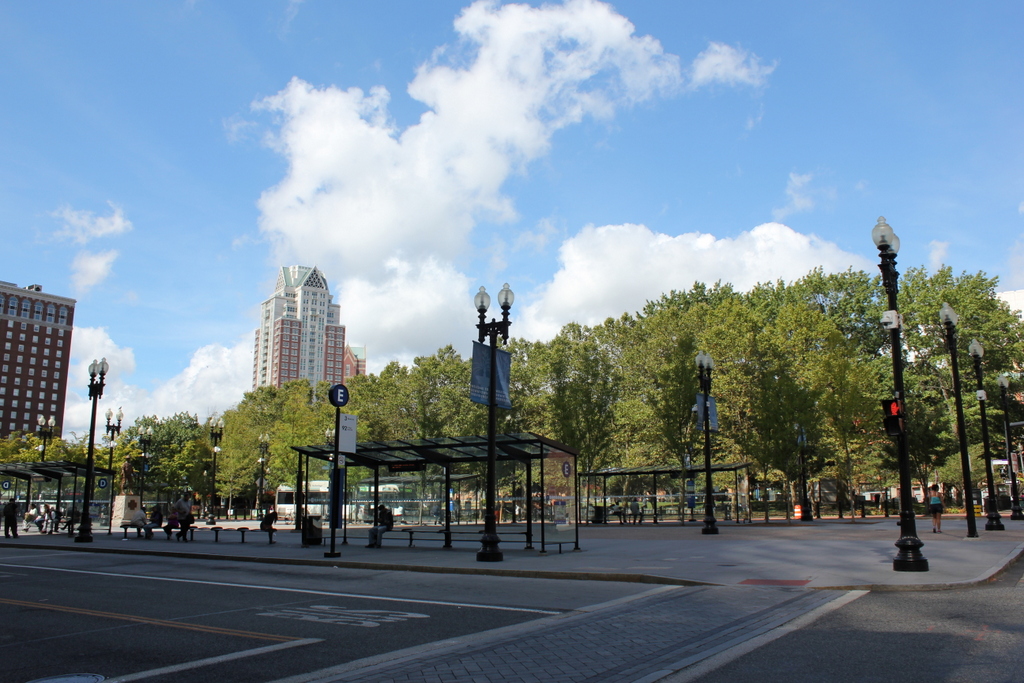 Both the park and the railroad station were relatively new features in downtown Providence when the first photo was taken. They were a part of the larger redevelopment plan of the late 19th century, which included the filling of the Cove basin and the construction of the new State House on Smith Hill. City Hall Park, located on the north side of Exchange Place, was dedicated in 1892 and landscaped in 1898, the same year that Union Station opened on the far side.
The station complex, as seen in the first photo, consisted of five buildings, and replaced an earlier station that had been damaged in an 1896 fire. Together with the new park and the nearby State House, the station provided a grand entrance for visitors to Providence. At a time when most inter-city travel was by rail, the railroad station was the first part of the city that most travelers saw. A good first impression was important, and with this new development, Providence had a station that was worthy of its status as an prominent, growing city.
As with other grand urban passenger stations of the late 19th and early 20th centuries, though, the Union Station saw a period of decline by the 1950s. The easternmost building, seen on the far right of the first photo, burned down in 1941, and in the postwar era there was a sharp drop in rail travel with the advent of commercial airlines and interstate highways.
The building was badly neglected, and in 1986 it was rendered entirely obsolete. That year, the elevated tracks adjacent to the station were removed, and the railroad was rerouted a little further to the north. A new, smaller station opened just south of the State House, and the old station was left isolated, several blocks away from the tracks. The following year, it was badly damaged in a fire, but it was ultimately repaired. Even the destroyed easternmost building has since been rebuilt, and today the buildings have been restored and repurposed. From this view, the buildings are no longer visible because of the tall trees on the park, which is now known as Burnside Park. However, they are still there on the other side of the park, and they are listed on the National Register of Historic Places.