The house at 256 Palisado Avenue in Windsor, around 1935-1942. Image courtesy of the Connecticut State Library, WPA Architectural Survey Collection.
The house in 2017: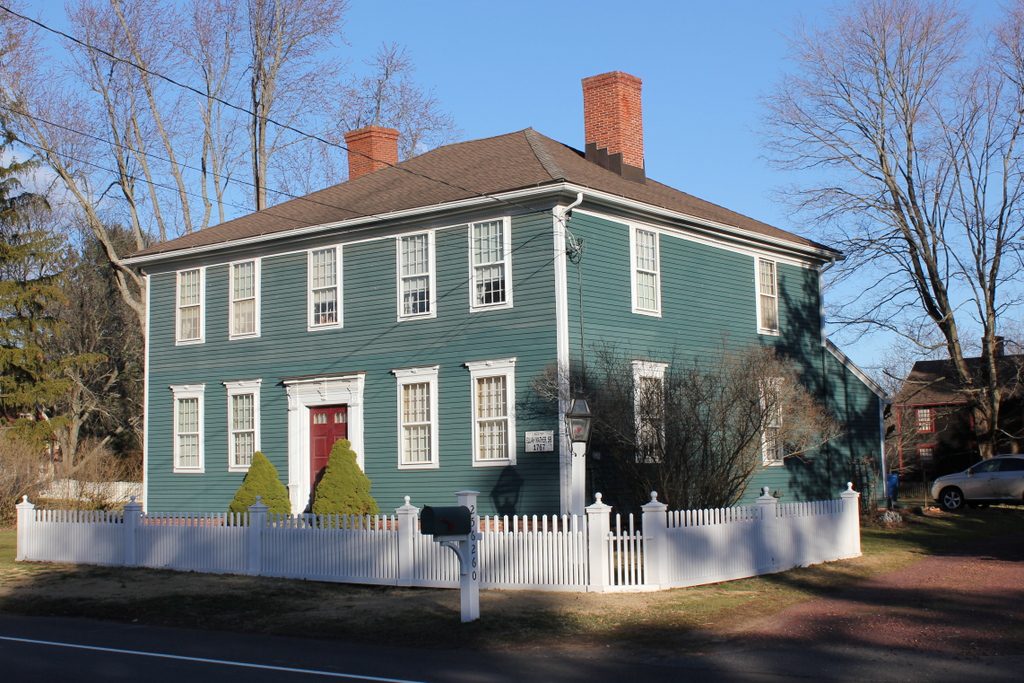 Among the many fine 18th century homes on Palisado Avenue in Windsor is this hip-roofed Georgian, which was built by Elijah Mather, Sr. He was born in Windsor in 1743, and moved into this house soon after his marriage to Mary Strong. The couple raised five children here, and their names give an interesting insight into the naming customs of the era. Their first child, Mary, was named for her mother, followed by Elijah, Jr., named for his father. Next came Return Strong Mather, named for Mary's father, then Allyn, whose first name was Elijah's mother's maiden name. Their last child was William, whose name does not appear to have come from any family members. Around the time of William's birth in 1776, Elijah Mather left Windsor for several months to serve in the American Revolution. He enlisted as a private in a light horse regiment, and was part of Washington's army during the retreat through New Jersey, until his enlistment expired in December.
Mary died in 1790, and Elijah in 1796, but their house is still here, 250 years after they first moved in. The first photo was taken as part of an effort to document historic architecture across Connecticut. This project was done as part of the Works Progress Administration, and provided jobs in the midst of the Great Depression while also recording information about historic buildings that, in some cases, were in danger of being lost forever. At the time, it was described as being in "good" condition, and retained much of its original material. The closed shutters on the second floor probably give it a more dilapidated look than was actually the case, but it certainly looks much better today, with restoration efforts such as more historically appropriate windows. Along with the other houses nearby, it is part of the Palisado Avenue Historic District on the National Register of Historic Places.