Facing west on the Commonwealth Avenue Mall from Berkeley Street, on November 27, 1901. Image courtesy of the Boston Public Library.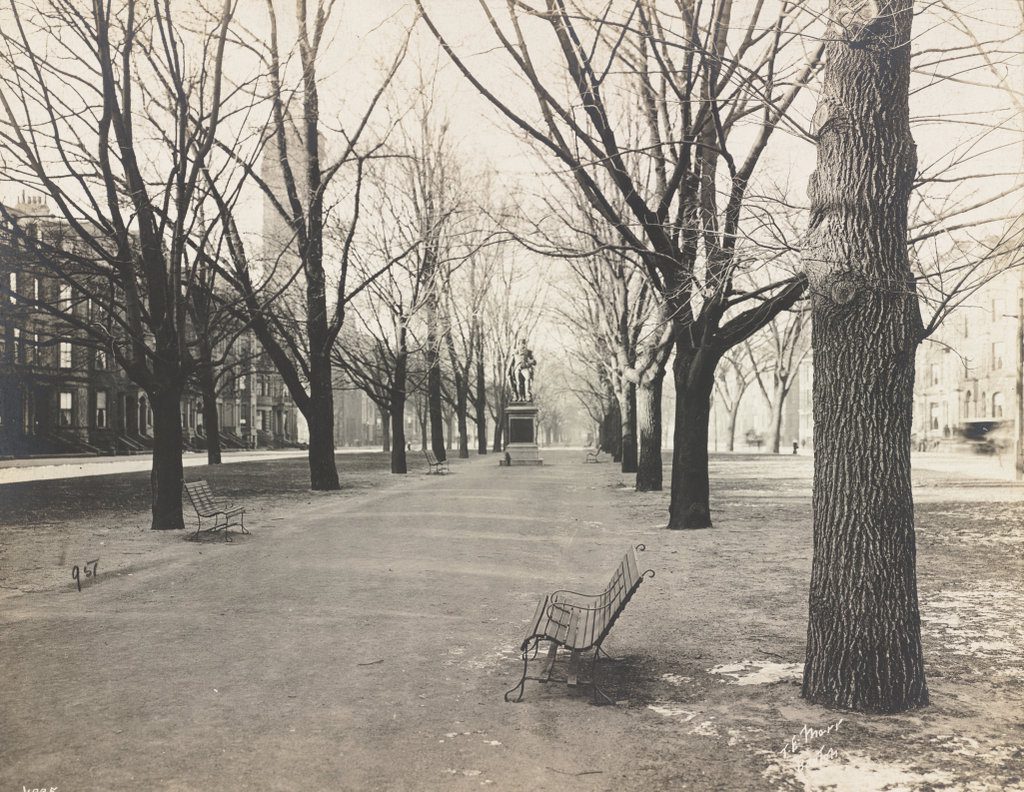 The scene in 2017:

When the Back Bay was planned in the mid-19th century, the streets were laid out in a rectangular grid pattern, with five east-west streets running the length of the development. In the middle was Commonwealth Avenue, which was made significantly wider than the others in order to accommodate a wide, tree-lined mall in the center. The house lots on this street soon became some of the most desirable in the Back Bay, and as the trees matured the street began to take on the appearance of a Parisian boulevard.
Most of the houses along this section of Commonwealth Avenue, which extends west from Berkeley to Clarendon Streets, were built in the 1860s and 1870s, in the Second Empire style of architecture that was popular during this period. Among the street's few non-residential buildings is the First Baptist Church, which was built in 1875 and can be seen a block away on the left. The streetscape of Commonwealth Avenue also features a number of statues, including the one in the center of the photo that honors Revolutionary War hero General John Glover.
More than a century after the first photo was taken, the Back Bay has remained remarkably unchanged. Nearly all of the historic Victorian brownstone homes are still standing, and Commonwealth Avenue has continued to be the centerpiece of one of the city's most desirable neighborhoods. Aside from the cars on the street, the only hint of the modern world in the present-day scene is the Prudential Tower, which is barely visible through the trees on the far left side of the photo.